enjoying the good life in Quebec's Eastern Townships
I've been to Quebec, Canada, numerous times, but only recently had the pleasure of visiting the region known as the Eastern Townships.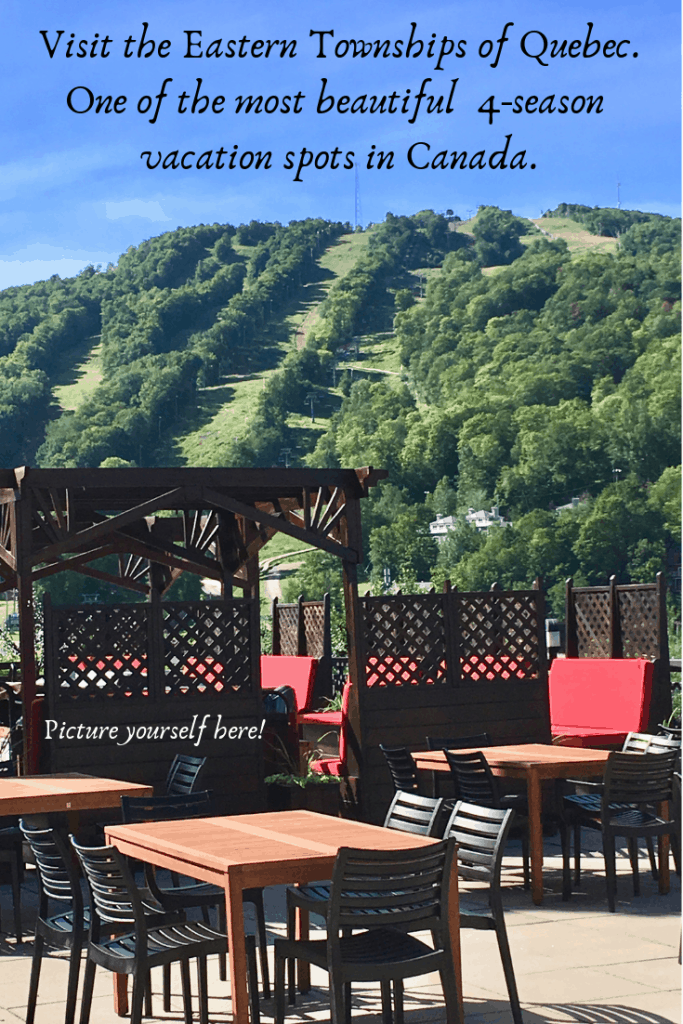 I'd heard how lovely the Eastern Townships region is, with its visitor-friendly mountains that become busy ski slopes in winter. But I hadn't realized what a fabulous four-season destination the Eastern Townships are for gourmands. If you love luxury travel, fine wine, craft beers, haute cuisine, fresh cheeses, and terrific chocolate, you will enjoy exploring the culinary pleasures of Quebec's Eastern Townships.
great places to stay in the eastern townships
As someone who loves creature comforts, I thoroughly enjoyed exploring the amenities of two of the region's finest hotel properties.
We adored the setting of l'Hôtel Château-Bromont, located at the base of Mount Bromont. See the top photo and pin it so that you can plan to visit. There's a beautiful outdoor swimming pool, a fountain with comfortable seating in a forested area, and outdoor hot tubs and comfortable seating on the Terrace level where you can enjoy drinks or a light meal. There is also an indoor pool and courtyard in the main building and a full service spa in a separate building. We peeked in at the Amerispa, but they were closing early the night we were there, so we enjoyed night caps on the terrace. The end of a perfect day.
Clear skies eluded us during our stay at Hôtel Suites Lac-Brome, so after a walk down to Lake Brome we spent most of our time indoors, enjoying a fabulous four-course dinner followed by time in the spa.
Also known as Auberge Lac Brome, the Hôtel Suites Lac-Brome near the village of Knowlton, is magical from the moment you arrive. We were not blessed with a sunny sky during our brief visit, but the warmth of the staff, haute cuisine, and inviting lakeside location made the journey to this four-star 38-room property so worthwhile.
Executive chef Patrick Plouffe of La Brise du Lac Restaurant at Hôtel Suites Lac-Brome treated us to an excellent four-course meal. I think my favourite course was the Beef Carpaccio appetizer paired with a wonderful Pinot Noir.
I hope this post has whetted your appetite for the many flavours of the Eastern Townships of Quebec. My next post will highlight some terrific chocolate diversions and other culinary offerings you might come across while strolling the streets of the scenic francophone villages of this region.
My sincere thanks to Destination Québec for making this trip possible.