Happy 110th Birthday to Purdys Chocolatier
I owe Purdys Chocolatier an apology. Back in 2013 when I was writing the first volume of Chocolatour: A Quest for the World's Best Chocolate, I included Purdys in the A-Z Guide for Chocolate Lovers in the back of the book and said I felt that Purdys chocolate was too sweet for my liking. That remark was based on the consumption of one box of Purdys Chocolate that I did find too sweet. But there are many other products in Purdys extensive lineup that I have since had the opportunity to taste–and love.
So in celebration of Purdys' longevity–it was founded in 1907–and the opening of its first Winnipeg store in St. Vital Shopping Centre in 2017, I felt it was time to share my updated thoughts about Purdys Chocolatier in the event that you have the opportunity to try it.
Purdys was founded in 1907 by Richard Carmon Purdy in downtown Vancouver. The company is Canada's largest independent chocolate company, and has since expanded more than halfway across Canada to a total of 84 shops as of 2019. There are 36 Purdys throughout British Columbia, 17 in Alberta, a shop in Saskatoon, Saskatchewan, two shops in Winnipeg, Manitoba, and 28 shops in Ontario.
It was truly exciting when Purdys opened their first Winnipeg store in August, 2017, as their Chief Chocolatier is originally from the town of Stonewall, Manitoba, (located just 30 minutes northwest of Winnipeg.) Rachel McKinley has a degree in science and one in the arts, so she can truly appreciate both the chemistry in making good chocolate, and the artistry in creating chocolate masterpieces. She ran her own chocolate shop in Vancouver before coming onboard with Purdys in July of 2015.
Rachel created a special chocolate for the launch of the Winnipeg store called the White Spruce truffle. "I wanted to create a truly Manitoba experience for this chocolate," says Rachel. "So I searched my memory banks for a uniquely Manitoba experience and recalled walking in the woods west of Lake Winnipeg in the winter time." An infusion of Spruce oil flavouring made from distilled Spruce helped Rachel create the exact flavour she was looking for to pay tribute to her home province.
My favourite Purdys chocolate is the Goat Cheese with Chardonnay truffle pictured below. It features goat cheese from Ontario and Quails' Gate Chardonnay from B.C. for an incredibly Canadian burst of fresh flavour. The Raspberry with Modena Balsamic is another winner that is part of the Kitchen Collection.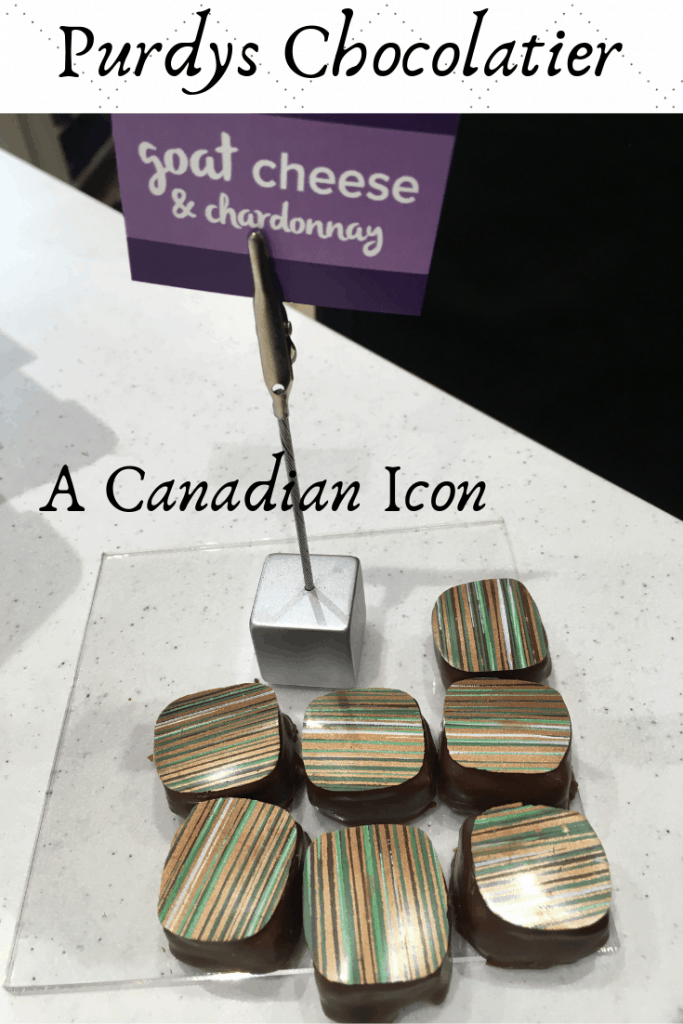 I am thrilled to see such creativity and quality coming out of this iconic Canadian chocolate company, and equally thrilled to welcome them to Manitoba. If you're looking for a great single origin chocolate bar, my favourite is the 45% dark milk chocolate bar made of beans from the Ashanti region of Ghana, Africa. The natural caramel notes that come from this cocoa are amazing, and no doubt partly thanks to the master roasting techniques of Brad Kintzer, Chief Chocolatier at TCHO Chocolate of Berkeley, California, who supply Purdys with the couverture to make their single origin bars.
Plus, it is important to mention that 100% of the cocoa used by Purdys to make their chocolate is sustainable. That means that both the farmers and environment are treated as being equally important. Purdys ensures that cacao farming families make a fair living from the sale of their cocoa, and that the environment is never comprised throughout the supply chain.
If you haven't already, I hope you get to try Purdys chocolate soon. And if you have, please share some of your favourites with us here. That's what I love about the world of chocolate. It's all about sharing and caring.