Harrisburg, PA–exploring the Pennsylvania Capitol
I've written several posts about my visit to Hershey, Pennsylvania, but wanted to wrap up my coverage to the Hershey/Harrisburg area with a post devoted to Harrisburg, PA–the capital city of Pennsylvania, USA.
harrisburg pennsylvania state capitol building
Without question, Harrisburg has the most impressive state capitol building I have ever seen. Before I go on, you may be wondering about when to use "capital" versus "capitol." Capital is used to describe the capital city of a state, province, region, or country. Capitol is a word used to describe a building that houses the head of government. A way to remember the difference is that capitol will describe or refer to a building that very often has a dome (both have an o.) Capital (with an a) refers to the entire city or place.
The Pennsylvania Capitol is a magnificent structure of art, and in fact, when Philadelphia architect Joseph Huston envisioned the building he was contracted to design, he pictured it as a "Palace of Art." It took from 1902-1906 to complete this architectural masterpiece.
There are sculptures, stained glass, murals, marble and tile art, and nearly every kind of art imaginable within the walls of this building. The 272-foot high dome was inspired by St. Peter's Basilica in Rome. The rotunda was inspired by the Paris Opera House. You truly don't know where to look, as each view fills you with awe.
The good thing is that there are free tours of the PA Capitol on the half hour weekdays, and less frequent tours on weekends and most holidays throughout the year. And your knowledgeable guide will be sure to point out the highlights. You can also take a self-guided tour or catch a virtual tour online.
Coming from Manitoba, the Keystone Province of Canada, I was particularly interested to learn that Pennsylvania is called the Keystone State of the United States of America. We all love fine art, great chocolate and craft beer. There is definitely something to our similarities–including the sleek golden statues that adorn the domes of our capitol buildings.
But let me assure you that a visit to Harrisburg isn't all about the Capitol Building. The Broad Street Market is well worth a visit. Founded in 1860, it's the oldest continually running market of its kind in the USA. And there is some great craft beer and food on offer as well. I particularly enjoyed the wild mushroom wood-fired pizza and espresso coffee and cocoa infused Nitro Mocha Porter beer (featuring cocoa nibs from Ghana) at Millworks in the trendy Midtown neighbourhood of Harrisburg. This unique venue not only serves up food and libations to tantalize your senses, they offer studio space to a myriad of artists where you can observe, take classes, and purchase art to suit your fancy.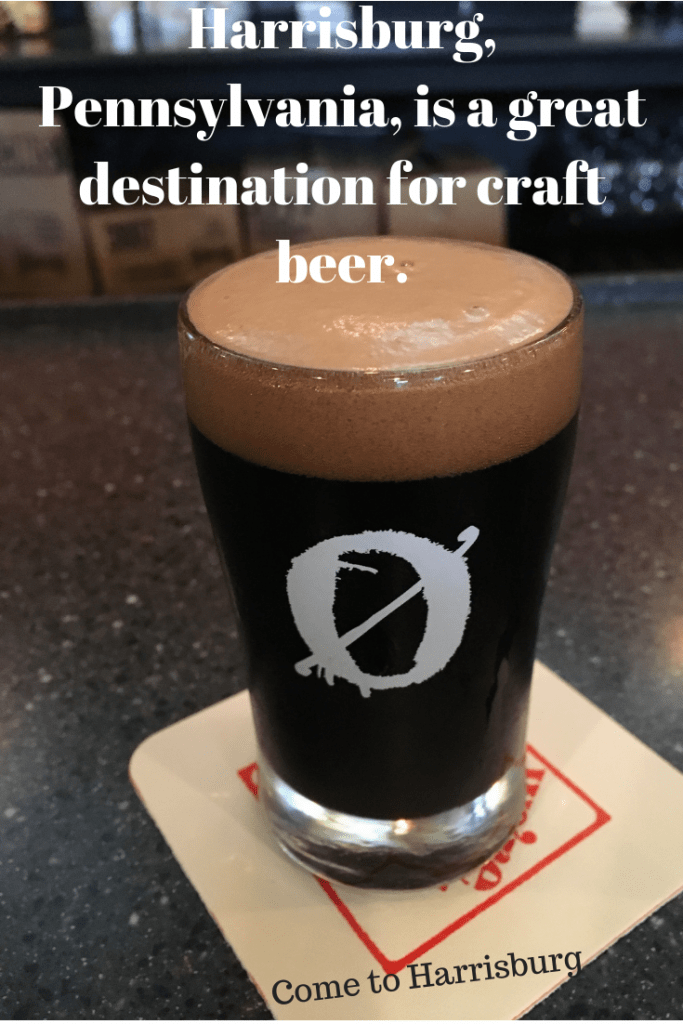 My thanks to Rick Dunlap of the Hershey/Harrisburg Visitors Bureau for bringing me to the region, and to Jill Fetter, director of Capitol Visitor Services for the incredible tour of Pennsylvania's Capitol Complex.