SleepPhones make life easier
Did you know that March 19th is World Sleep Day? Sleep is such a precious commodity to us. Without enough of it, we are a mere shadow of ourselves. But most of us need some form of help to get into a deep restful sleep. I've been using a Melatonin Magnesium sleep tablet that helps me fall asleep and stay asleep. I find it works really well for me. Especially if I take it an hour before I want to fall asleep.
For anyone who travels a lot, or has difficulty sleeping due to tinnitus, menopause, a snoring partner, or other sleep disruptors, a sleep aid is a necessary part of life.
Quite sometime ago, I had the opportunity to receive a complimentary set of SleepPhones for review, and I was very pleased with the product. I had the regular SleepPhones that were wired (they're ear buds that are built into a headband that you wear while sleeping.) But a recent visit to their site shows that they now have a wireless version that in my opinion, would be much better.

6 things I like about SleepPhones
When you put them on, you can still hear your partner speaking to you in bed. You can still hear the flight attendant (or person seated next to you) if they are speaking to you on an airplane.
The Sleep Phones block out the sound of your partner snoring and other irritable sounds in your immediate area. They also block out the sound of tinnitus that comes from within your own ears. I don't know how they know to let some sounds in and keep others out, but it works!
Sleep Phones are easy to pack. We have the bulky Bose noise reducing headphones. We also have noise reducing ear buds that I purchased on a flight. The Sleep Phones are like a weightless head band and fit easily in a pocket or purse pouch.
The Sleep Phones are comfortable. You can easily turn on your side when sleeping and still be comfortable.
The Sleep Phones offer a really good quality sound. How wonderful it is to be able to drift off to sleep with great sounding music or my favourite radio podcast playing in my ear as opposed to other internal or external sounds that prevent me from getting a good sleep.
Sleep Phones are affordable. The corded ones I have are just $39.95 USD and the wireless version is $99.95 USD. Much less than the Bose headphones we purchased.
Was/is there anything I don't like about the SleepPhones? There is one small thing. It does flatten your hair a bit while you sleep or have them on. But I feel that is a small price to pay for the increased amount of sleep and comfort I have had while using the SleepPhones. So the choice is yours, and that is my complete and honest review.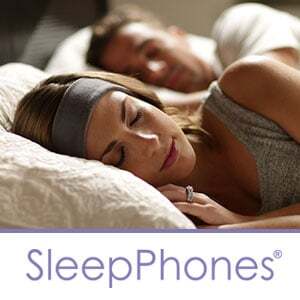 Here is my affiliate link for this company. They offer a number of different products, including RunPhones, for those of you who jog or like to run with buds in your ears.
If you do buy SleepPhones or RunPhones for yourself or as a gift for someone, I would appreciate if you would do so via this link as the income I receive by way of a small commission will help underwrite the costs of this site.
Thanks, best wishes, and Happy World Sleep Day!
Save
SaveSave
SaveSave