Mathilde Fays of Oka, Quebec: one very talented chocolatier
Situated roughly 90 minutes northwest of Montreal in Central Quebec's Laurentian region, Oka is a small town of 4,000 residents who enjoy a quiet lifestyle on the shores of Lake of Two Mountains.
It was pouring rain during my brief visit to Chocolaterie Mathilde Fays, so I didn't get any lovely scenic shots of the landscape to inspire you. But I did enjoy some of the finest chocolate bonbons made in Quebec, and truly enjoyed learning the story of Mathilde Fays and her passion for artisanal chocolate which I am happy to share with you here.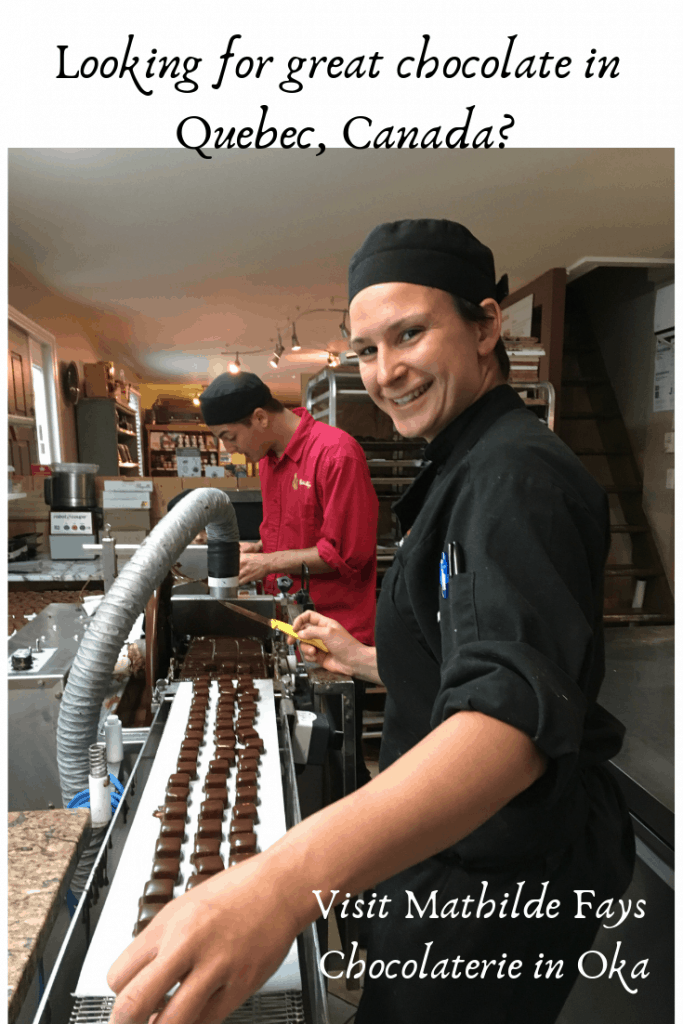 I first discovered Mathilde Fays in January, 2014, on the recommendation of a friend from Quebec who had received a box of Mathilde Fays chocolates for Christmas in 2013. (Thank you to everyone who sends me chocolate tips!) What a delight it was to taste the chocolate creations of Chocolaterie Mathilde Fays. I knew immediately that I would make the journey one day to meet this very creative chocolatier, and I finally did in July, 2017.
chocolaterie mathilde fays creates truly one-of-a-kind flavour combinations and chocolate experiences
Some of my favourite flavour creations from Chocolaterie Mathilde Fays include her wonderful honey nougat (it's soft and delicious and doesn't stick to your teeth!) And pretty much all of the 25 flavours of ganaches created by Mathilde. "I love the marriage of different flavours and working with ganaches," says Mathilde. "But as customers seem to be looking for chocolate bars, we will produce more bars to please our customers."
Chocolaterie Mathilde Fays works with more than 30 different kinds of couverture from 35 different suppliers to achieve just the right flavour she is trying to create in each of her chocolate morsels. Her primary suppliers are Valrhona, Cacao Barry, and Weiss. The single most unique chocolate ganache that Mathilde makes is the Blond, featuring Dulce Blond couverture blended with Madepices curry mix from Madagascar and pink peppercorns on a dark chocolate bottom. Another of my favourites is the Passion ganache that marries coconut and passionfruit. It is a surprising, but delightful flavour combination!
you'll also find great cheese in oka
For those wondering why the name of Oka rings a bell, there are two possible reasons in addition to its great chocolate. Oka is where the Trappists monks made their special semi-soft cheese (they sold the rights to a cooperative in 1996 which now makes the cheese) and where there was a stand-off (the 'Oka Crisis') in 1990 with the Mohawk First Nation over a land dispute with the town of Oka.
Something really cool that you can do if you visit Oka is to stay in the former monks' monastery that has been converted into the Auberge Oka, a small hotel rated at 4-4.5 stars by the various travel sites. I didn't have the time to take a tour, but would love to go back and check it out!
And for those who are wondering … yes! I do have the best job in the world. Combining my passions for travel, chocolate, and fascinating people have been possible via the Chocolatour project. I am so very grateful for that.
If you, too, love artisanal chocolate and enjoy travel, please subscribe to this site so you don't miss any of my chocolate travel journeys. And if you enjoyed this post, please share if with your friends. Every bit of support helps me reach new chocolate lovers around the world, and helps me catch the attention of destinations that want me to experience their world of chocolate.
I'd like to thank Tourisme Quebec for their support in making this trip possible. It is only an hour and a half's drive from Mont Tremblant to Oka, so if you are visiting the Laurentians, you can visit Mathilde and Christine Blais at Palette de Bine in Mont Tremblant all on the same day as I did.
SaveSave
SaveSave
SaveSave
SaveSave
SaveSave
SaveSave
SaveSave
SaveSave
SaveSave
SaveSave
SaveSave
SaveSave
SaveSave
SaveSave
SaveSave
SaveSave
SaveSave
SaveSave
SaveSave
SaveSave
SaveSave
SaveSave
SaveSave
SaveSave