Puerto Viejo Chocolate Festival
The folks who organized the Puerto Viejo Chocolate Fest in Costa Rica really know how to throw a party! The festival runs for four days and offers a wonderful variety of events to enjoy throughout the laid-back beach resort community.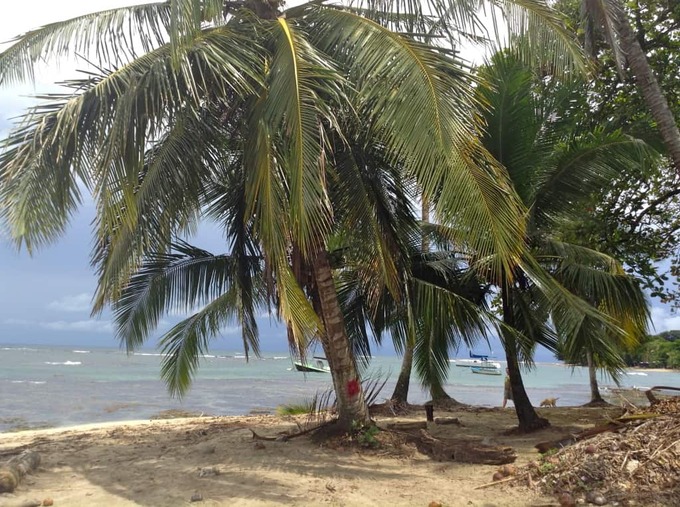 I had been invited to be a judge at the 2014 festival, so had the pleasure of judging the single origin chocolate and the flavour infused chocolate truffles. It was tough tasting 11 single origin samples, but we judges persevered!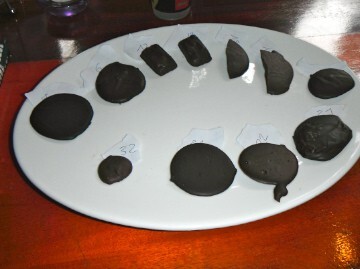 Judging focused on five categories: the aroma, mouthfeel, flavour, and finish (lingering flavours on the tongue), as well as the judge's overall impression of each chocolate. Quite a tasty task, although I admit to not liking one of the truffles.
The chocolate judging was followed by a fabulous dinner at Stash's featuring an excellent chicken molé and talapia fish encrusted with locally grown macadamia nuts. A truly delicious meal in a lovely setting. The walls at Stash's are adorned with local art, and the tropical gardens on the grounds are a welcoming touch.
Day two of the festival was the largest public event, at which chocolate makers and chocolate lovers gathered to indulge in all sorts of chocolate flavours, entertainment, and craziness, including aerial dancers and the hypnotic dance of the cacao in which we were all invited to join in.
Day three of the festival was one of my favourites. There were several interesting presentations, including one by American chocolate maker Steve Devries, who was visiting from Colorado.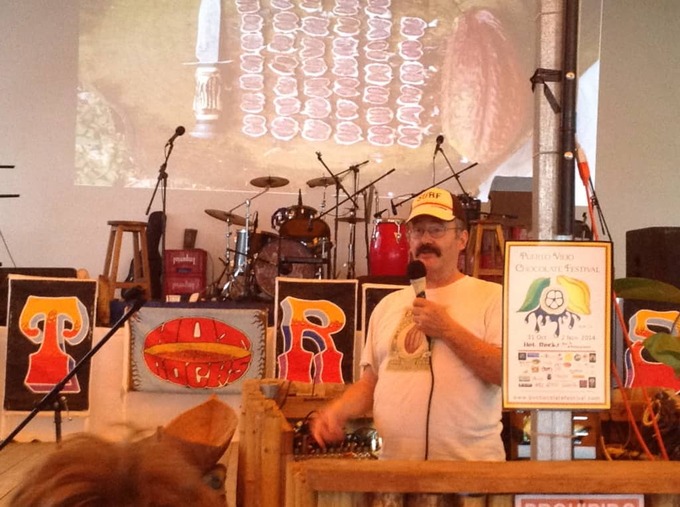 Later, we indulged in a series of delicious chocolate pairings at Chili Rojo, one of the finest restaurants in Puerto Viejo. Each chocolate maker had the opportunity to offer samples of their finest chocolate paired with the libation of their choice. We had Talamanca Chocolate's Allspice bar with Single Malt Scotch, Tawny Port paired with 70% Pinca from Xocolat Chocolate, Carmenère wine from Chile paired with Bread & Chocolate's Macadamia and Hazelnut Truffle, along with a Spumante paired with an orange truffle. Is your mouth watering yet?
Next up was Samaritan Chocolate, who paired their Pumpkin Pie Spice Chocolate with a Chocolate Stout. Caribeans Chocolate paired their espresso-infused 72% dark chocolate and their Three Kings Chocolate with several aged rums. Wow! And Talamanca Organica paired their 70% dark chocolate with an Organic Shiraz red wine from Italy. What a night!
The following day we did the "Chocolate Crawl," where we visited various eating and drinking establishments for some form of chocolate offering. The various savoury chocolate dipping sauces served at Koki Beach (pictured below) were amazing. Who'd have thought that a cocoa-based sauce would pair so nicely with plantain and corn chips?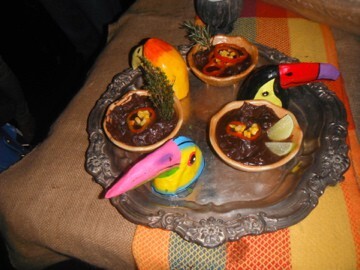 You can see a video of the Puerto Viejo Chocolate Fest made made by chocolate maker Henrik Bodholdt on my YouTube channel.
The Puerto Viejo Chocolate Festival used to be held as close to Halloween night as possible. But it has been replaced by the new Costa Rican Chocolate Festival (Feria de Chocolate CR) that is now held in the capital city of San Jose in June.