pure perfection in Puyricard, Provence
It was a bit of a challenge getting there (we'd taken the wrong train from Paris, received no help whatsoever from the staff on the TGV — French fast train) … but eventually we made our way to the south of France and away from the big-city fast pace of the City of Lights. Our lovely Eurail journey took us through Lyon, Orange, Avignon and past Arles. And the scenery was lovely. But we finally arrived in Aix-en-Provence, the trendy village where we were being picked up by a new friend.
Mary moved to France about 30 years ago after falling in love with a Frenchman. She was from my hometown of Winnipeg, Canada and had come to Aix to study French. I had never met her before, but she was a friend of a friend. We had made contact via e-mail, and without solicitation, she had invited Kathe and me to come and stay with her and her family for a few days. Once a Winnipegger, always a Winnipegger. We are known for our friendly, welcoming personalities.
puyricard france
Mary and her family live in the tiny village of Puyricard, in the province of Provence. What was really amazing is that their property shares a boundary with the Puyricard chocolate factory, the main purpose of our trip to the south of France.
Unless you live or travel in France extensively, it is unlikely that you have heard of Puyricard. Unless you are a chocolate connoisseur. I had been told by two different friends in Canada that if I was going to France in search of good chocolate, I absolutely had to check out Puyricard. Many believe they are one of the best chocolatiers in the world — or certainly in the Top 10.
puyricard chocolate
Don't be confused. Puyricard is the name of a tiny village with very limited services. But it is also the place where Puyricard Chocolatier Confiseur en Provence has a factory where it has been hand producing (with a minimal amount of automation) its delicious chocolate and confectionaries since 1967 to stock its 20 locations.
North American lovers of fine chocolate will be happy to learn that Puyricard will be selling its wonderful wares via an exclusive new online club.
The chocolate of each European country is exquisite in its own way. I loved the smoothness of the Belgian chocolate and the passion and creativity of its chocolatiers. I loved the pride and ingenuity the Swiss have taken to maintain their position as leaders in the world of chocolate. And I loved the purity of perfection found in the chocolate of Puyricard, France.
The French are indeed purists when it comes to chocolate. The dark chocolate is unadulterated. It is pure perfection and they are ultimately proud of this. It stands in a class of its own. But it is not for everyone. It is less sweet than most other chocolate. It is less fancy — although the packaging is certainly among the fanciest I have seen. And it is wonderful.
It is no surprise that I judge a place by its chocolate. I am a chocolate enthusiast, a chocolate adventurist, a self-professed chocoholic — and proud of it. Hardly a day goes by that I am not indulging in some way.
So it is no wonder that I liked the simplicity of the village of Puyricard and its proximity to all that is wonderful about Provence. We enjoyed drinks on the promenade in Aix, lined with lovely shops and cafes. Aix-en-Provence is probably most famous as being the birthplace of world-renown artist, Cezanne in 1839. It is a lovely place to chill-out and enjoy life away from the rat race. And it is just minutes from Puyricard.
We spent a day in Marseilles, and for someone who loves the sea as I do, it was a pleasure to stroll along the pier, smell the fresh fish being offered by the fishermen, and end up at Le Collins Brasserie, an outdoor cafe on the Quai du Port where we enjoyed plump mussels (moules et frites) expertly prepared and a salad "Exotique" featuring caviar, shrimp, avocado and other tasty delicacies.
A highlight of our trip to Marseilles was a visit to Notre Dame de la Garde Basilique. This church is still used for Sunday masses, and although not religious, I was awed by the magnificence and purity of this place of worship. It is set high on a cliff overlooking the port and blueness of the Gulf of Lion. One down side: be prepared to be knocked off your feet by the smell of urine emanating from the men's washroom (which is next to the women's washroom.) It was so bad at the time of our visit that I would highly recommend not using the facilities if you can avoid it. But overall, the basilica is well worth the trip.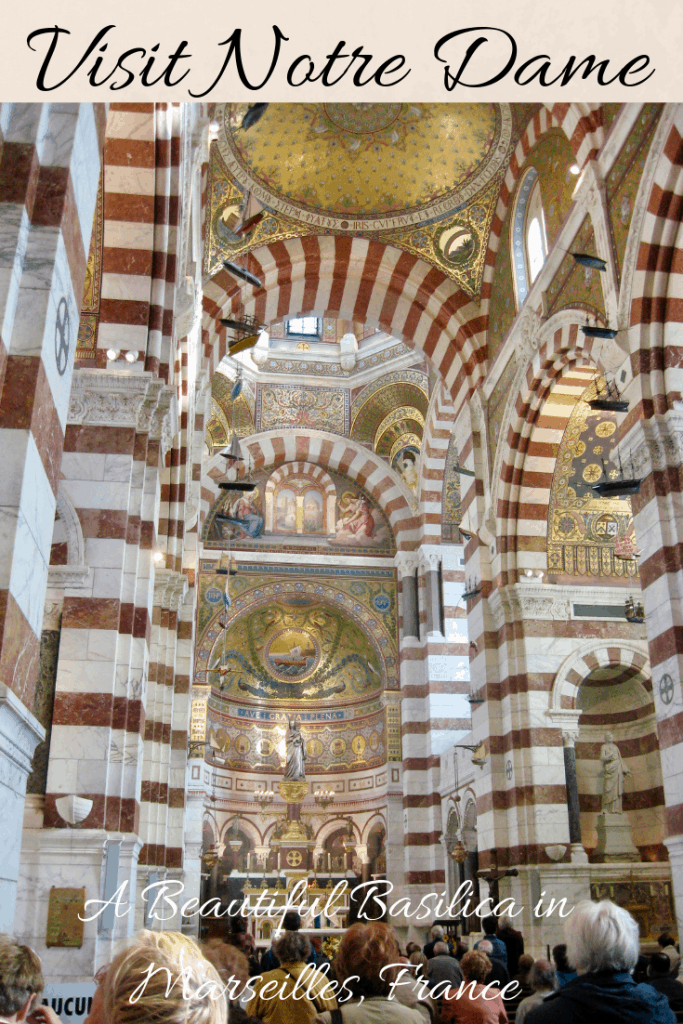 I wish we had had more time in Provence, but we enjoyed our time there, met some new friends, saw some amazing sights and were refreshed for our visit to Switzerland.