in search of Hawaiian chocolate
I went to Hawaii in search of Hawaiian chocolate. I had no idea it would be so difficult to figure out exactly what that is!
Most everyone knows (and has likely tasted) the Chocolate Covered Macadamias made by Hawaiian Host. The traditional chocolate-nut treat has been around since the 1920's, and Hawaii Host continues to add to its product line including the newly-added chocolate macadamia nut truffles. But for the most part, Hawaiian Host products are chocolate confections and not handcrafted artisanal chocolate.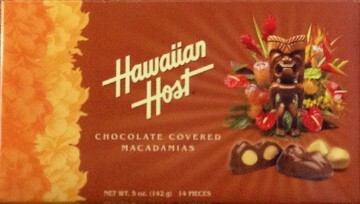 The Waialua Estate Chocolate (owned by the Dole Food Company) is made from cocoa beans grown on the island of Oahu, but the finished chocolate is actually made in California by the Guittard Chocolate company and then packaged and sold as their Hawaiian Chocolate line of premium bars. I know that they do have plans to eventually process the chocolate in Hawaii, but for now, most of the beans are being shipped 2,393 miles from Honolulu to San Francisco and then distributed from there. I've also learned that some of Waialua Estate's beans are sold to Big Island Candies of Hilo and are used to coat their delicious chocolate-covered macadamia nuts, and also to Kokolani Chocolates of Kailua, Oahu, for their all-local Kokolava.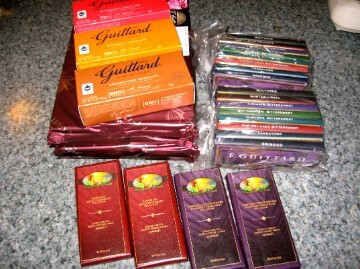 a taste of Hawaiian handcrafted chocolate
The Original Hawaiian Chocolate (OHC) Factory near Kona, Hawaii, was the first company to grow cacao trees and make Hawaiian chocolate from the cocoa produced from them. Every step of the process is done at the same location. It is a small tree to bean to bar chocolate factory run by its owners with a limited amount of help. I'll talk more about OHC when I post about our time on the Big Island.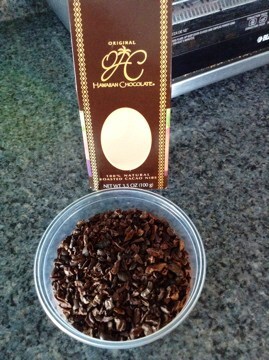 Madre and Manoa are two excellent chocolate makers on the island of Oahu who would like to be using Hawaiian cocoa beans to make their chocolate, but can't get enough of it to meet demand. So they use beans from around the world. Manoa's labelling doesn't tell you the origin of their 60% chocolate. Madre does give you partial information on the label, but it is confusing. Its delicious award-winning Triple Cacao bar is made from cocoa grown in the Dominican Republic, cacao pulp from Brazil, and Mexican vanilla. It is "made in" Hawaii, but the ingredients are not. Same goes for Kokolani Chocolates, where excellent Hawaiian chocolate novelties are made with French-made couverture and Hawaiian flavour enhancements. (I will cover each of these companies in more detail in the next post.)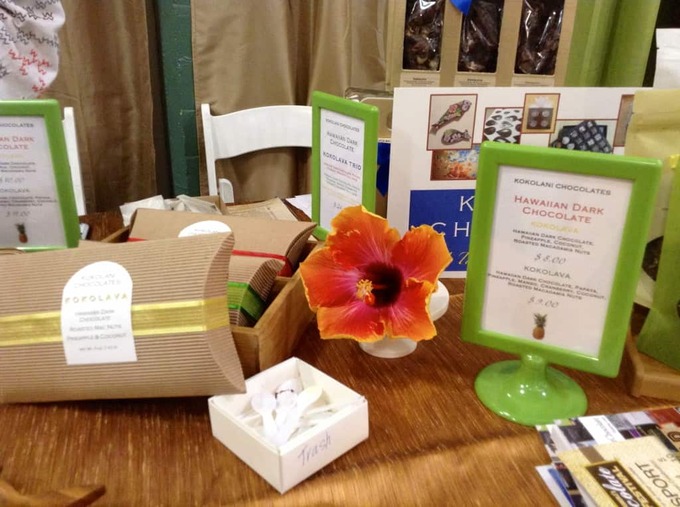 So there we have three completely different scenarios in which each is being marketed as "Hawaiian handcrafted chocolate":
1) Pure chocolate that is made from cacao/cocoa grown in Hawaii and is manufactured and processed on the same site as where the trees are grown. You can't get any more Hawaiian than that, unless the chocolate was being made by Hawaiian-born individuals. It currently is not.
2) Pure chocolate that is made from cocoa grown in Hawaii, but made into chocolate outside the state in a large factory.
3) Pure chocolate that is not made from Hawaiian-grown cocoa, but is handcrafted in Hawaii. And chocolate creations that may or may not be made from Hawaii-grown cocoa, but are made in Hawaii using exclusively Hawaii-grown flavour enhancements such as fresh pineapple, macadamia nuts, Hawaiian sea salt, lavender or the like.
Is one any more or less Hawaiian than the other? Before we get too snooty about "origin of chocolate," we've got to think back to European chocolate where the origin of the beans was not the key factor that distinguished one country's chocolate from the other as most (if not all) were using the same cocoa beans from West Africa. It was the technique and style that differentiated Belgian chocolate from Swiss, French, Dutch chocolate and others.
With consumer tastes changing, and more of us preferring pure single origin chocolate as opposed to highly-processed chocolate made from blended or bulk beans, the world of chocolate is changing, and we now demand to know where the cocoa used to make our chocolate is grown, just as we prefer to know where the grapes in the wine or beans in the coffee we drink are from.
The difference for me, was that I knew I was going to a cacao-growing region when I went to Hawaii. So I assumed that the chocolate I would be eating there was of local origin and it is not. That is expected to change over time, as the Hawaiian cacao industry is new at just 10 years old. But for now, if you go on a chocolate travel excursion to Hawaii, be sure to ask questions, read the label, and consult the next volume of Chocolatour in which Hawaii will be prominently featured.
Please join me on a chocolate tour to the Hawaiian Islands Feb 10-18, 2018, where we will truly discover Hawaiian chocolate. Details here.