chocolate dinners in the Community Classroom
Establishing chocolate travel as the new niche has been my goal ever since embarking on the journey of researching and writing Chocolatour. But for those who can't or don't wish to travel, the journey of chocolate discovery can still be had at the delicious chocolate dinners we have been holding in the Community Classroom of McNally Robinson Booksellers in Winnipeg.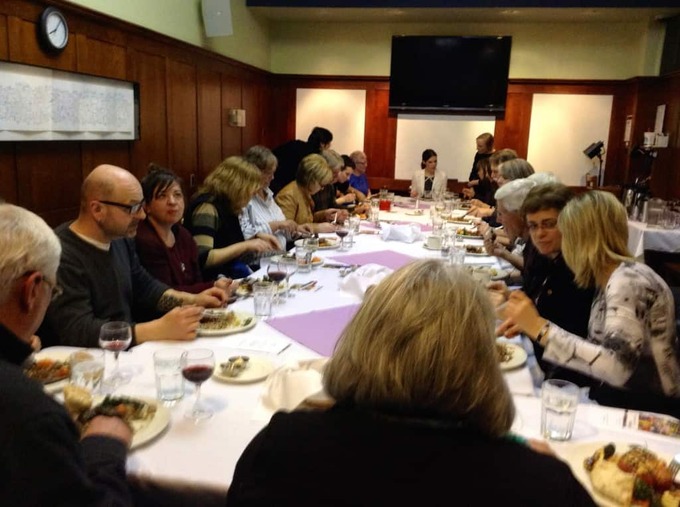 I wrote about the first of these dinners held Nov 2, 2013 in this earlier post. Today, I'd like to share the menu we experienced yesterday at the April 12, 2014 chocolate dinner.
Hats off to Chef Karen Nielsen and her team for creating a superb menu for last night's meal. We started off with a Strawberry and Almond Salad topped with a quince balsamic and dark chocolate dressing. I loved it, but was too engulfed in dinner conversation to remember to capture it in a photograph!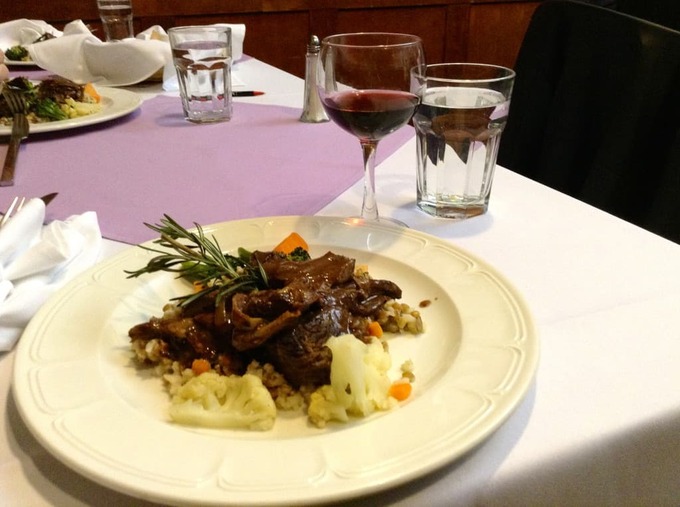 The second course was Bittersweet Chocolate Beef Short Ribs simmered in a chocolate-infused red wine sauce. They were tender, delicious, and cooked to perfection.
The meal was completed with an absolutely stunning dessert of Chocolate Mousse with Hazelnut Dacquoise–a creation of Patisserie Chef Geoffroy Dextraze, who is part of the culinary team at Prairie Ink. It was one of the best desserts I've ever had.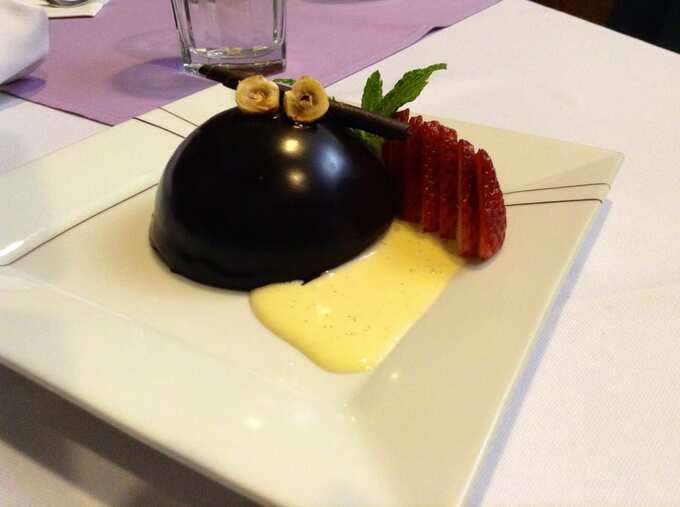 I think everyone at this sold-out event really enjoyed the ambiance and culinary treats, and learned that chocolate is so much more than candy.
Here's looking forward to the May 3, 2014 chocolate dinner we'll be having in the Community Classroom. I'm sure Karen and her team will generate more squeals of delight with their offerings.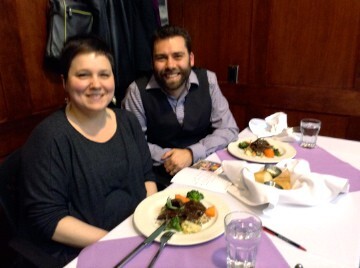 My dining companions Tara and Christopher Brasher of Winnipeg were a bit surprised at the impassioned sounds of my chocogasm. You can have one, too, if you join us.
We've also just scheduled a chocolate dinner in the Community Classroom for September 20, 2014. Be sure to register early, as these events at McNally Robinson sell out very quickly. Stay tuned for more chocolate events coming your way.