tantalize your senses in Fredericton, New Brunswick
I have a fascination with fiddleheads–the curled bright green sprouts of the Ostrich fern. My love of fiddleheads began in May, 2002, when Angela Watson, (then) Tourism Coordinator for Fredericton Tourism invited my husband and me to go fiddlehead picking with her along the shores of the Nashwaak River–a small tributary of the mighty Saint John River that connects St. John, New Brunswick, to the capital city of Fredericton.
It was a fascinating experience, and one that made us feel like true Maritimers! Angela had rubber boots for both of us to wear, as fiddleheads are found along the wet mucky banks of the river. We cut the buds from the plant near to the ground, rinsed them in the river, and brought these local delicacies back to Angela's place, where we learned how to clean and cook the fiddleheads. In North America, the fiddlehead is the East Coast version of asparagus–a delicious green vegetable that only grows in the spring. You can interchange the two vegetables in most recipes.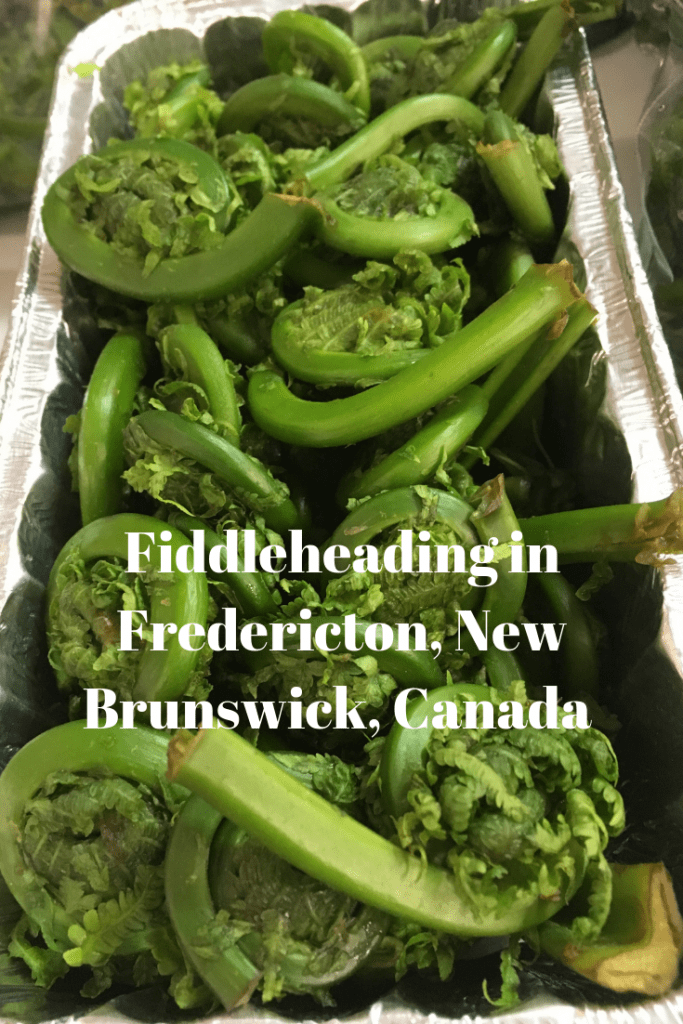 After shaking off the 'cling-ons' (the brown skin that clings to the surface of the delicate green buds), we steamed them for 10 minutes and then enjoyed our pick slathered with butter, and a touch of salt, pepper and vinegar. I now felt like a true maritimer rather than a tourist.
taste sensations of fredericton new brunswick
Fast forward to 2017, and on a return visit to Fredericton, I had the opportunity to return to the Fredericton Boyce Farmers Market and buy some fiddleheads along with a lot of other tasty treats. Quite a few of the vendors had chocolate offerings of various types. But without question, my favourite flavour of the day was the delicious coffee I enjoyed at Whitney Coffee. If there is better coffee being made in Fredericton, I didn't find it.
the vibrant art scene of fredericton new brunswick
But my visit to Fredericton wasn't just about indulgence. I'd come for the annual conference of the Professional Writers Association of Canada, and as part of our program, we had the opportunity to visit two fabulous art galleries.
A small city of just over 58,000, Fredericton is easy to navigate and fun to walk. Our hotel was within blocks of pretty much everything you'd want to see, and walking from place to place gave us a chance to take in the historic landmarks and scenery along the way.
Our opening reception was held at Gallery 78, a lovely contemporary gallery of local handcrafted art housed in an 1898 property that has been refurbished to be home to New Brunswick's oldest privately run art gallery.
Gallery 78 is bright and welcoming, with big windows overlooking the St. John River. We were entertained by a local actor portraying Lord Beaverbrook–the early 20th century business tycoon who owned several newspapers in Britain and Canada and became involved in politics during World War II alongside Winston Churchill.
I also enjoyed perusing the art at the Beaverbrook Gallery. The main floor offers a small but lovely gift shop. The main floor galleries are adorned with a selection of life-sized art–primarily British and Canadian art–and it was nice that we were allowed to take photos (without flash.)
I am so grateful that I returned to Fredericton, and was able to continue my exploration of this very lovely city. Have you been to Fredericton? Was there something that left a lasting impression with you?