tasting Cuban chocolate
In celebration of Milk Chocolate Day on July 28th and my recent research trip to Cuba to investigate all things chocolate and cacao in this taste-tempting Caribbean nation, I devote this post to the chocolate of Cuba. Here, I'm focusing on chocolate being made in Cuba–true Cuban chocolate, as opposed to chocolate from cacao beans grown in Cuba being made outside of Cuba by fabulous companies such as Confiserie Sprungli of Switzerland.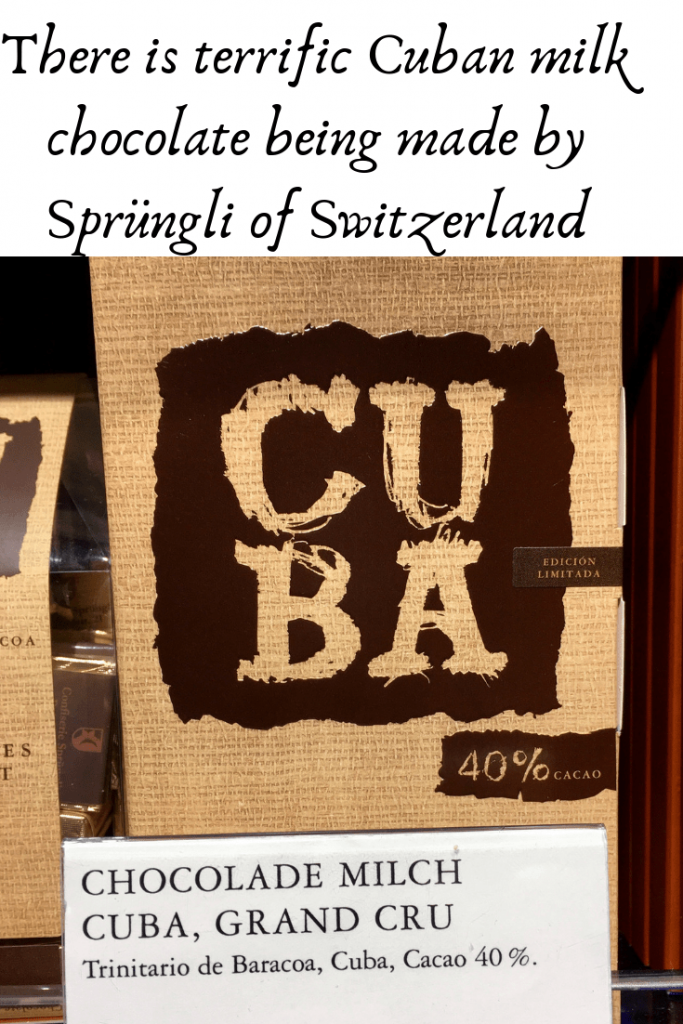 I had the opportunity to visit Cuba's only national chocolate factory, located in the town of Mabujabo, in Eastern Cuba's Guantánamo province (approximately 539 mi/867 kilometres east of Havana.) Opened in 1963 by national hero Ernesto (Ché) Guevara, who was then Industry Minister of Cuba. Unfortunately for me, the chocolate factory was closed for renovations during my visit, as they are awaiting new equipment from Germany, Switzerland, and Italy to improve their cocoa processing and chocolate making abilities. But I did meet their new manager (only in the job since January, 2018) and see how they store the processed beans that are ready to be shipped and made into chocolate.
sampling true cuban chocolate
For the most part, Cubans prefer their chocolate sweet. The most popular bar is the Baracoa, named after the region where the cocoa is grown. I found this bar to be excessively sweet for my taste, as it has only 30% cocoa and the remaining 70% is sugar, with a small amount of soy lecithin and vanilla added. Yikes! They call it "dark chocolate" because no milk powder has been added. But in most other parts of the world, this would simply be called a sweet chocolate, as the sugar truly overpowers any cocoa flavour that may be present in the beans.
Another popular Cuban chocolate bar is La Primada Baracoa. This is a dark milk chocolate by appearance, but again, the over-presence of sugar masks the flavour of the cocoa. Milk powder has been added to the basic ingredients found in the standard Baracoa bar. But sugar is the primary flavour you taste. Cuba grows an abundance of cane sugar, so we know it is locally grown sugar. But no ingredients percentages are shown on the packaging of this bar.
The third variety of Baracoa chocolate that I tasted is the Tabletas de Chocolate fundente Fantasia bar. It was not to my liking either. Too thick, too sweet, and heavily masked cocoa flavour.
There is nothing healthy about this commercially produced Cuban chocolate. But the saving grace is that there are individuals making Cuban chocolate in their own homes that is less sweet and packs a more natural flavour. I will talk more about that in the next post.
Have you tried any of these Cuban-made chocolate bars? Have you tasted the boxed Bombones Bañados, an artisanal brand of bonbons made in Havana using the same Baracoa couverture that has been used in the chocolate I have reviewed in this post? Or the Guamá Bombones finos Artesanales pictured above? If so, I'd be interested in your thoughts on them.
And if you've tried any of the foreign chocolate that is made using Cuban cocoa beans, you will know that it is not the cocoa that is lacking in quality or flavour. As mentioned above, Sprungli of Switzerland makes great milk and dark chocolate from Cuban cocoa, as does Patric Chocolate from Missouri, USA, and Chapon Chocolatier from France. Here's hoping that the new manager at the Fabrica de Chocolate whom I met with will take heed of the advice to get some mentoring from chocolate experts outside the country that can help Cuba take their chocolate making to a whole new level when the factory re-opens in 2019. If it is a matter of making chocolate that the local people can afford, making bars of half the size but with double the cocoa would be preferable to the current formula they have been using to date.
My thanks to the Cuban Tourist Board for financing this trip and arranging my terrific cocoa-focused itinerary.