a visit to The Hershey Story chocolate museum
In previous posts, I have highlighted an overview of the Hershey, Pennsylvania experience and the Hershey Trust, introduced you to some of the area's finest hotels, and included a visit to the Hershey Gardens. In this post, I'd like to take you to the Hershey Story, a museum devoted to the Hershey Chocolate Company–the largest chocolate manufacturer in North America–and Milton S. Hershey, the man who founded it in 1894.
As I've mentioned before, every chocolate museum is different. Some focus exclusively on geographic regions, some primarily on the history of cacao and chocolate, and others on the equipment used to make chocolate moulds and chocolates.
the hershey story is a chocolate museum and tribute to the man who made chocolate accessible to the american public
Opened to the public in January, 2009 and formally titled The Hershey Story, The Museum on Chocolate Avenue, The Hershey Story focuses primarily on the personal journey of Milton Hershey–from a child raised in the strict discipline of the Mennonite faith in small-town Pennsylvania, to the failures and successes of the talented entrepreneur who found a way to make chocolate accessible and affordable to all. It is a truly fascinating facility, and I would highly recommend a half-day visit to see the museum exhibits, partake in The Tastings, and make your own bar in The Chocolate Lab.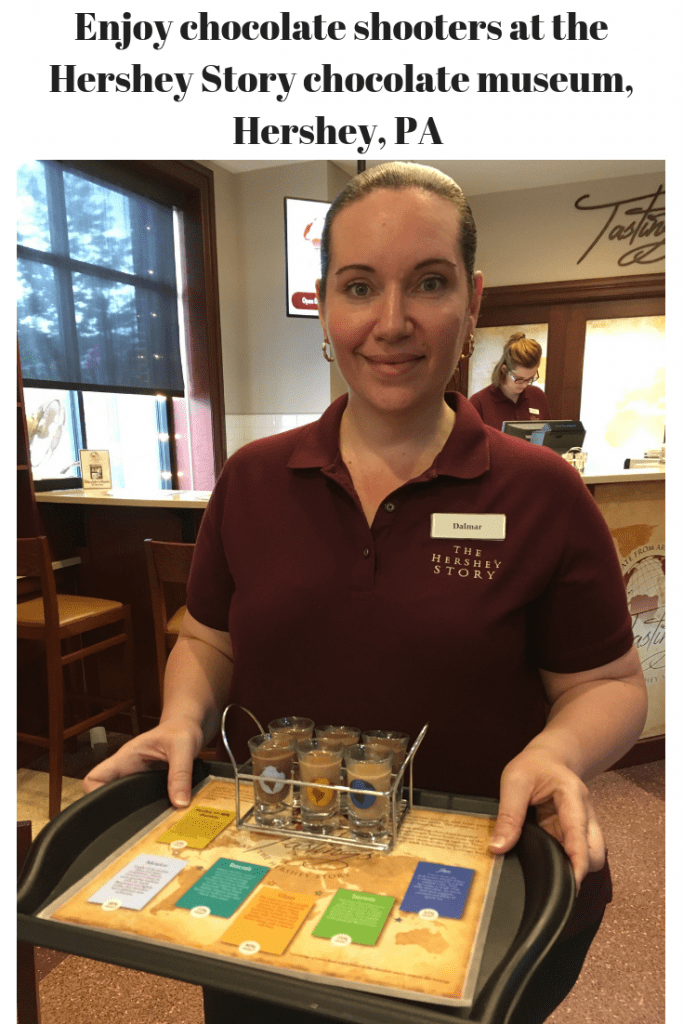 It was so much fun tasting six different shooters of warm chocolate drinks featuring different origins of cacao in The Tastings room at The Hershey Story. We tried a 75% Tanzanian (East Africa), a 72% Venezuelan (South America), a 66% Mexican, a 40% Ghanan (West Africa), a 33% Java (Indonesia), and a 33% signature Hershey blend featuring local Pennsylvania milk. I loved the 75% Tanzanian, which featured an intense fruitiness coupled with floral notes.
Hershey Chocolate has been the American favourite since Milton Hershey opened his chocolate/candy factory in 1905. It took two years to complete the massive facility, but Hershey Chocolate quickly became a hit and has remained a sentimental favourite with many chocolate lovers throughout the generations.
But just what makes Hershey Chocolate so good, and so different?
Milton Hershey invented the double condensed milk process that gives Hershey Chocolate its unique taste. Only fresh milk from local farms is used to make Hershey milk chocolate. The milk goes through a special processing that increases its butyric acid content. This creates a unique flavour and texture in the chocolate–so much so that other companies have been known to add extra butyric acid to their chocolate to try and replicate the Hershey flavour. Who knew?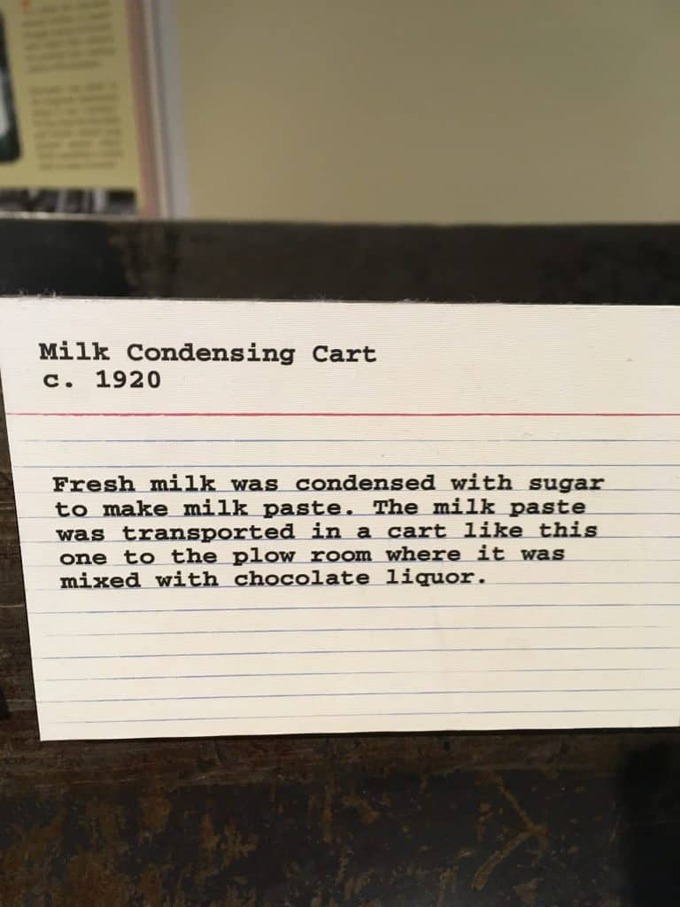 Visit this website to see all the different chocolate and candy products that Hershey produces.