bean-to-bar chocolate in Montreal
In the previous post, I introduced you to a few fabulous chocolatiers who are offering French-style sophisticated chocolate in Montreal. In this post, I'd like to invite you into the world of bean-to-bar chocolate in Montreal, and a few chocolate makers who are making chocolate bars directly from cocoa beans they have sourced themselves. In the photo below, Van Hien Dao on the left, is the Chocolate Factory Director, and Gaii Kim on the right is the chocolate maker at the Usine Cacao 70 factory at 751 Richardson Street in Montreal. They are leaders in Montreal's bean-to-bar chocolate scene.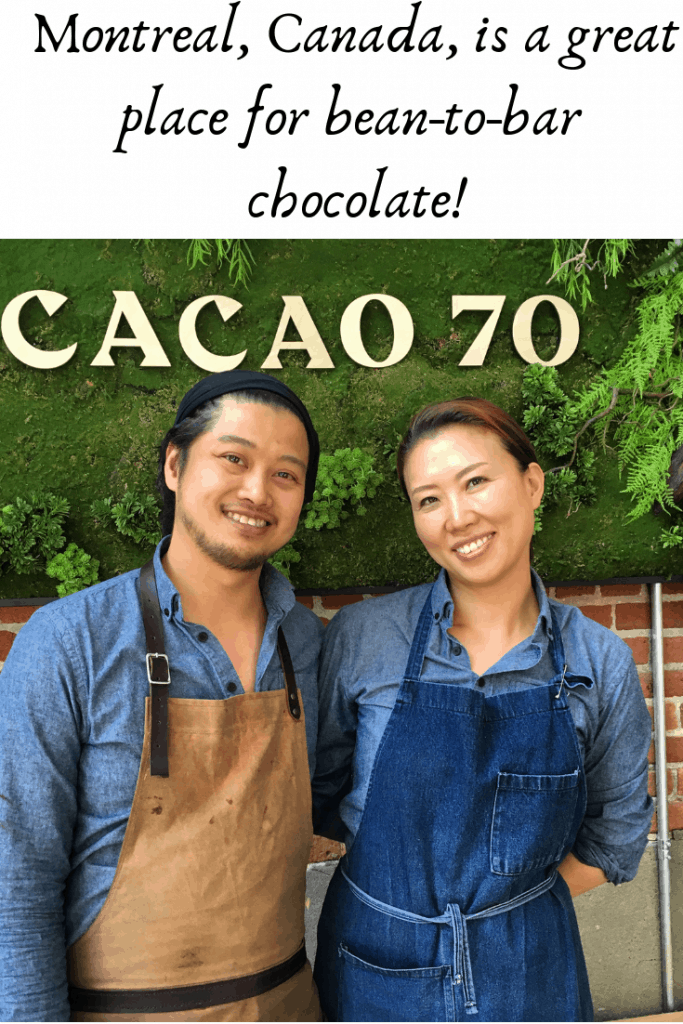 Cacao 70 is by far the largest of the three bean-to-bar producers I will feature in this post. Cacao 70 started out as a drinking chocolate shop in Montreal, and has now grown to nearly 20 locations across Canada, with plans to soon break into the US and Asian markets. Not bad for a company that was just launched in 2011 in Montreal by co-owners Bing Tang and Ying Zhi Wang, both originally from China.
Cacao 70 uses the franchise model to attract entrepreneurs into its family. The factory location is corporate owned, and is at present, the only Cacao 70 location doing bean-to-bar. The rest of the locations are franchises, and are working with couverture from Valrhona and Callebaut. "Ultimately, the goal is for us to be able to provide all chocolate for Cacao 70 franchisees. But right now, we can only meet our own supply needs," says Van Hien Dao, who oversees all operations at the factory.
"One of our missions is to showcase the different origins of chocolate," says Van. "Right now, we're working with Hispaniola beans from the Dominican Republic. We really like the flavour notes we get from these beans, and purchase them from a cocoa cooperative that sells us fermented beans." The beans are roasted and processed in the Montreal factory.
bean-to-bar montreal features the art of collaboration
Collaboration is king in the world of chocolate. Cacao 70 was fortunate to have help from Daniel of Cacao Prieto of Brooklyn, New York, in setting up their factory location and guidance in purchasing the right equipment to best suit their needs. The factory just opened in May, 2017, and received 17 tonnes of cocoa beans from the Dominican Republic to get them started. I really enjoyed the 70% dark chocolate bar infused with coffee. Cacao 70 also makes a 45% milk chocolate and a 34% white chocolate.
On a much smaller scale, there is daily collaboration in the Mile End neighbourhood of Montreal that exists between two small bean-to-bar companies that share the same space and chocolate-making equipment. Rica Chocolat, a new bean-to-bar maker (founded in 2016) shares work space and equipment with Chocolats Monarque, a more established company run by Daniel Haran–who has been making chocolate since 2009. Both companies share the goal of being transparent in their operations in order to produce socially responsible chocolate.
"We've seen there is a way to adopt the business model we envision into the world of chocolate, and be successful for ourselves, and for the farmers we buy from," says Adrien Arnoux of Rica Chocolat.
Adrien and his two partners each take time in Daniel's chocolate workshop to make Rica chocolate. The chocolate is aged in blocks for a couple of weeks before it is remelted and made into individual bars.
Rica Chocolat makes a number of different chocolate bars with cocoa from the Upala region of Costa Rica. The key is all in the roasting process. "It's so easy to burn the smaller beans," says Adrien, who made his own bean-sorting machine so that only beans of the same size are included in any given roasting. I love the smooth texture and intense cocoa flavours in the Rica bars–especially the 65% Crème bar that is roasted at two different temperatures and boasts creamy cocoa notes with a hint of lime (tilleul.) I also love the Sauvage (Wild!) bar #15 that boasts woody, hazelnut, and tobacco notes. I adore chocolate with those natural smokey notes. Keep your eye on the Rica Chocolat website to see where their chocolate is bering sold.
I was surprised when I entered Rica's chocolate workshop and saw the Nahua cocoa beans, as I visited Juan Pablo Buchert of Nahua Chocolate when I was in San Jose, Costa Rica, and know that he is a big supporter of sustainable chocolate. The world of artisanal chocolate is indeed a small one!
montreal offers an emerging bean-to-bar chocolate scene
Daniel's Chocolats Monarque also has a strong sense of place as the inspiration behind his company that is named for the monarch butterfly. "I was inspired by the Zorzal Bird Refuge in the Dominican Republic and its importance to the eco-system and the monarchs," says Daniel. Daniel makes a wonderful Oko Caribe bar of cacao grown in the northeastern region of the Dominican Republic that features the fruity acidic notes in chocolate that I so love.
Daniel is very passionate about his connection to the world of chocolate. "I had a mid-life crisis and wanted to get out of the tech field," says Daniel, who is originally from a small fishing village on the island of St. Pierre and Miquelon–a French territory off the coast of Newfoundland and Labrador. "I think I can make more people happy by making good chocolate." And that he does.
If you enjoyed reading this post as much as I enjoyed writing it (and tasting all this delicious chocolate) please share this post so that more people can learn about bean-to-bar chocolate in Montreal. 🙂 And if you're not already subscribed, please join the smart subscribers who have beat you to the punch! Thanks so much, and may your day be filled with smiles, happiness, and just the right amount of chocolate!
SaveSave
SaveSave
SaveSave
SaveSave
SaveSave
SaveSave
SaveSave
SaveSave
SaveSave
SaveSave
SaveSave
SaveSave
SaveSave
SaveSave
SaveSave
SaveSave
SaveSave
SaveSave
SaveSave
SaveSave
SaveSave
SaveSave
SaveSave
SaveSave
SaveSave
SaveSave
SaveSave
SaveSave
SaveSave
SaveSave
SaveSave
SaveSave
SaveSave
SaveSave
SaveSave
SaveSave