best places to eat in Scottsdale
As you've probably realized from the past couple of posts, We really loved spending time in Scottsdale, Arizona. My friend Laverne and I both agreed that the culinary scene in Scottsdale is second to none, and every meal or snack we had was amazing. I figured I'd highlight the best breakfast, lunch, dinner, and snack we had while in this culinary centre of Arizona, and open the conversation up to you, so that we could share our own best places to eat in Scottsdale for the next time we (or you) visit.
best breakfast or brunch in Scottsdale
We had brunch on the weekend at The Herb Box on East Stetson Drive (at the Southbridge location in Old town Scottsdale) and loved it. Could it have been partly due to Roberto, our great server who could strike up a conversation about anything?
Possibly, but the food was amazing, too. I ordered the Bourbon-Ginger Peach Brioche French Toast. Creme Fraiche and a bourbon-ginger peach topping adorned the deliciously crunchy French toast with maple syrup and bacon as a sidekick. The Herb Box has a terrific location, with nice outdoor patio and a great vibe.
best lunch in Scottsdale
PROOF, An American Canteen at the Four Seasons Scottsdale was the site of our best lunch. I love the grounds of the Four Seasons, with beautiful desert landscapes to enjoy in every direction. We loved sitting out on the patio and enjoying that desert landscape at PROOF, and every bite (and sip!) of the creative menu we had the opportunity to sample.
We were told by at least two people that we should not miss the pretzel knots appetizer, and they were right! Super tasty, and a nice soft chewy texture served with a warm cheese sauce. Next up was the Cobb Salad. We opted for half each so we could fit in another course. But if I get back there again, I would have the full Cobb Salad as it was fantastic. We also had a seafood course–the Lobster Roll and Shrimp and Crab Lettuce Wraps which were light and flavourful.
For dessert, blueberry tea made from pressed fruit and the Apple Cranberry Pie. The cinnamon that flavoured the ample fruit would have made this dessert good enough. But to our surprise, the pie was served atop a pond of delicious butter creme sauce with a side of salted caramel ice-cream. True perfection to end an absolutely delightful meal.
best dinner in Scottsdale
Our best dinner was enjoyed at the Toro Latin Restaurant and Rum Bar at the Fairmont Scottsdale Princess. I love Latin American cuisine and I love rum, so this was a no-brainer even before they mentioned the chocolate desserts!
Our meal began with a special cocktail using Kracken, my favourite kind of rum. The bartender paired the delicious spiced Caribbean rum with banana liquer, lime juice, and vanilla syrup to create a special cocktail topped with fresh flower petals. It was a lovely way to begin an evening of culinary delights.
Because we knew that the dessert course would be wild and wonderful, we ordered a light appetizer of steamed edamame to accompany the complimentary basket of buns.
For the main course, I ordered the Brazilian Picanha Steak–beef marinated in a spicy blend and served with fingerling potatoes and a mildly spiced chimmichurri sauce. The meat was done to perfection, melt-in-your-mouth tender, and beautifully sliced on the angle. Paired with a fine glass of Tempranillo (wine), my taste buds were in heaven!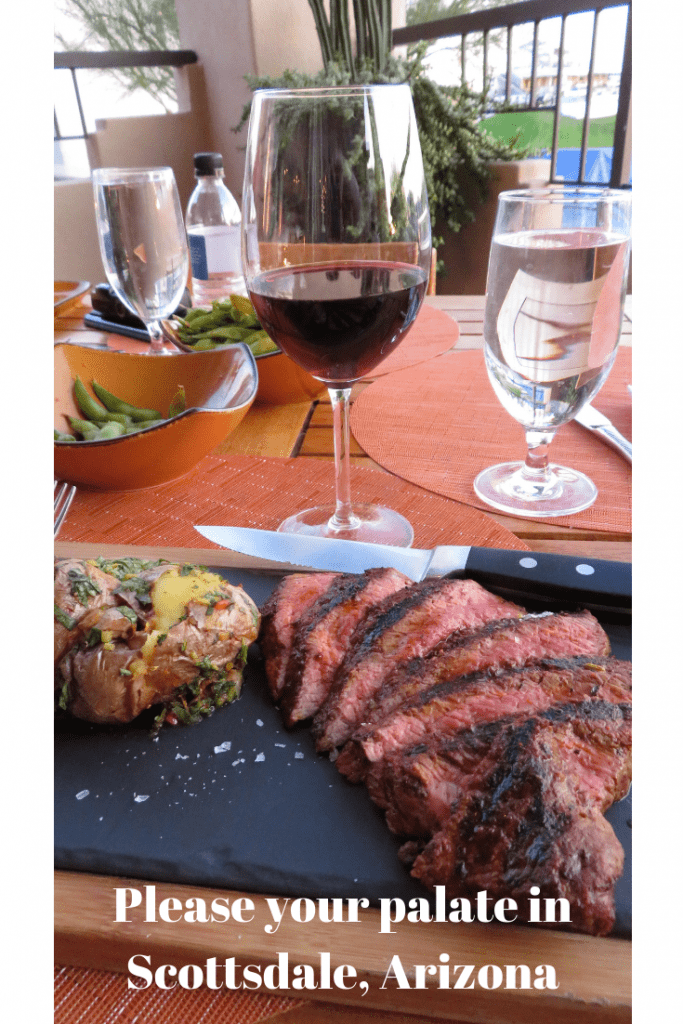 Next, came the reason I had been invited to Toro. To taste the "La Bomba," a massive orchestration of chocolate, cake, sorbet, ice-cream, and fresh fruit, topped with raspberry sauce, passionfruit puree, and a white chocolate sauce. This is definitely a chocolate overdose to be shared, and is quite the show, when your server smashes the dark chocolate shell to reveal all the goodies inside.
Without question, my preference was the Peruvian Chocolate Crunch Cake. This beautifully crafted dessert was served in the Sacher Torte style with a hazelnut layer on the bottom, and a whipped ganache made from Illanka Peruvian chocolate, adorned with cocoa nibs, fresh raspberries, and raspberry sorbet. Absolutely heavenly, and the perfect ending to a perfect dinner. Oh, and did I mention the breath-taking sunset as the backdrop to the 18-hole Championship-level TPC Scottsdale Stadium Golf Course–our view from the patio of Toro? It doesn't get any better than this, folks.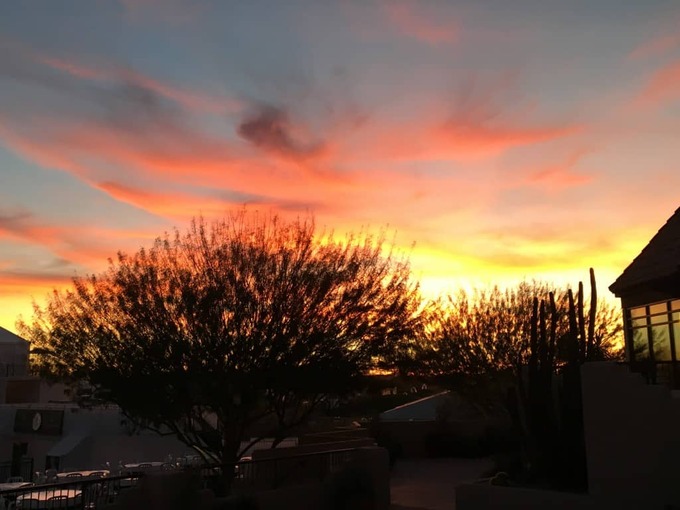 Thanks to executive celebrity chef Richard Sandoval who gifted me a copy of his bright and beautiful book, "New Latin Flavours." I can't wait to try some of these recipes.
Those were our most memorable meals during our all-too-brief visit to Scottsdale, and my personal recommendations for the best places to eat in Scottsdale. For those times when you're not looking for a fancy or expensive meal, but you don't want to sacrifice taste, I highly recommend Chipotle Mexican Grill. Fast food, full flavour.
best snack in Scottsdale
I'd not previously heard of Denver-based Chipotle Mexican Grill fast food chain prior to our visit to Scottsdale, but we both loved it. I ordered the Barbacoa beef burrito with lots of grilled onions and red peppers and loved it. Fast, inexpensive, and made-to-order. Might just be the best Mexican food I've had outside of Mexico.
Have you been to Scottsdale? Where do you think is the best place to eat in Scottsdale? Please join the conversation and share some of your favourites.