best swiss chocolate of Lucerne
I'd had Max Chocolatier of Lucerne, Switzerland, on my radar for several years now and finally made it there last fall. It was worth the wait, as I firmly believe he makes some of the best Swiss chocolate right in Lucerne.
I've eaten a lot of Swiss chocolate from large commercial and custom factories to very small artisan chocolatiers and everything in between. But I think that the chocolate I ate at Max's was truly something special. It is handcrafted chocolate made from the heart.
The story of Max Chocolatier is a special one. The company was founded in September, 2009, by Max Konig, a young Downs Syndrome lad of just 14-years-old at the time. Today, the company has a staff of 15 that work under the direction of Max to continually create new flavours and make his ultra-premium line of exotic chocolates as well as 25 flavours of ice-cream offered spring through fall.
There is everything from sophisticated bonbons and truffles to pralines and caramels. The ultimate in sophisticated Swiss chocolate. As the fresh chocolates only have a shelf life of three weeks, you'll have to make the journey to Lucerne to try them for yourself. It's one of my favourite Swiss cities.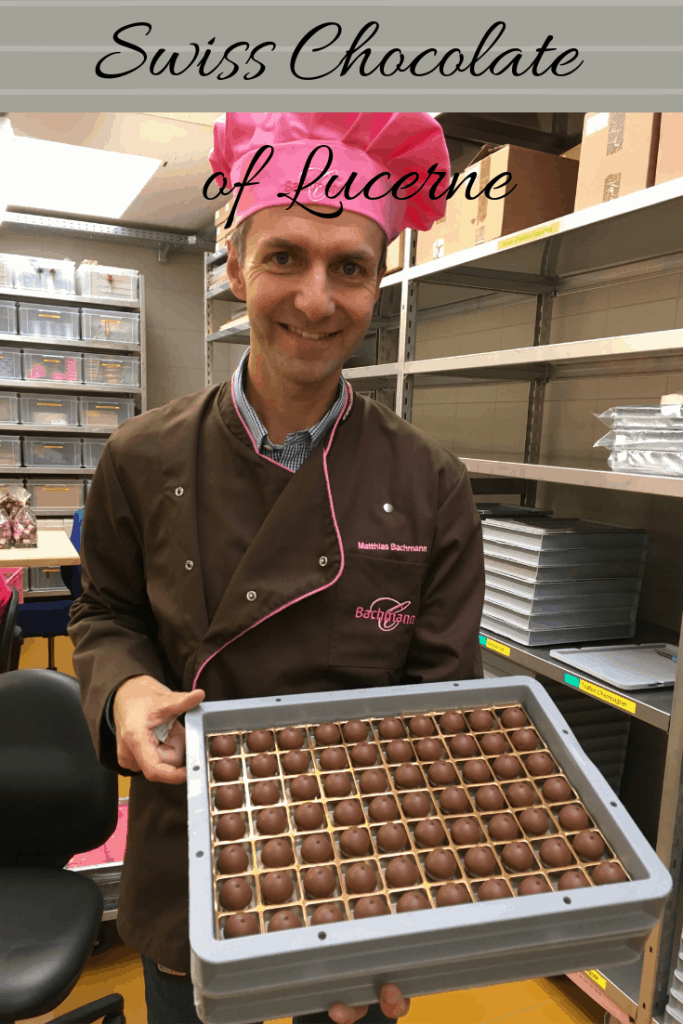 Another really noteworthy chocolatier and confectioner of Lucerne is Confiseur Bachmann's. I met with Matthias Bachmann (pictured above) who was kind enough to spend time explaining the company's history and philosophy to me, as well as taking me on a delicious tasting tour of Bachmann products. Bachmann's is a Swiss family business with 500 employees throughout Switzerland who work for Confiseur Bachmann's.
I really enjoyed learning about Bachmann's as they are a company with a conscience. The Bachmann Foundation supports children with disabilities and children in Ghana, in an attempt to help raise the standard of living for families working in the world of cocoa. In acknowledgement of their efforts, the Bachmann Foundation was a finalist for the Swiss Ethics Award. How cool that Switzerland has an award such as this, and congrats to Bachmann's for being acknowledged for the good work that they do.
some of the best swiss chocolate can be found right in lucerne
Walking into a Bachmann's shop, I immediately noticed something different. They don't have their company name plastered all over the place like some companies do. In fact, I had to look pretty hard at the packaging to even see the name Bachmann's. The reason for that is that Feng Shui (the ancient Chinese art of placement and harmony) has been used in the design of their shops and branding. Bachmann's practices a low-key sell and has a strong social conscience. That gives me good reason to endorse their brand. The quality of the chocolate is yet another reason.
In 2008, Bachmann's won the Swiss award for the Best Grand Cru Truffle. They use only the best couverture to make their chocolate creations, and enjoy making locally themed confections such as the chocolate Lucerne Tower. Like Max Chocolatier and many other Swiss chocolate companies, Bachmann primarily uses couverture from Felchin, the custom cocoa processor located across Lake Lucerne in Schwyz. In fact, Matthias apprenticed at Felchin's, and credits the company with helping to inspire him in his chocolate journey.
Max Chocolatier and Confiseur Bachmann are hugely different in size. But they both produce excellent handcrafted products and take great pride in sharing the world of Swiss chocolate with visitors to Lucerne.
My thanks to the team at Luzern Tourism for accompanying me on this tasting expedition of their beautiful city.
SaveSave
SaveSave