chocolate makers of Costa Rica
I hope you've enjoyed the series of posts I've done about my visit to Costa Rica for the 2014 Puerto Viejo Chocolate Festival. I've already introduced you to Caribeans Chocolate in the November 17th post. In today's post, I'd like to introduce you to a few of my other favourite Costa Rican chocolate makers.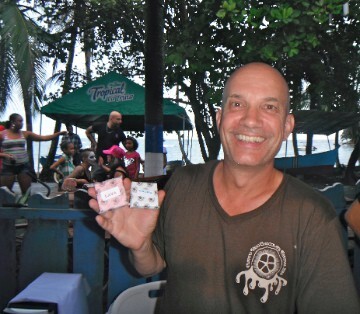 Henrik Bodholdt is an expat European and founder of Chocolate Craft of Costa Rica. He is also a chocolate educator and chocolate maker under the name Beach Chocolate Factory. Under the Chocolate Craft banner, Henrik helps market assorted artisan chocolate makers of Costa Rica via this site. The Beach Chocolate Factory is located in Playa Potrero, on the Pacific Coast in the Guanacaste Region of Costa Rica, but you'll find Henrik at various chocolate events around the country. I loved his Lava bar, with just the right hint of heat, the Celeste bar with its fruity notes, and my favourite, the Tenorio, which is an incredibly smooth and full-flavoured chocolate.
Tao Watts is the chief chocolate maker at Samaritan Xocolata, also on the Pacific Coast of Costa Rica in Perez Zeledon. Tao is an expat originally from Maryland USA, and now long-time resident of Costa Rica whose chocolate creations are as beautiful to look at as they are delectable to taste. Tao is a true artisan who adds a beautiful femininity to the chocolate truffles, bonbons, barks, bars and custom confections offered in Samaritan's line of products. Of the ones I was able to taste, I really loved the Solo Bueno! wave bar, an explosion of 70% dark organic cocoa infused with coconut nectar crystals, chia, sesame, figs, blueberries, ginseng, chili, and more. These are available for worldwide shipping via Samaritan's site. Yay!
Another woman who is passionate about chocolate and who is growing some amazing cacao in the Puerto Viejo area is Christina Orr, an expat originally from California, USA, whose chocolate company is called Talamanca Organica Cacao and Chocolate.
A conservationist and experienced gardener who has passionately brought that knowledge to the cacao fields, Christina is dedicated to creating just the right flavour profile in her cocoa beans by experimenting in the fermentation method of her beans. Christina ferments each harvest of beans separately so that she can very precisely control the development of the flavour in her customized fermentation box. She has only recently began making chocolate from her beans and it will be interesting to see how her chocolate develops over time.
Yes, I found some talented expat Canadians who are growing cacao and making chocolate in Costa Rica, too. Pascal Blanchard from the Eastern Townships of Quebec and his wife Kari Gabriel (who grew up in British Columbia, Canada, but was actually born in Costa Rica) are making chocolate products under the name Xocolat Chocolate. They have a small farm in the Puerto Viejo area, and in addition to producing award-winning chocolate, make fabulous crisps infused with cocoa nibs that they market as Cacao Coast Crackers. I loved them! People often ask me what they can do with cocoa nibs. Dropping them into almost anything will enhance the resulting flavour. But adding fresh cocoa nibs into a tasty batter for baked crisps is a winning recipe that this dynamic duo should market on a wide scale. For now … you've got to go to Costa Rica to get some.
A small stock of Xocolat Chocolate bars can be found on sale at Caribeans Chocolate in Puerto Viejo. At present, Xocolat doesn't have its own website or storefront due to the small quantity they produce. Hopefully, that will soon change.
These are just a few of the talented chocolate makers I met while in Puerto Viejo. In our next post, we'll head to San Jose and discover Nahua Chocolate.