Chocolatouring in North Vancouver
I have close friends who live in North Vancouver, so I've had the pleasure of visiting many times. On my most recent trip, I had the opportunity to discover two new (to me) chocolatiers worth checking out and had a great time exploring the waterfront.
For those of you unfamiliar with North Vancouver, it can most easily be accessed from downtown Vancouver via the seabus–a passenger-only ferry that crosses the Burrard Inlet from downtown Vancouver to North Vancouver every 15 minutes during the workday and every 30 minutes after 9 pm until the wee hours seven days a week. It's now super easy and affordable to take the Canada Line rail service from Vancouver airport in Richmond, British Columbia, to the Waterfront Station in downtown Vancouver, hop the seabus and be over in North Vancouver within 37 minutes–12 minutes in the sea bus and 25 minutes on the Canada Line. This link gives you the sea bus schedule.
My friends live in a penthouse on Lonsdale Avenue so they have a magnificent view of the downtown Vancouver cruise ship terminal at Canada Place. It's amazing how efficient public transportation is in Vancouver, and how quickly it can connect you to the world at large! But over on the "North Shore" as it's called, the pace is far from hectic. It's laid back, there are lots of nice small shops to explore, and you feel relaxed, as part of a welcoming community in a small city … far away from the hustle and bustle of downtown Vancouver. Greater Vancouver has a population of 2.5 million, making it the third largest metropolitan region in Canada, but you'd never know it, standing on the North Shore, watching the world go by.
Lonsdale is a great street to familiarize yourself with in North Vancouver, as it runs straight from the water in Lower Lonsdale, to the foot of the mountains in Upper Lonsdale. You can walk the length of it in an hour or less, or you can hop a bus and travel the entire distance in a matter of minutes. Up near the top of the hill at 1667 Lonsdale, I discovered Daniel Chocolates, a welcoming chocolate cafe where you can get some beautiful chocolate creations done in the Belgian tradition. I loved their sea salt caramels that come in the decorative box below. Daniel Chocolates (also known as Daniel Le Chocolat Belge) was founded in 1981 by Master Chocolatier Daniel Poncelet. There are several other Daniel Chocolates locations in British Columbia and a location in Etobicoke, Ontario. Daniel's products are also sold at select retail locations elsewhere in Canada. Check their website for a full list.
Chocolatouring in North Vancouver doesn't end with chocolate! If you're a tea lover and chocolate lover as I am, you may already know that Rooibos tea goes very well with chocolate. I discovered the amazing Mocha tea at Tea Time located close by to Daniel's at 1418 Lonsdale that boasts flavours of Ethiopian coffee and cocoa mingled with caramel, butterscotch, and calendula petals. How I wish I'd bought more of it!
I meandered back down the hill and made my way to Coconama Chocolate located at 264 East 1st Street (just a short walk off Lonsdale.) This is a gem of a place, as Takanori, his wife Kayoko, and their smiling staff make Nama chocolate in the Japanese tradition, in addition to making award-winning bean-to-bar chocolate under their Coco-Labo label. I really loved the 70% Belize dark chocolate bar that contains only cocoa liquor, cocoa butter, and cane sugar. It won awards from the International Chocolate Academy in 2017 and 2018.
Nama chocolate is made in the Japanese tradition and is very different from any other kind of chocolate I've ever eaten. It is a form of ganache made from fresh cream and cocoa that have been heated with butter, stirred until smooth, and then poured into a square flat pan and frozen for six hours. The frozen Nama chocolate is cut into tiny cubes and dusted with cocoa powder. The result is a silky smooth treat that can be flavoured with fruit, vegetables, spices, coffee, or tea. I loved the dairy free Yuzu flavour. Yuzu is a type of Japanese lemon and the Nama chocolate contains some of the Yuzu zest that adds a surprise texture to each piece. Coconama makes more than 30 different flavours of Nama Chocolate.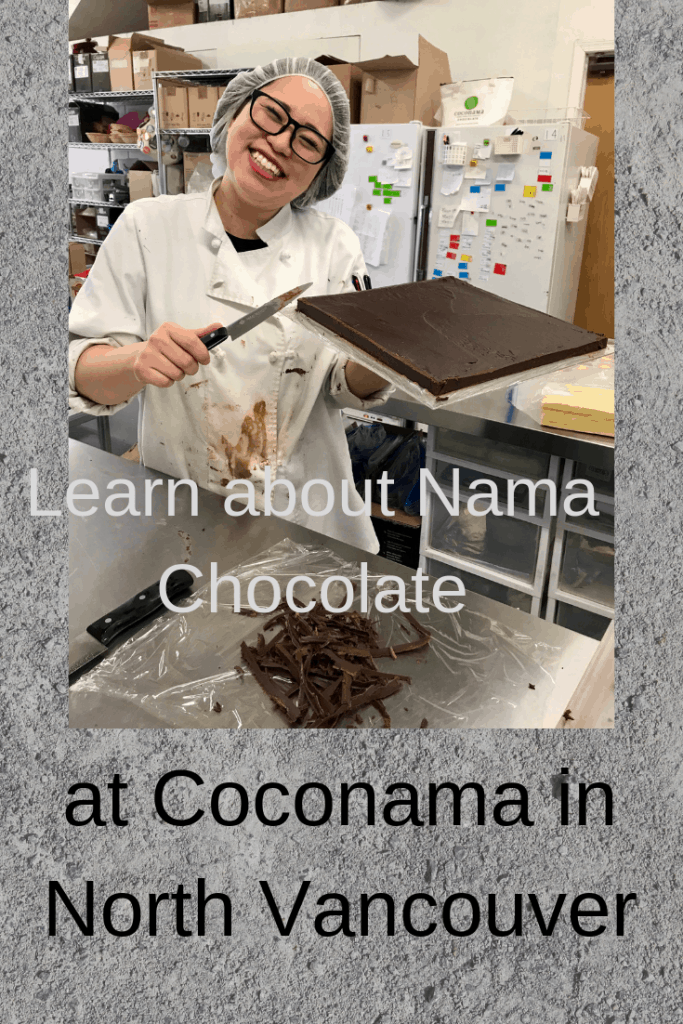 There are a few other options for chocolate in North Vancouver, and quite a few amazing chocolate companies throughout Vancouver. This post I wrote a number of years ago give you information on those.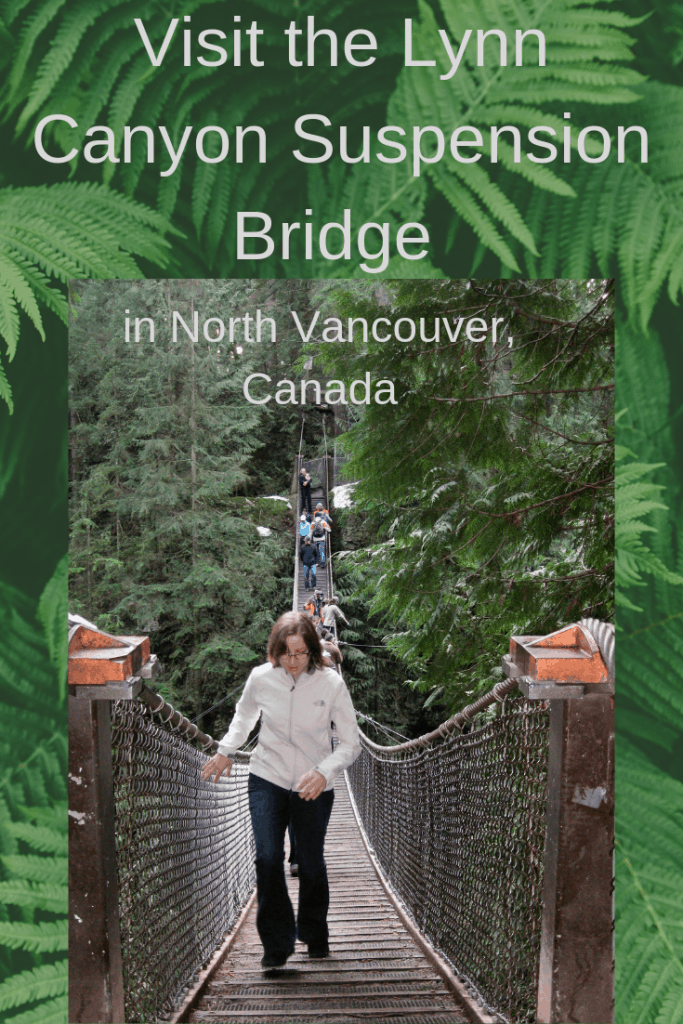 Chocolatouring throughout Vancouver is fun and offers a surprising array of flavours to enjoy. If you want to walk off your indulgences, take a hike up in Lynn Canyon. You can walk the suspension bridge and enjoy the magnificence of the towering Douglas Fir trees within minutes from the city. These are just some of the reasons I love North Vancouver and Vancouver as a whole. Have you been there?