exploring Cuban cacao
In previous posts, I've taken you to the Cuban chocolate factory in Mabujabo in Eastern Cuba, and to the home of a Cuban woman who is making chocolate from her home-grown cacao near Baracoa. In this week's post, I'd like to show you more of what I learned while exploring Cuban cacao, and how supporting the efforts of local farmers makes you a practitioner of sustainable travel.
I visited the home of a man who has worked in Cuba's cocoa industry for the past 70 years. I visited a state-run farm (finca) where cocoa discovery tours are conducted by the government. I visited a cocoa cooperative where private farmers are growing cocoa together under a state-run model. I visited Cuba's Cocoa Research Centre and learned about the work they have been doing, and I visited Centro de Gestion El Jamal, the regional processing facility where the farmers bring their cocoa beans to be fermented and dried. I'll try and touch on the highlights of each of those visits within the context of this post, as that's a lot to cover!
Urbano Rodriguez Gainza is known as Cuba's King of Cacao. He's 86-years-old and very knowledgeable about the world of cacao. But I have to tell you! Interviewing him (via an interpreter) was the most difficult interview I've ever conducted in my (near) 30 years as a journalist. A self-proclaimed lifelong student of cacao, Urbano is really quite the philosopher and loves to tell stories about life and love. So every question I'd ask him would take a good half hour to get to the answer via the long and winding–and very colourful–road. Urbano drinks cocoa three times per day. He grinds and crushes his own cocoa beans into a paste, mixes that with water and milk, seasons with cinnamon and Chinese ginger root, simmers for five minutes, and then drinks this hot in the morning, and cold the rest of the day. Urbano has spoken at international cocoa conferences in 13 countries, sharing his tips on growing cacao and its importance to the economies of developing countries.
The Cocoa Research Centre has been instrumental in restoring the cocoa industry in Cuba following the devastation caused by Hurricane Matthew in 2016 that damaged 90% of Cuba's cocoa crop. At the time of my visit in July, 2018, 70% of the restoration process had been completed. Each cacao tree had been affected differently, so it has been a very slow and detailed process of helping each damaged tree to heal, and to replant the 50-60% of the total cacao trees that had been completely destroyed. The research centre is doing tremendous work and is seeking investors to help increase the expanse and effectiveness of their efforts.
There are a total of 92 cooperatives in the region that grow cocoa, coffee, and /or coconuts. I enjoyed meeting cocoa farmers of the UBPC Che Guevara y Jose Maceo Nogueira cooperative. This a mid-sized cooperative on 130 hectares (321 acres) where 45 families work together to grow cacao that they sell to the state and other crops such as bananas and gandul beans (also called pigeon peas) to feed their families. I was inspired by their resilience, as they told me that although the hurricane brought many bad things, it created opportunities to incorporate change and achieve better growth for their community.
Farmers from the various cocoa cooperatives throughout Eastern Cuba bring their cocoa beans to the central processing facility in Jamal, the second largest community in the Baracoa region. Centro de Gestion El Jamal has extensive drying and processing equipment to handle the 781.96 tonnes of cocoa produced in an average year. Exporting of Cuban cacao was reduced to almost nil since Hurricane Matthew, but will increase again as crops get back to pre-hurricane levels.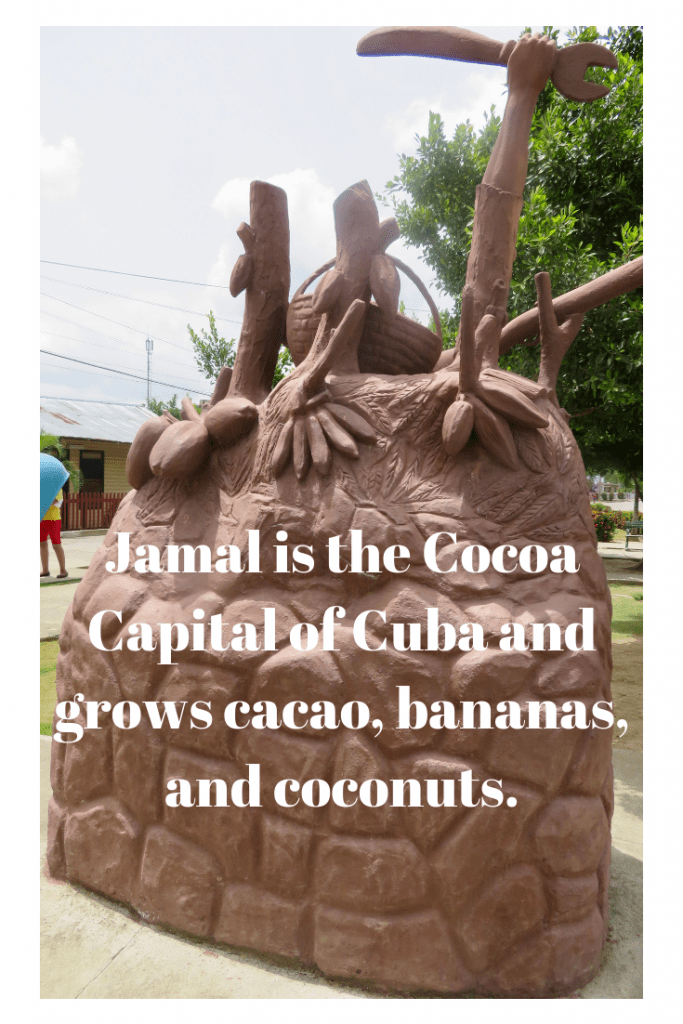 You will see the above sculpture celebrating the major crops of cacao, banana, and coconut at the Jamal Cultural Centre. Jamal is the hub to a regional chocolate festival and is deemed the Cocoa Capital of Cuba. (Baracoa is the Chocolate Capital of Cuba as the making of chocolate occurs there and will also host events during the 2019 Chocolate Fest October 9-14.)
I hope you enjoyed this educational post about Cuban cacao, its importance to the economy of this intriguing Caribbean nation, and why it may be of interest to chocolate lovers who are hoping to visit Cuba. My thanks to the Cuban Tourism Board for arranging this amazing trip for me so that I could share it with all of you. 🙂
SaveSave
SaveSave
SaveSave
SaveSave
SaveSave
SaveSave
SaveSave
SaveSave
SaveSave
SaveSave
SaveSave
SaveSave
SaveSave
SaveSave
SaveSave
SaveSave
SaveSave
SaveSave
SaveSave
SaveSave
SaveSave
SaveSave
SaveSave
SaveSave
SaveSave
SaveSave
SaveSave
SaveSave