ki'XOCOLATL Authentic Mexican Chocolate
Many who have read my 2016 Top 10 Chocolate Shops list in National Geographic Traveler mentioned how they hadn't heard of several of the entries I included. That's great! It's my job to introduce you to the world of chocolate and seek out the most innovative and creative chocolate makers and chocolatiers. One of the entries on that list is ki'XOCOLATL Authentic Mexican Chocolate located in the city of Mérida, in the Yucatan region of Mexico.
I introduced you to the highlights of my Mérida visit in this post. But my primary reason for visiting the city was not for sightseeing, but rather to explore both the ki'XOCOLATL chocolate factory, as well as one of its retail locations. I was pleased with both. All ki'XOCOLATL chocolate products are made with organic low-temperature roasted Criollo cacao grown primarily in the Tabasco and Chiapas regions of Mexico. All flavour additives are local and organic other than the cane sugar, which is not organic.
The name "ki'XOCOLATL" is Mayan for delicious chocolate and a tribute to the Mayan culture's love of cacao. The company produces 10 different flavours of bars, and 90 different flavours of chocolate products. Ever tried chocolate shampoo? ki'XOCOLATL makes that from pure cocoa butter, aloe vera, coconut, and honey. They also make chocolate soap and other personal products as part of their "xocotherapy" line.
The ki'XOCOLATL chocolate factory is located in a secured property on the west side of Mérida. It is generally not open to the public. There are three retail locations where you can shop and sample the ki'XOCOLATL edible and topical cocoa products as well as enjoy café creations made with ki'XOCOLATL cocoa such as the amazing hot chocolate. It may just be the best I've ever had!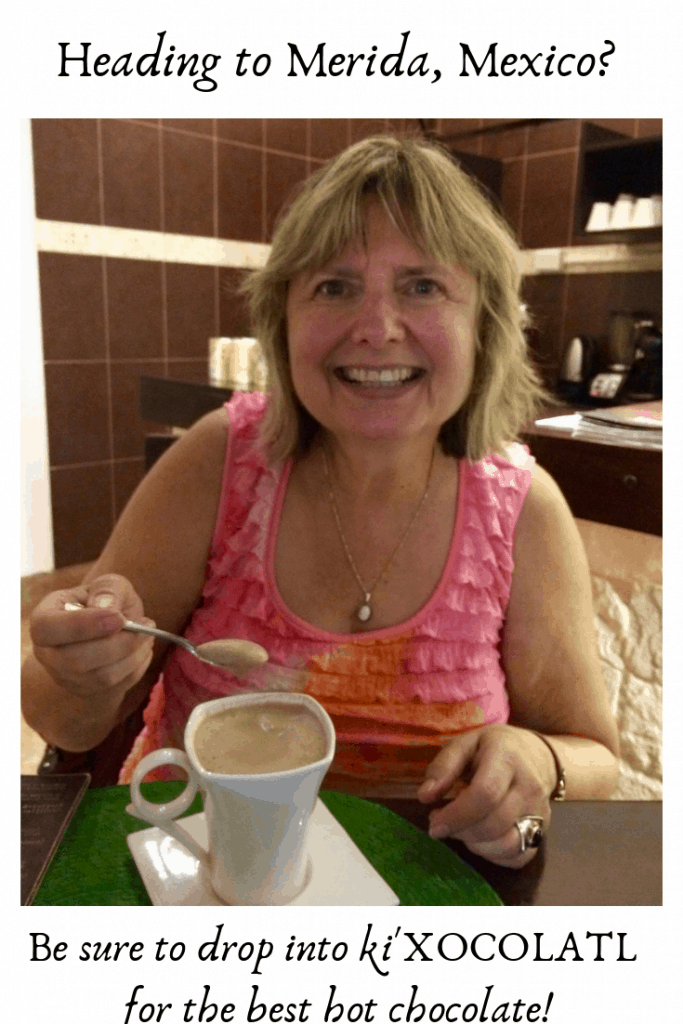 The Traditional Mexican Hot Chocolate made at ki'Xocolatl with organic chocolate paste, natural cinnamon, and cane sugar. You can have it whitened and whipped with milk or water, I chose the whole milk, and the result was a creamy delicious elixir that was not too sweet and not too heavy. Pure perfection!
I really loved the ki'XOCOLATL chocolate as it is made with great pride, and an intent to keep the flavours as authentically Mexican as possible, while being creative in the flavour blends. My favourite bar is the 72% dark Criollo chocolate bar made with Lima Lime from Campeche and almonds. ki'XOCOLATL chocolate bars have a shelf life of one to two years and are packed first in a foil envelope and then in a colourful cardboard sleeve, so they travel well and make an excellent gift or souvenir from your chocolate travels to the Yucatan. Enjoy!