Beaches, Butterflies, Beer, and Bliss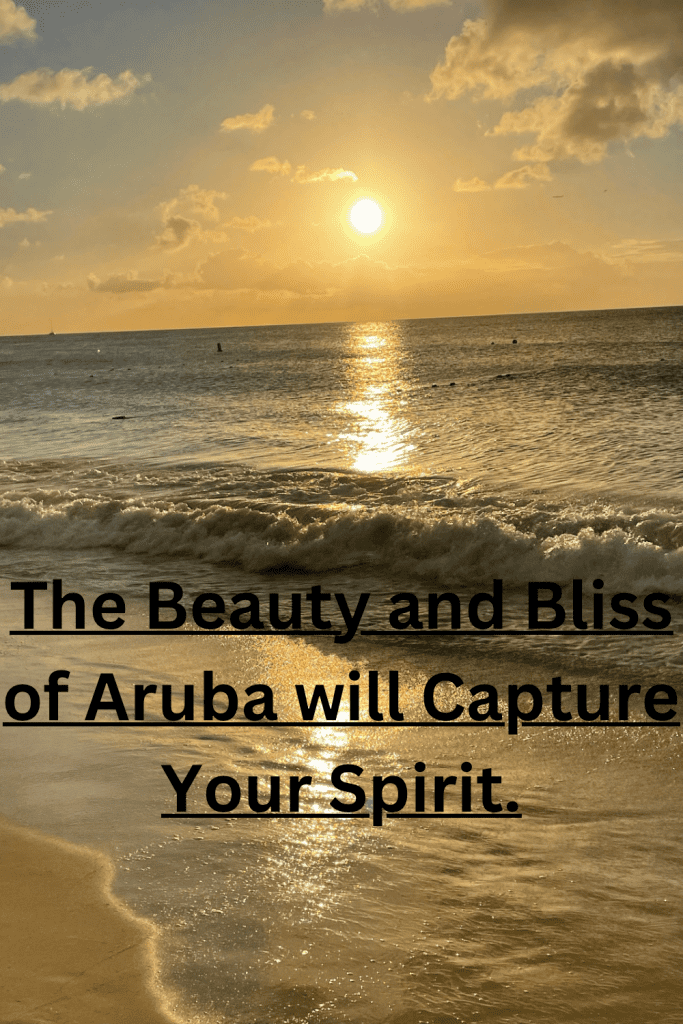 5 Things to Love About Aruba
1. Aruba is the perfect place for lovers.
Tourism is the number one industry in Aruba, and with a theme of happiness throughout the island (it is in fact known as "One Happy Island!") you can't help being captivated by good vibes and loving thoughts. It's therefore no surprise that weddings, honeymoons, and even vow renewals are life changing events that are well served by Aruba. Check out this site for much more information about all the great things happening in Aruba and how you can experience #theArubaEffect.
2. Aruba has an abundance of beautiful beaches.
For its very small size of 181 square kilometres (70 square miles) Aruba boasts 11 kilometres (seven miles) of uninterrupted beach that runs along the more commercialized west coast of the island. For a family beach that is great for swimmers and beach lovers from babies to the elderly, try Baby Beach (you'll find incredible burgers and great cocktails at Big Mama Grill right on Baby Beach.) And for the the most incredibly romantic evening ever, dine at Passions on the Beach at the Amsterdam Manor (which I review in more detail in the next post) right on Eagle Beach, pictured in the Pin-worthy photo above.
3. Aruba does a tremendous job in fusing the relaxed Caribbean vibe of the islands with the enduring charm of its Dutch heritage.
Aruba, Bonaire, and, Curacao are collectively known as the ABC Islands and are official territories of the Kingdom of the Netherlands (more commonly known as Holland.) Longtime readers of this blog may recall posts I've written about my Chocolatour of Holland back in 2010. Delicious Dutch-style chocolate, Dutch pancakes, and Dutch beer are easy to find throughout Aruba. But we loved the locally made Chill and Balashi beers, too.
4. Aruba is the perfect place to get out and explore and experience nature.
We really enjoyed our visit to The Butterfly Farm. Normally called butterfly gardens in other places I've visited (see this post, which highlights my visit to the Butterfly Garden in Hershey Pennsylvania) Aruba's Butterfly Farm is home to more than 35 species of butterflies from around the world. These beautiful gardens were run collaboratively with the butterfly farm in St. Martin which closed after it was destroyed by Hurricane Irma in 2017. Fortunately for tourists and butterflies alike, the ABC Islands are located outside of the hurricane zone and therefore a safer place to be than other Caribbean islands plagued with hurricanes. Take note that your entry ticket is good for the duration of your stay in Aruba, making this a good value attraction. There is a nice gift shop on site where you can purchase a variety of butterfly themed keepsakes and gifts. For current updates, visit the Butterfly Farm's Facebook page.
5. Aruba is a safe place to visit and live.
We were thrilled to learn that the ABC Islands are located outside the hurricane zone–an unfortunate risk you may encounter on most of the other Caribbean islands. That, its low crime rate, and common use of the English language make Aruba a great choice for North American travellers. The local people are very friendly, helpful, and considerate, and I can honestly say that we weren't asked for money once! That is a strong contradiction to many other tropical destinations where beach vendors and timeshare companies are continually trying to empty your wallet by interrupting your natural state of bliss.
I share more about accommodation options here and explore the fabulous art of Aruba in this post. Please check it out if you adore folk art and street art as much as I do!
Have you been to Aruba or either of the other ABC Islands? If so, please share what you most enjoyed in the comment thread following this post. And if you enjoyed this post, please share it with your friends and colleagues. Everyone deserves to know about this blissful Caribbean land of love and experience #TheArubaEffect for themselves. ❤️