chocolate subscription services to explore
Welcome to our newest subscribers! It's great having you join our chocolate loving community. I hope you'll actively join the conversation on this post, and any of the previous ones as I'd love to hear what you think.
In a previous post I wrote about some of the chocolate curators I've visited who have great chocolate shops featuring some of the best chocolate makers of the world. In this week's post, I'd like to introduce you to the idea of belonging to a chocolate subscription service. These are ideal for chocolate lovers who want to expand their chocolate knowledge and experiences within the comfort of their own homes. Some folks still feel a hesitation to travel abroad right right now in search of great chocolate, but there are services that will deliver an assortment of great chocolate right to your door. Here are a few chocolate subscription services or "chocolate clubs" that I found of interest.
The first one I experienced is Cococlectic based in San Francisco, California–the hotbed of great American chocolate. Cococlectic is the brainchild of Doreen Leong, who hales from Malaysia and moved in San Francisco in 2006. She quickly learned how great pure and simple dark chocolate can be, and in 2014, launched Cococlectic with the goal of "Melting the gap between chocolate makers and aficionados." With a Cococlectic membership, chocolate lovers get a monthly shipment of four chocolate bars from the maker of the month. There are several different pricing options for membership.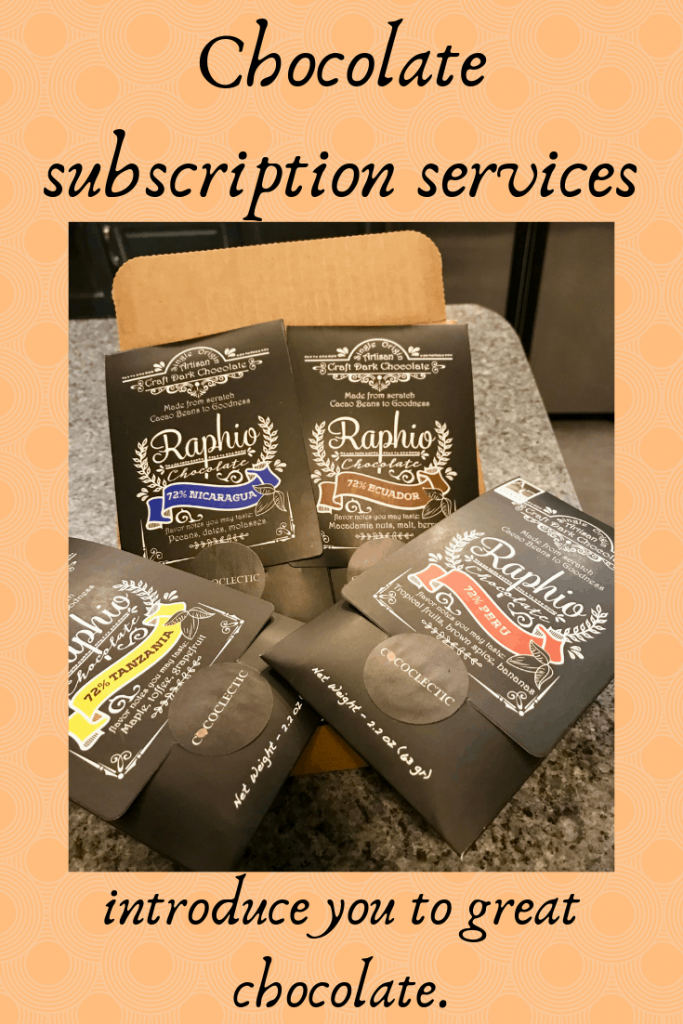 Signing up for a chocolate subscription service is a great way to discover chocolate makers you may not otherwise find, learn something about them, and support sustainable chocolate via your membership. For its monthly subscription service, Cococlectic only carries pure dark chocolate from bean-to-bar makers with no added flavour inclusions. "I believe that inclusions such as nuts, fruits, etc. take away from the incredible chocolate taste of pure bean-to-bar chocolate," says Doreen, who only carries chocolate from makers who source their own cocoa beans, and whose chocolate is not broadly available via other sources. "I want to bring our chocolate aficionados wonderful products they would not otherwise get to experience," says Doreen.
I enjoyed receiving the package containing four different Raphio Chocolate bars. I'd met this Fresno-based chocolate maker at the International Chocolate Festival in San Mateo, California, and really enjoyed meeting the makers of this great single-origin chocolate. Cococlectic gave me the opportunity to taste more chocolate from Raphio, including the terrific 72% Nicaragua bar with natural flavour notes of pecans, dates, and molasses. If you peruse the Chocolate Collection offered by Cococlectic, you will be wowed by the diversification of cocoa origins represented in its offerings.
Another interesting subscription service for chocolate lovers is Bar and Cocoa based in Mount Pleasant, South Carolina, USA. For those in the area, it should be noted that Bar and Cocoa also has a great shop where you can drop in and peruse the select award-winning chocolate of the world in person. Bar and Cocoa is run by co-founders Pashmina and Chris who are truly passionate about the world of chocolate and cacao.
The primary difference between Cococlectic and Bar and Cocoa is that Cococlectic primarily features American-made chocolate and ships without charge within the US, with an additional charge to ship to Canada. Bar and Cocoa features chocolate of the world and sends you a selection of four bars–one from each of four different chocolate makers within the same order. Cococlectic sends you four different bars from one maker in each month's order. Both ways are great. It depends on your approach to chocolate tasting which one you will prefer. And it depends on your location, as Bar and Cocoa only ships within the USA at present. That's a pity, as the amazing service provided by DHL Express got the chocolate from South Carolina to me in rural Manitoba, Canada, in just two days. Amazing. And the chocolate provided was equally amazing, as it provided a new offering from Original Beans, a chocolate lover I truly love, as well as introducing me to chocolate makers that were brand new to me.
A chocolate subscription that is truly global in its chocolate offerings, as well as its delivery service is Cocoa Runners. This company stocks more than 800 different bean-to-bar chocolate bars from chocolate makers around the world, and it delivers virtually everywhere in the world. The cool thing about Cocoa Runners is that you can answer an online taste test that helps them define the types of bars you will most enjoy based on your flavour preferences. For as we all know, tasting chocolate is much like tasting wine, and what one person loves, another may not even like.
Chocolate subscription clubs provide an excellent service enabling chocolate lovers to expand their chocolate knowledge while tantalizing their palates. You can never get bored with tasting artisan chocolate as there are continually new players on the scene and new flavour infusions to explore. Finding the ones you like best is just part of the fun!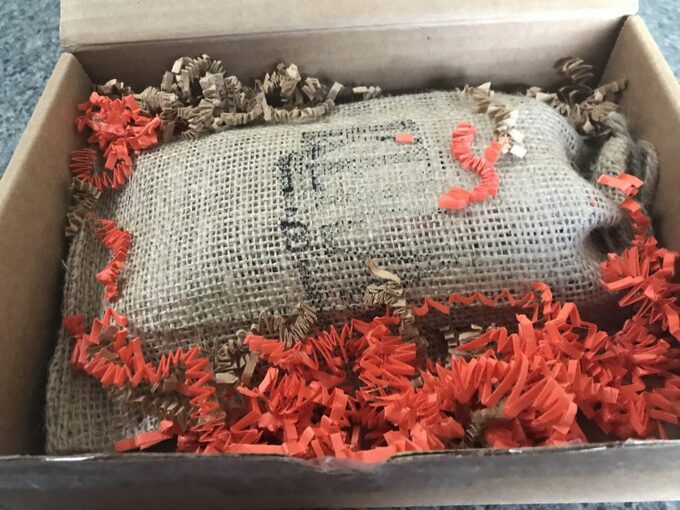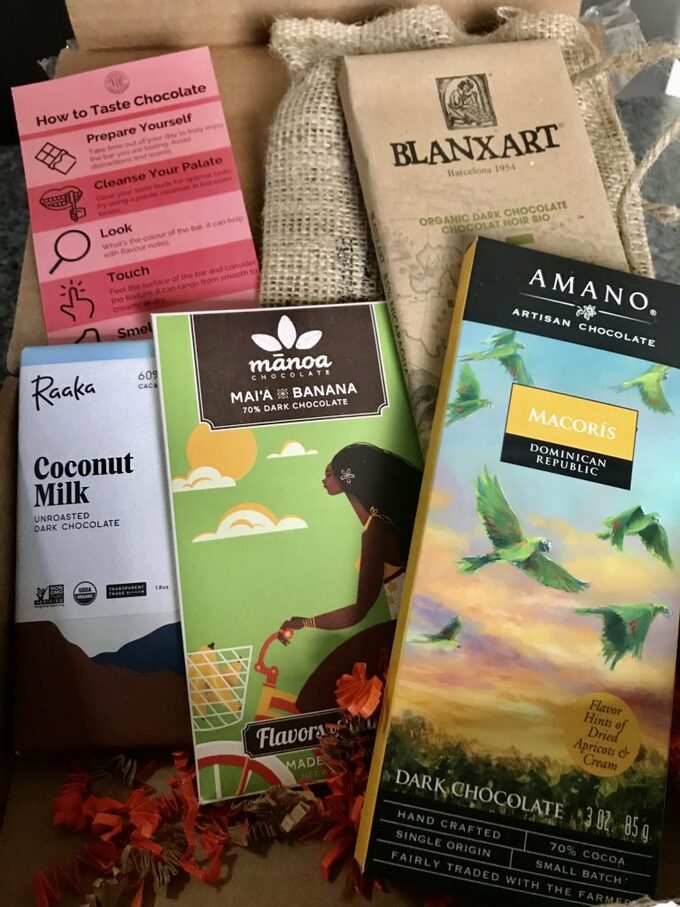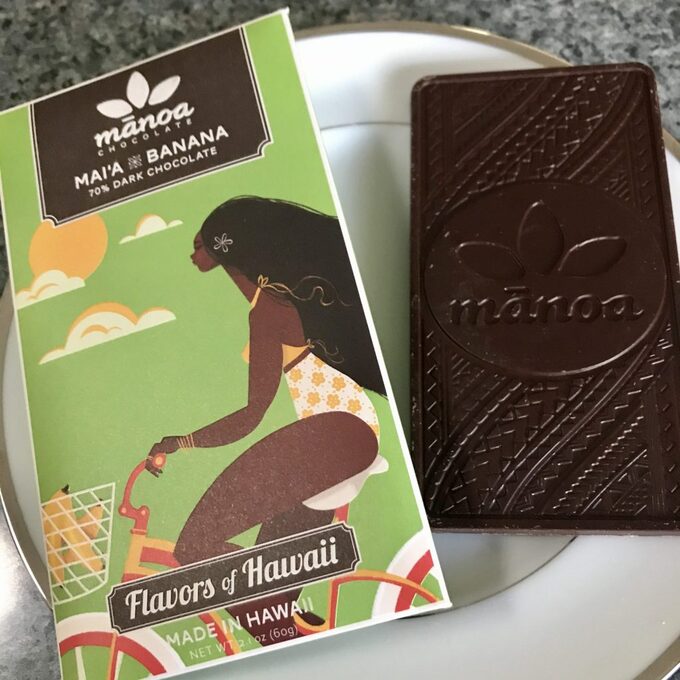 Have you had an experience with any of these chocolate subscription services? I'd love to hear your thoughts. Until we can resume our chocolate travels, they are our best option to get us through these trying times. And a chocolate gift subscription will make a terrific gift for any chocolate lover in your life. After all, chocolate is a natural feel good drug that makes the world a little sweeter. If you'd like to read more about the health benefits of chocolate, please check out this post.