talking chocolate at the International Chocolate Festival in Silicon Valley
I was thrilled to be invited to be the Keynote Speaker at the first ever International Chocolate Festival April 21-22, 2018, at the San Mateo Event Center in Silicon Valley, California.
the international chocolate fest 2018 in silicon valley was a hit
The truly international event attracted 15,000 visitors over the course of its two-day run, with ongoing cooking demonstrations, a Guatemala-flavoured cacao ceremony, several other speakers, and a myriad of chocolate goodies to taste from the 50+ vendors who came from as far away as Dubai, UAE.
tasting and experiencing chocolate at the international chocolate festival
It was cool to meet Dubai-based Martin van Almsick and Patrick Dorais of Al Nassma Chocolate and witness the enthusiasm they received from chocolate lovers tasting camel's milk chocolate for the first time. Readers of Chocolatour volume I may recall that I included Al Nassma in the A-Z guide for chocolate lovers in the back of the book, and mentioned enjoying Al Nassma's dark chocolate flavoured with oranges, dates or almonds. Al Nassma's camel's milk chocolate is quite different than any other chocolate you will have tried. I hope to visit their camel-milking facility in the United Arab Emirates prior to publishing volume III of Chocolatour.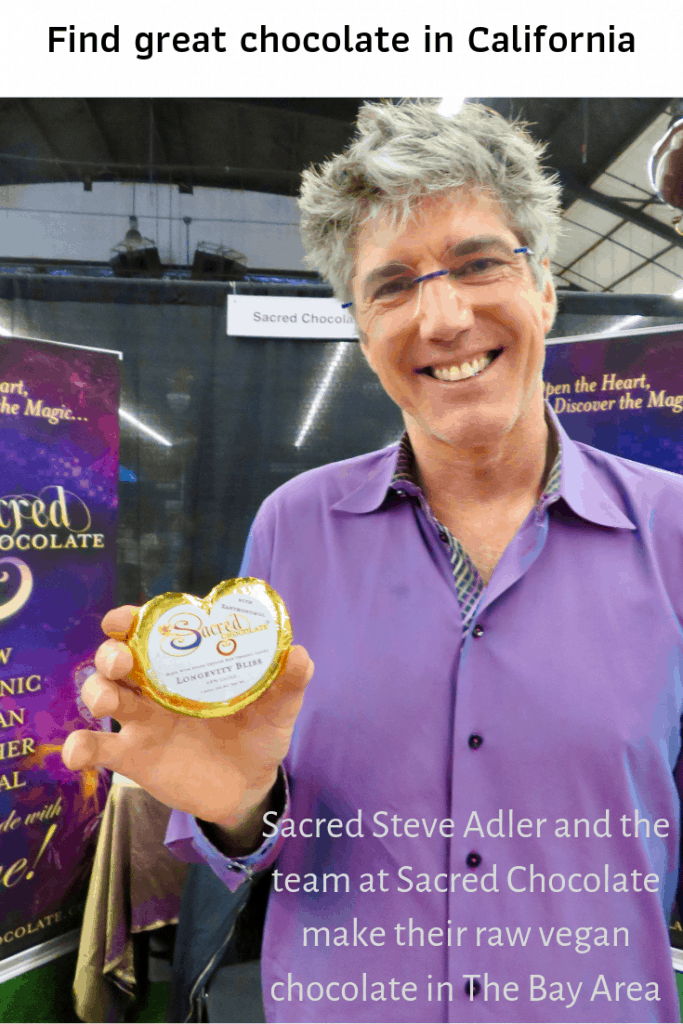 Another popular vendor at the International Chocolate Festival (ICF) was Sacred Chocolate manned by none other than Sacred Steve (Adler) of San Rafael, California. Sacred Chocolate is raw, unroasted, organic, stone-ground, and vegan, and comes in a variety of mind-blowing flavours such as the Amazonia featuring 22 herbs and berries from the Amazon jungle, and the TuMo bar containing ginger, curcumin, and peppercorn to offer your body a healthy punch that grows on you with every bite.
Multi international award winner Pacari Chocolate, based in Ecuador, is one of the finest South American chocolate makers, and had a very popular booth at the ICF. Cao Chocolate of Miami, Florida, was there with its terrific single origin chocolate offerings. And there were also many California-based chocolate companies, old and new. Michael's Chocolates is a new company from San Francisco specializing in flavoured bonbons. Raphio Chocolate is a terrific new organic bean-to-bar chocolate maker based in Fresno, California. I really loved their 72% dark chocolate bar infused with Clementine Olive Oil and have enjoyed several of their single origin bars as well.
There was truly something for everyone to explore and enjoy–and so many fascinating people to talk to!
The highlight of the festival for me was meeting Isabel Cali, an American who spends much of her time in the Amazon and jungles of Central America expanding her knowledge in plant medicine. Isabel is the founder of One Light Tribe, a collective that celebrates healing through medicinal plants such as cacao. I will be writing more about Isabel and her work in the post I will be writing about sacred cacao ceremonies. Stay tuned for that.
Hats off to Pamm McFadden and the rest of the team that worked tirelessly to put together this fantastic event for chocolate and cacao lovers featuring the best California chocolate as well as many international chocolate companies as well.
SaveSave
SaveSave
SaveSave
SaveSave
SaveSave
SaveSave
SaveSave
SaveSave
SaveSave
SaveSave
SaveSave
SaveSave
SaveSave
SaveSave
SaveSave
SaveSave
SaveSave
SaveSave
SaveSave
SaveSave
SaveSave
SaveSave
SaveSave