Kissed by a Camel in the UAE
Have you ever been kissed by a camel? Well, I have. And let me tell you … those lips are big! We were enroute from the busyness of Dubai to Al Ain, an Oasis city of green in the otherwise camel-coloured desert of the United Arab Emirates (UAE,) a Middle Eastern country just east of Saudi Arabia on the Persian Gulf.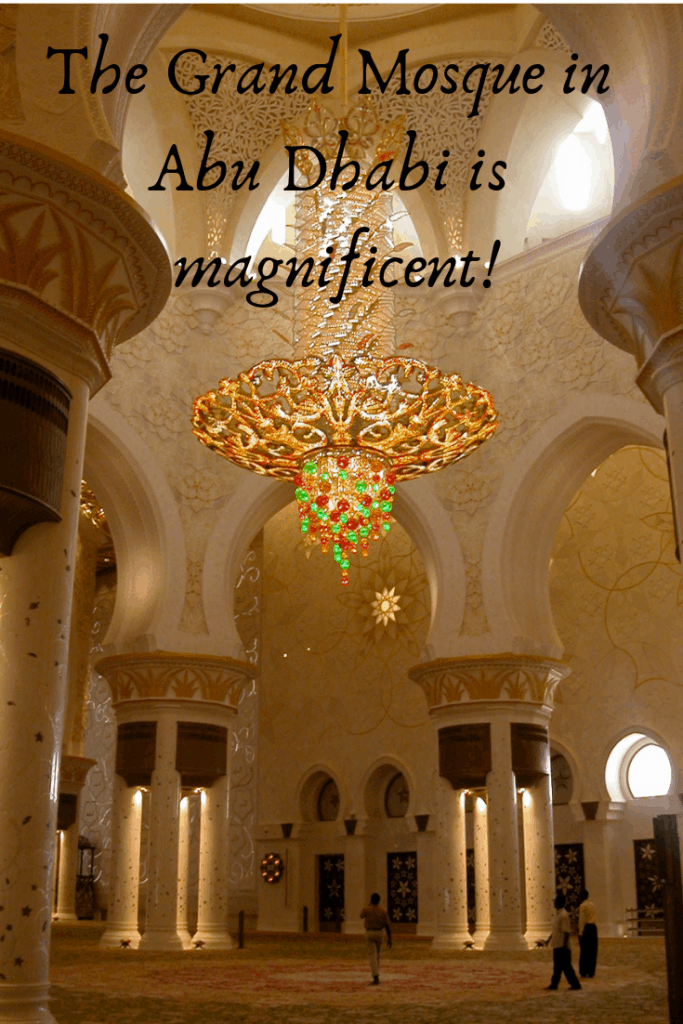 My stay in the UAE capital of Abu Dhabi was highlighted by a visit to the Sheikh Zayed Grand Mosque, built in 2007-2008, with landscaping completed later in 2008. I enjoyed a complimentary stay that showcased the first class service at the five-star Shangri-La Hotel, Qaryat Al Beri located directly across the sparkling water from the Grand Mosque. The Grand Mosque is a truly amazing house of worship. Pictured above is one of the massive chandeliers made from Austrian crystal, and at the time of my visit in 2008, we were told that the Grand Mosque housed the largest crystal chandeliers in the world.
visiting the uae
The UAE is the farthest from my home in North America that I've ever been–physically, and culturally. Here, you're quite likely to see camels off in the distance, just as we see deer and antelope scattered about the countryside in North America. And we did!
All of a sudden … we saw a few camels close enough to get excited about! They were no longer just dots in my camera's viewfinder. For a moment, the otherwise conservative natured, John–my friend and driver for the day–became a completely four-wheeling free spirit–despite the fact that we were in a Honda Civic, not a Jeep! Before I knew it, we'd left the safety of the pavement, and were making a short cross-country (or should I say "cross-desert"?) trek over the sand and onto a smaller road, where we could get close to the camels. What an adventure this trip turned out to be! As if it wasn't exciting enough to just get close to the camels, one of them actually made a move on me! Yes, I was kissed by a camel in the UAE.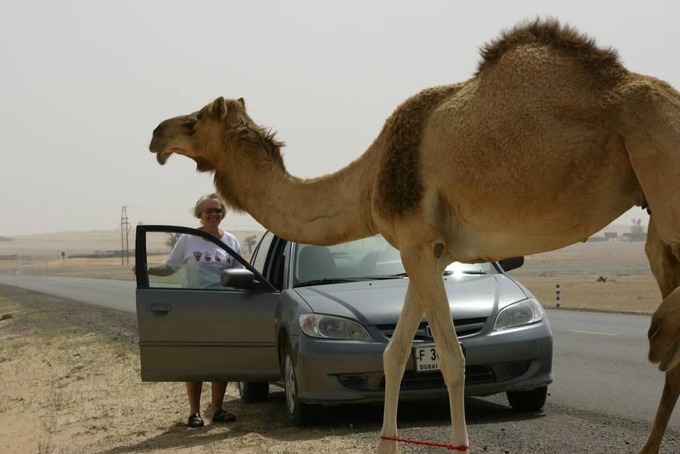 I truly enjoyed my brief visit to the UAE and would love to return and continue the discovery. Not only for the unlimited cultural opportunities, but to learn more about the camel's milk chocolate I have tasted from Al Nassma, a company based in Dubai that makes an assortment of chocolate using cocoa beans blended with camel's milk, as well as some varieties that are pure dark chocolate with flavour infusions such as dates, almonds, and orange.
My gratitude to Etihad Airlines, who flew me Pearl (business class) to the UAE from Toronto on Etihad Airlines, based out of Abu Dhabi. Etihad provided impeccable service and was an absolutely wonderful introduction to my first experience in the Middle East. I was also invited to stay as a guest of the Shangri-La Hotel in Abu Dhabi. And enjoyed spending a week with my dear friends Mary-Anne (pictured above with the car and camel) and John who invited me to come and explore the UAE with them while they were living there. What a tremendous trip!
Have you tasted Al Nassma Chocolate? Have you experienced travel to the UAE? If so, please share a thought about something noteworthy that happened to you during your visit.
SaveSave
SaveSave
SaveSave
SaveSave
SaveSave
SaveSave
SaveSave