exploring Cancun
exploring sites around Cancun is intriguing
I'm thrilled to have recently re-discovered the wonders of Mexico, spending time over the past few years on the Pacific coast, the Yucatan/Gulf of Mexico, and the interior of this magnificent country. I never tire of visiting Mexico as there is so much culture to experience, great food and music to enjoy. And so much natural beauty to behold.
But it's been far too long since I've spent time in Cancun or Tulum! I still remember the beauty of Cancun's expansive beach. And the spirituality of the sacred site in Tulum where the Mayan ruins stand tall on the cliff overlooking the natural beauty of its small secluded beach—a stark contrast to the immensity of Cancun's 12-mile strip of beach along its Hotel Zone. Did you know that the creation of Cancun as a mega beach resort was a federally funded tourism project begun in 1970 by the Mexican government? Fifty years later, and Cancun is now the number one vacation spot in Mexico and home to the second busiest airport (next to Mexico City) in the country.
I remember Cancun Beach as one of the finest in the world. Long and wide, and blessed with some of the finest white sand you'll find anywhere. But there's a lot more to Cancun than lying on a beautiful beach. Here are a few other attractions to round out your visit.
Cancun day trips can be a highlight of your visit
Isla Contoy
Enjoy your own castaway adventure with a trip to this uninhabited national park island. Accessible via a short boat trip from Cancun, be sure to book in advance as only 200 people per day are allowed to visit. At only seven kilometres long, it may be compact but there's an abundance of wildlife to admire and a selection of short hiking trails. You can also climb an observation tower which offers spectacular views for those who can brave the heights.
Underwater museum
There's no shortage of world class scuba diving sites in and around Cancun but none quite as unique as the underwater museum. A collection of 470 concrete sculptures sit on the sea bed as part of a massive reef regeneration project. Visitors can now swim among these human statues and learn more about Mexico's extensive conservation efforts. How cool is that?
Chichen Itza
The crumbling ruins of this ancient Mayan civilization have become one of Mexico's most popular attractions. A UNESCO World Heritage Site, Chichen Itza is a collection of temples and an impressive observation tower best explored during early morning hours to avoid the midday heat. The iconic pyramid, El Castillo, was recently named one of the New Seven Wonders of the World.
Isla Mujeres
For those who enjoy a bit of seclusion, this 15-minute day trip to the neighbouring island of Isla Mujeres provides a great experience. You'll find a selection of beautiful beaches which remain pleasantly uncrowded, providing some welcome relief from the lively resorts of Cancun. There's also a trendy downtown area which boasts a great mix of chic eateries and boutique shops.
Xcaret
A truly memorable and natural theme park, Xcaret showcases the best of Mexico's natural beauty and rich culture. Traditional Mayan events are carried out throughout much of the year where you can learn more about this ancient civilization through exhibits and performances. There's also a dolphin show, butterfly pavilion and a chance to hike deep into the jungle discovering caves and waterfalls along the way.
Tulum
The Mayan ruins at Tulum are even closer to Cancun than Chichen Itza. The spectacular clifftop location can be explored in under an hour, but I'd suggest allowing yourself a full day to admire the impressive pyramid of Tulum, and then enjoy a swim in the tranquilizing beach below. Looking up at the ruins as you soak in the warm waters really makes a visit to Tulum complete and much more memorable.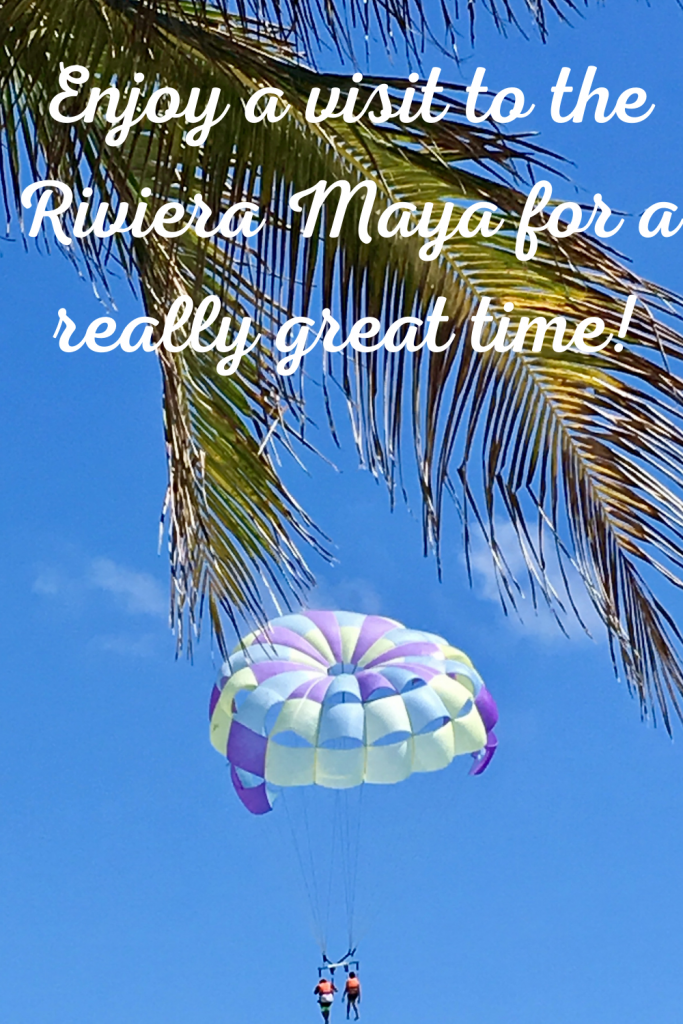 Tulum is 131 kilometres (81 miles) south of Cancun. Cancun is at the northern end of the Riviera Maya, a tourist region stretching 183 kilometres/115 miles that runs south along Mexico's Caribbean coastline all the way to Punta Allen. So very much to see! In 2017, I enjoyed a trip to a beach resort near Playa del Carmen–considered to be the heart of the Riviera Maya. We really enjoyed a day trip from there to Puerto Morelos, highlighted in this post.
Have you been to Cancun lately? What are some of your favourite Cancun day trips? Please share, and wish me luck in manifesting a return trip to Tulum and the Mayan Riviera. It worked for Belize!