enjoying the advantages of airport hotels
Sometimes, we have to do layovers at airport locations in order to catch an early morning flight somewhere else, or even to kill lengthy periods of time between flights when all we want to catch a few winks, and maybe even be pampered a little–or a lot! Make the most of these opportunities. They may give you a chance to quickly explore a city you may not otherwise have had time for, they may save you the agony of having to drive to an airport at an ungodly hour, or they may just provide you with an opportunity to savour some local culinary favourites or an exotic spa treatment you may not otherwise have taken the time to try.
As I live an hour from the Winnipeg airport, I've had to stay overnight at airport hotels on several occasions. A longtime favourite for stays at Winnipeg's James Richardson International Airport is the Lakeview Signature, Trademark Collection by Wyndham (formerly the Four Points by Sheraton Hotel.) Unfortunately, with the construction of the new terminal building the hotel lost the privilege and convenience of being a simple walk across the street from the check-in counters. Now, one must take the free shuttle to the new terminal building from the hotel. But it is still one of your best options for overnight stays if catching an early morning flight in Winnipeg.
The Starwood chain that once owned the global network of Sheraton properties has a lovely hotel at Terminal 3 of Pearson International Airport in Toronto. I've had the pleasure of staying at the Sheraton Gateway Hotel (now run by Marriott) on several occasions and indeed, it has been the gateway for many of my international trips. It is so convenient to get off a plane, board the elevator and wheel your luggage right into the hotel to rest, relax, refresh, or step out a bit before your next connection.
The Sheraton Gateway has many services including the Vaccaro Spa–which currently due to COVID is only offering mobile services. When they're fully open, they do have a cocoa and seaweed 'chocolate body wrap' that I had several years ago. Try it! (See photo above.)
On Canada's West Coast, I've had the pleasure of staying at the Fairmont Vancouver Airport Hotel voted 4th Best Airport Hotel in the World in 2020 by SKYTRAX, a company that annually issues the "Best Airport Awards." The Fairmont Vancouver Airport is a fabulous place to stay if you have a layover or super early departure out of Vancouver International Airport. And they have a wonderful restaurant to please your palate. Beats standard airport or airline food any day!
On arrival in Peru, we had the pleasure of staying at the Wyndham Costa Del Sol Airport (formerly the Ramada Costa Del Sol Airport Hotel) in Lima. Again, this reservation was made to facilitate ease of travel, as we had a morning flight to the small city of Tarapoto and our entry into the Amazon jungle from there. But we were thrilled with our stay at the Costa Del Sol. In fact … after a week of trying various meals and beverages throughout Lima, I can say with all honesty that the airport hotel had the best Pisco Sours anywhere! And some lovely Peruvian cuisine as well. So we were very pleased to have had the convenience and authenticity of location all packaged into our entry into the country.
When in Rome in 2010, we took the advantage of staying at the Hilton Rome Airport Hotel. Having the convenient airport location enabled us to catch an early morning flight the next day, and quickly enjoy the sights of Rome before settling in for the night.
And on a recent trip to Zurich, Switzerland, I had the pleasure of an overnight stay at the Radisson Blu Hotel at Zurich Airport. The image below shows you the massive lobby wine bar that welcomes visitors for a drink. Yes, those are wine bottles in the tower!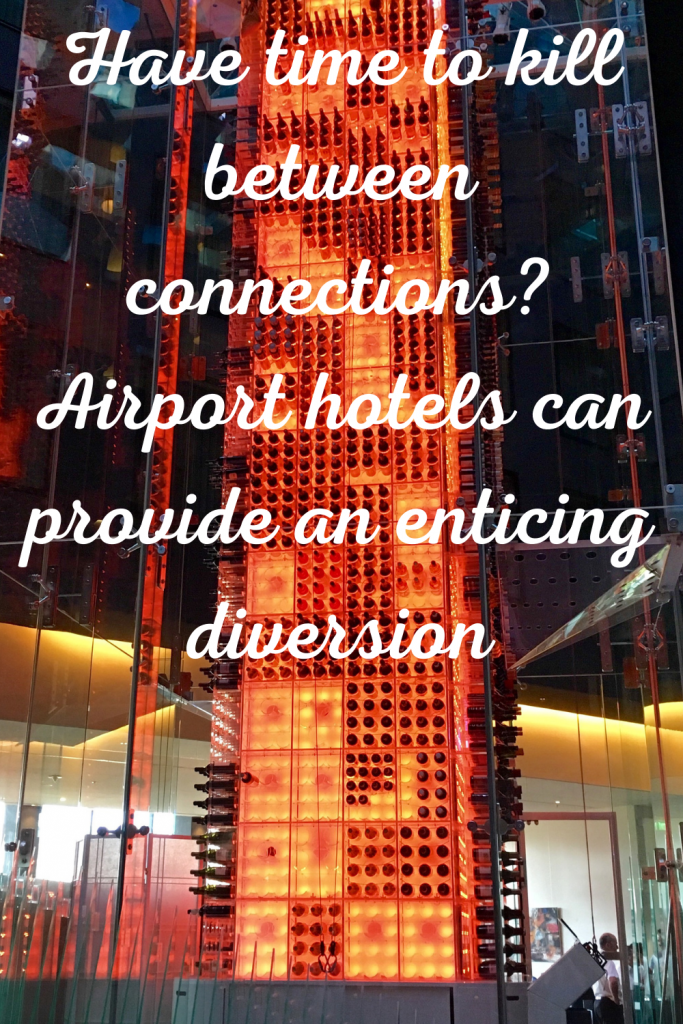 How about you? Have you had some positive experiences staying at an airport hotel? Has the convenience of staying at airport hotels created opportunities or experiences that may otherwise have eluded you?
I look forward to continuing the discussion. And I look forward to more great travel. When it is safe to do so. 😊