Winnipeg welcomes Aschenti Cocoa
Winnipeg's chocolate scene continues to grow and evolve, and it's great to see the Manitoba capital taking strides to become a true chocolate destination. Back on December 17, 2016, Aschenti Cocoa had its Grand Opening and introduced itself as the only chocolate maker in Manitoba to grow its own cocoa. This was a game changer for the city, as Aschenti Cocoa is a tree to bar company, meaning that they grow the cocoa and supervise the stages of its production (for most of the bars they produce) and make the end product: delicious bean-to-bar organic chocolate bars. Alas, on December 3, 2019, Aschenti announced to its subscribers that its Corydon Avenue shop has closed. I am waiting for updates on whether they will continue to make their bean-to-bar chocolate elsewhere.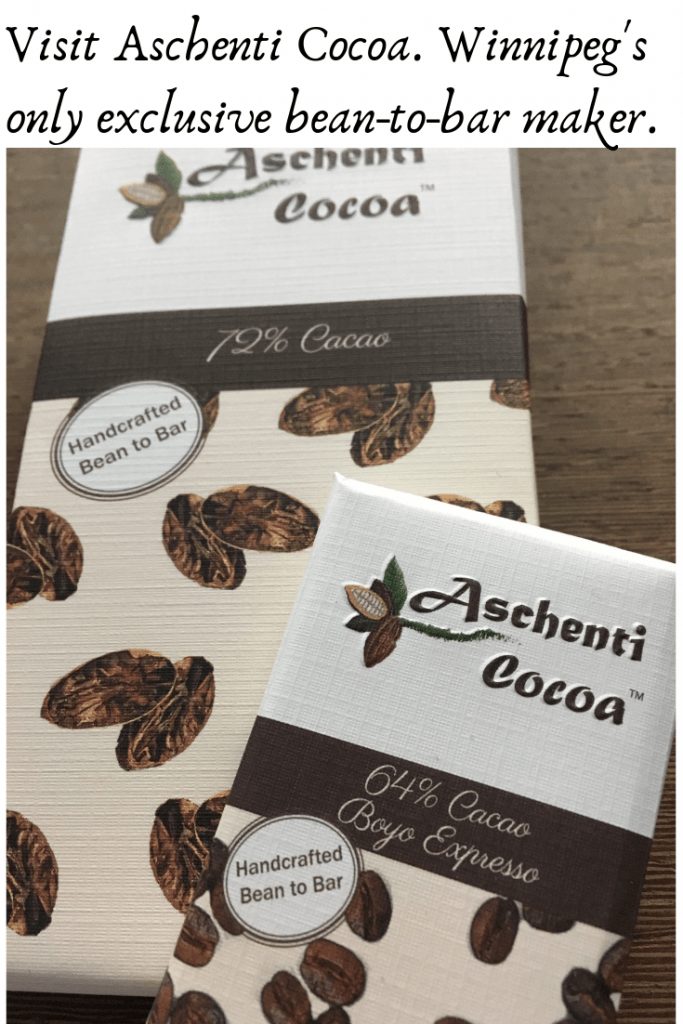 Owned by Christian Mekoh and his wife Fanny Christelle, Aschenti Cocoa grows its own cocoa in the Mekohs' homeland of Cameroon, the West African central coastal nation situated east of Nigeria along the Gulf of Guinea. Cameroon is the fifth largest producer of cocoa in the world, registering 275,000 metric tonnes of cocoa grown in the country's coastal region in 2013.
Research reveals that Cameroon is a politically stable country and despite the fact that 70% of its residents are farmers, Cameroon boasts a a good literacy rate of 75%. Zimbabwe has the highest literacy rate in Africa at about 90% and many other countries have a much lower literacy rate as low as just over 20%.
Christian Mekoh assures me that although child labour may have been an issue in Cameroon in previous years, he only deals with cocoa farmers who have the best ethical and farming practices, and no child labour is tolerated among the Aschenti family of cocoa growers.
winnipeg chocolate now includes farm-to-bar sustainable organic chocolate made from cocoa grown in cameroon
Aschenti grows only Criollo and Trinitario cacao and takes great pride in its Porcelana bars made from the finest quality white Criollo beans. You will find a large range of bars offered on the Aschenti site, but are likely to only find a small number of them available in the shop at any given time as the company ramps up production. I tasted the 42% milk chocolate bar and really enjoyed its creaminess without sweetness. In addition to the plain 42% bar, you'll find one flavoured with vanilla beans and olive oil. I loved it!
I also enjoyed the 64% dark chocolate bar. In addition to the plain 64% bar, you'll find the Boyo Espresso bar (my favourite Aschenti offering) flavoured with buttermilk and roasted coffee beans. It is delicious!
I found the 72% bar to be slightly bitter for my palate, but it has improved since I first tasted it two years ago when the shop first opened. It is always important to taste any given chocolate more than once, as our taste buds differ from day to day and I always believe in tasting any given chocolate more than once–unless I truly dislike it. I'm really looking forward to tasting the 100% Porcelana bar and the Porcelana bar featuring Cameroon-grown Soya peppers.
In 2017, Aschenti began making chocolate from cocoa grown in countries in addition to its homeland of Cameroon, which now include limited editions with cocoa from Mexico, Peru, and Venezuela.
It's so exciting for Winnipeg to have a shop like Aschenti Cocoa–the only chocolate shop in Winnipeg devoted exclusively to bean to bar chocolate–where you can see real cocoa beans being made into sustainable chocolate right before your eyes. The Aschenti shop at 782 Corydon Avenue in Winnipeg features a full glass wall where you can see the different types of equipment in use during the different stages of chocolate production. There is also an overhead television where Christian runs the video of him on the cocoa farm with the farmers. If you're in the Winnipeg area, do drop in and have a taste of Aschenti chocolate. You can order online chocolate via their website, and also purchase the bars at different venues you will find listed online.
And while you're on Corydon Avenue, take the time to enjoy the many other shops and restaurants. Just two doors down from Aschenti is Cocoabeans Bakeshop and Cafe where you will find some excellent offerings featuring chocolate.
winnipeg is an emerging chocolate destination
If you are visiting Manitoba and want to further explore the world of Winnipeg chocolate, pop over the bridge to Saint Boniface where you'll find Chocolatier Constance Popp, or Sherbrook Street in the West Broadway neighbourhood where you'll find Decadence Chocolates, Mordens' Chocolate on Sargent Avenue and Purdys Chocolatier in St. Vital Shopping Centre and Polo Park. Melt Chocolate Company is another great Winnipeg chocolatier, but doesn't yet have a retail shop. You can read about them here. Each of these Winnipeg chocolate companies offers high quality handmade chocolates as well as a small selection of bean-to-bar single origin chocolate bars. It's wonderful seeing Winnipeg and Manitoba forging forward to becoming a true destination for chocolate lovers.
SaveSave
SaveSave
SaveSave
SaveSave