Swiss chocolate travel to Vevey
In 2016, I had the pleasure of being invited on a Swiss chocolate tour with Alpenwild, specialists in Swiss travel tours. Alpenwild is one of the few companies that actually offers chocolate tours as part of their repertoire–partly due to the fact that owners Elain and Greg Witt are chocolate lovers themselves, and truly immersed in the culinary delights of Switzerland. Alpenwild is a family-run company offering customized tours of their favourite country, and I highly recommend the personalized service you will get from their team.
swiss chocolate travel at its finest
You may have already read the posts I've written about Gruyères and Montreux. Vevey was our next stop in the Montreux Riviera, and a delightful place where nostalgia and contemporary culture meet. For the chocolate lover, a visit to Läderach chocolatier suisse is a must. Läderach makes truly fine milk chocolate in the Swiss tradition as well as more contemporary chocolate that is pure and dark, but silky smooth as only the Swiss can do.
In addition to the chocolate creations made by Läderach that you can find in their many shops in 23 Swiss locations including two shops in Vevey, Läderach provides the couverture and markets exquisite artisanal chocolates made by Blaise Poyet, a highly regarded Swiss chocolatier. I sampled the Poyet chocolates and loved them all. What's really cool is that Poyet will create a personalized chocolate for anyone based on three of their personal characteristics. Wouldn't that be fun?
I had the opportunity to create a handcrafted personalized chocolate bar made of Poyet chocolate topped with caramelized nuts in the Läderach kitchen. So much fun! Läderach offers teambuilding workshops in their chocolate kitchen where small groups can try their hand at becoming chocolatiers!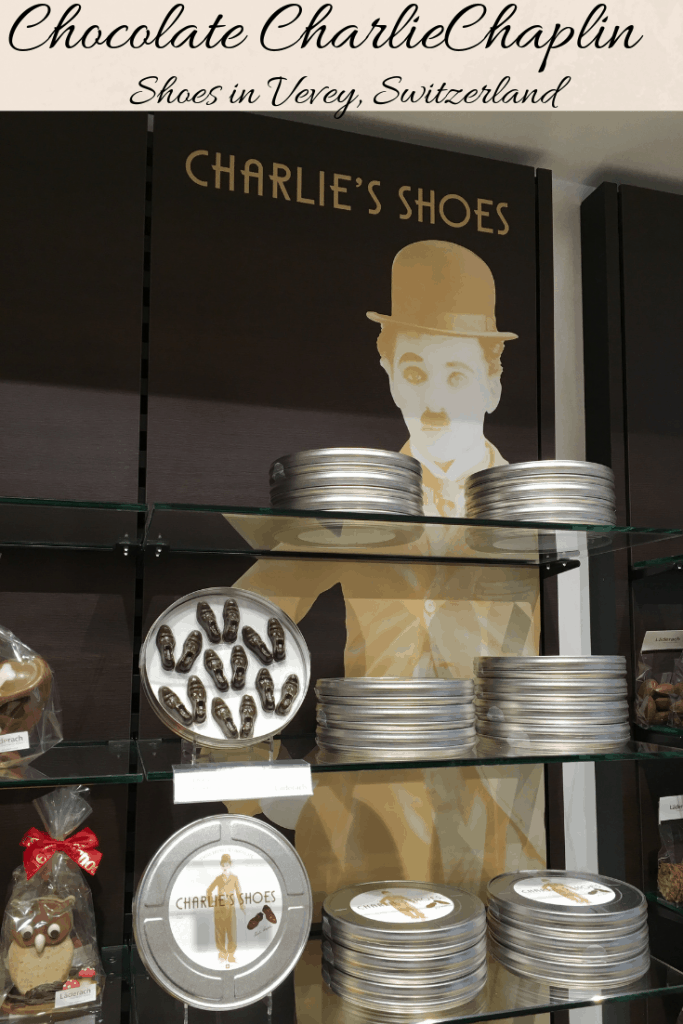 One of the most unique location-specific chocolate creations you'll find at the Läderach shops in Vevey are the chocolate "Charlie's Shoes." These mirror the creased shoes that 20th century film star Charlie Chaplin was famous for wearing. They're really cute, and are sold in a movie reel case that make a great souvenir from your visit to Vevey. The recipe for the tasty chocolate was made in consultation with the Chaplin family and features the caramel nougat chips that Chaplin loved.
Charlie Chaplin loved Vevey and lived there from 1952 until his death in 1977. There is now a museum in Chaplin's former home that I hear is very worthwhile. Hopefully, I will get there on my next visit to the region.
I loved walking along the shores of Lake Geneva. There is a rose garden and statue dedicated to Charlie Chaplin on the lakeshore. We visited the Alimentarium, a food museum located in the original Nestlé chocolate factory. You can be sure the museum contained lots of chocolate and cocoa memorabilia. But I think my favourite part of my time in Vevey (apart from all the great chocolate!) was the time we spent exploring the lakeshore. There is an amusement park with a gorgeous 1926 carousel, some eye-catching sculptures in the water, an abundance of swans and birds, and a lovely nostalgic feeling that makes you want to slow down and take it all in.
I hope you get the opportunity to explore Vevey and the Montreux Riviera on a Swiss chocolate tour. It has become my favourite part of Switzerland, offering taste-tempting chocolate creations, intriguing history, and the kind of eye candy that makes a trip most memorable.