celebrating Decadence Chocolates of Winnipeg
Helen Staines opened her chocolate shop at 70 Sherbrook Street in Winnipeg in March of 2016, and celebrated the Grand Opening of Decadence Chocolates on April 9, 2016. Since then, there have been a number of other players on the Winnipeg chocolate scene, but none with the fun-loving nature that Helen puts into her chocolate creations.
Originally from Yorkshire, England, Helen has lived in Winnipeg since 2001, accumulating a variety of experiences in the food industry that encouraged her to try her hand at making her own chocolate. With the flavour being excellent, but the presentation not being up to the standard she wished to present to customers, Helen took training via Ecole Chocolat, the Callebaut Institute, and one-on-one training with Jean-Marie Auboine of Las Vegas to up her game. The result is the marriage of passion and near perfection, and a truly delectable line of affordable chocolate products.
I had the great pleasure of first meeting Helen just prior to her grand opening, and experienced a tasting of her creative confections, decadent brownies, chocolate bonbons and bars. I didn't taste anything I didn't like, but I did taste a few things I absolutely loved–most notably the Turtles on the Half Shell–a Helen Staines original creation (also called "Lonely Turtles") that takes the chocolate turtle originated by Nestlé to a whole new level of chocolate perfection.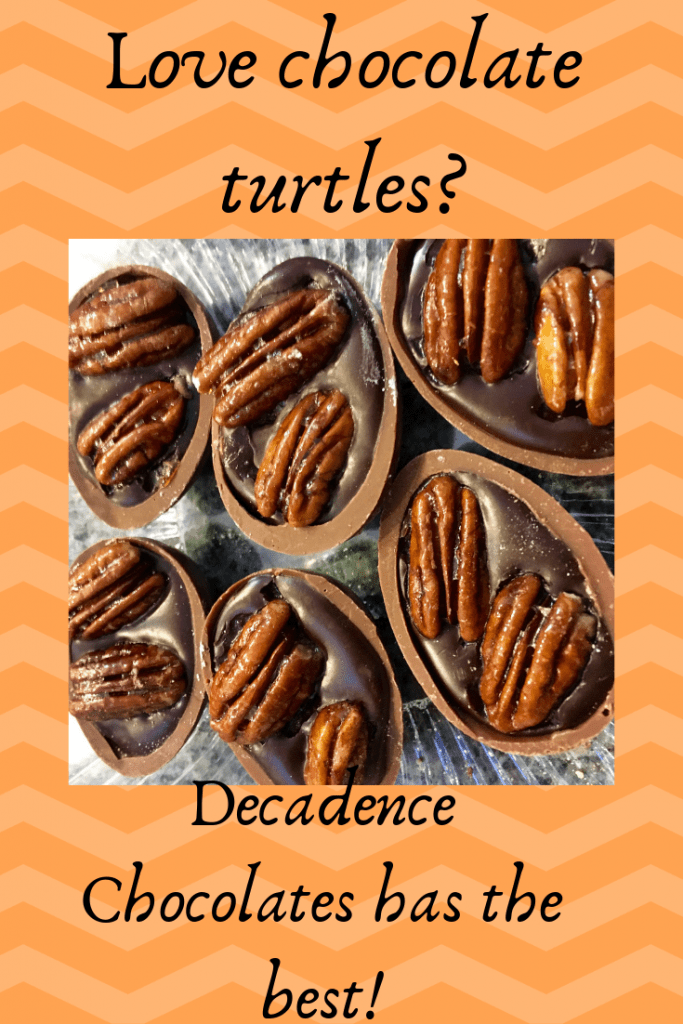 Those of you who have been reading this blog for awhile will likely recall my declaration of love for the dark chocolate turtles made by Christopher Elbow of Missouri and the milk chocolate macadamia turtle-type creations made by Big Island Candies of Hawaii.
Decadence Chocolates does something really cool in their "Lonely Turtles" by using both milk and dark chocolate in these decadent creations. The shape and appearance is reminiscent of a devilled egg, or an oyster on the half shell. The outer shell is made of thin milk chocolate that acts as a cradle for the inner sanctum of the turtle–a dark chocolate ganache nesting atop the delicious buttercream caramel (that doesn't stick to your teeth) topped with two candied pecans. I actually ate three of these masterpieces in one sitting, which tells you just how good they are.
I also have a passion for passion fruit truffles, and the ones I tasted at Decadence Chocolates were excellent, although I much preferred the dark chocolate with passion fruit jelly to the milk chocolate version with a passion fruit cream. I also loved the Banoffee truffles that Helen says are patterned after Banoffee, a classic English dessert pie made from bananas, cream, and dulce de leche. Decadence has a variety of chocolate bars done in different styles. I loved the dark chocolate Decadent Element Almond Bar featuring rice krispies and marshmallow cream. These bars are thick and substantial and downright delicious.
celebrating Decadence Chocolates of Winnipeg
Another thing I love about Decadence Chocolates is the open kitchen concept. I've seen this in many locations around the world and love the opportunity to watch the chocolate artisans at work. Alongside the kitchen is a glass wall with several small tables at which you can enjoy a decadent hot chocolate and a cookie, brownie, or chocolate treat.
Helen launched her bean-to-bar chocolates bars in late 2016. At this point in time, Helen is using exclusively cocoa beans from Venezuela to make her pure handcrafted single origin chocolate bars. But she does have plans to include additional origins as she forges relationships with cacao growers in other regions.
The 70% Venezuelan bar is made from Trinitario cacao beans that have been conched for 45 hours to get the texture ultra smooth. Three percent cocoa butter is infused to add even more creaminess to the texture and mouth feel of the chocolate.
Decadence Chocolate also offers four flavours of made-onsite ice cream including a passion fruit flavour during the summer, with a smaller selection available year-round. The ice-cream is available in 26-ounce takeout containers to enjoy at home. You'll find a great selection of seasonal chocolate specialties year-round at Decadence Chocolates to help you celebrate whatever or whoever you love–including the crazy popular "Lumps of Coal" chocolate bombs for off-the-chart hot chocolate.
The chocolate scene in in Winnipeg is definitely expanding. In addition to Decadence Chocolates and Constance Popp Chocolatier offering up great artisanal chocolate, Aschenti Chocolate International sells its bean-to-bar chocolate online and at various locales throughout the province. Every Winnipegger knows our city's original chocolate company, Mordens' of Winnipeg, that celebrated 60 years of chocolate-making in 2019. And as of 2018, there's also the Melt Chocolate Company. It's wonderful to see such quality players expanding the Manitoba chocolate scene and providing so many opportunities to #ShopLocalMB. During COVID-19, most small shops are closed to the public, but open for online sales and curb-side pickup.