Saluting the Best Trinidad Chocolate
In this post, I've chosen to salute the best Trinidad chocolate, and salute the amazing women producing Trinidadian chocolate. Happy #InternationalWomensDay to them all!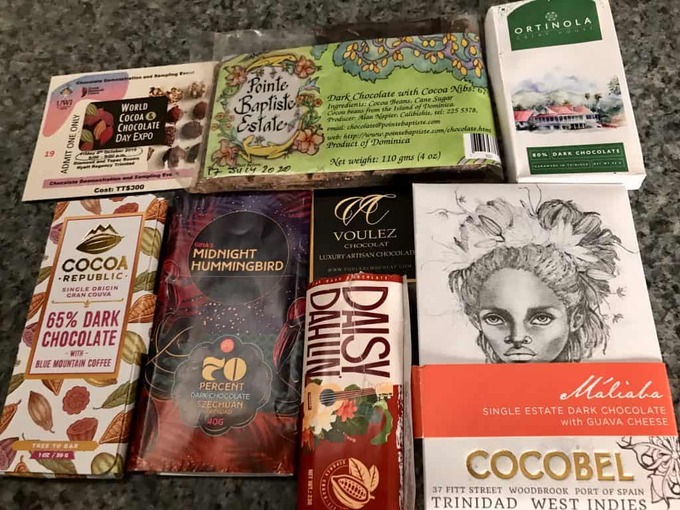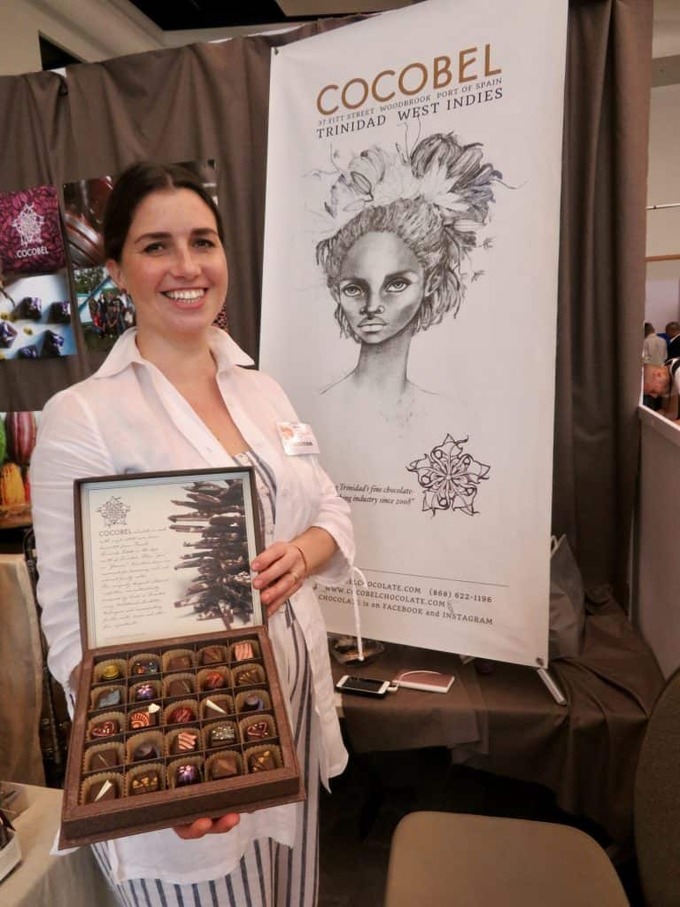 Trinidad specializes in growing fine flavour Trinitario cacao, from which its delicious chocolate is made. I will focus on the Cocoa Genebank and growing of cacao in Trinidad in a future post. In this post, we'll stick to the deliciousness of Trinidad chocolate and the amazing women who are making it.
meet the women of trinidad chocolate
Exploring the booths at the chocolate expo introduced me to several terrific chocolate companies, as well as learning more about Cocobel Chocolate, probably the most impressive chocolate company in Port of Spain, with its handcrafted bean-to-bar artisan offerings including a wide array of sumptuous truffles. I absolutely adored the 65% dark chocolate bar made with guava cheese–and no, it's not cheese as we know it. Guava cheese is a cross between fruit leather and jam, and goes immensely well with the estate grown Trinitario chocolate made by Cocobel.
It was a pleasure meeting Isabel Brash of Cocobel Chocolate. Isabel is a trained architect who uses her architectural skills to create truly beautiful three-dimensional chocolates. She had been kind enough to send me a sampling of her chocolate–including her ever-popular chocolate barks–several years ago, but meeting her, tasting her latest offerings, and gaining a greater understanding of the motivation behind her company are what makes chocolate travel and my work with Chocolatour so meaningful and worthwhile.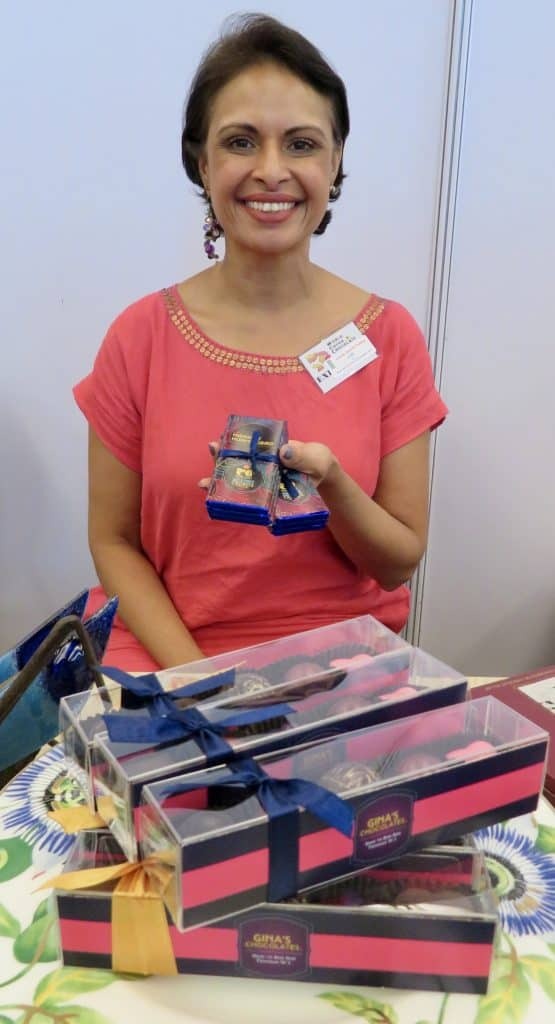 Gina Hardy (pictured above) of Gina Artisan Chocolatier makes an amazing array of handcrafted truffles. I tasted the raspberry passionfruit truffle and loved it. Gina also makes a fabulous assortment of single origin bars featuring fine flavour Trinidad-grown Trinitario cocoa. Her 70% Midnight Hummingbird Chocolate is so pure and delicious, I brought back several bars that I was pleased to feature in a chocolate tasting I hosted here in Canada.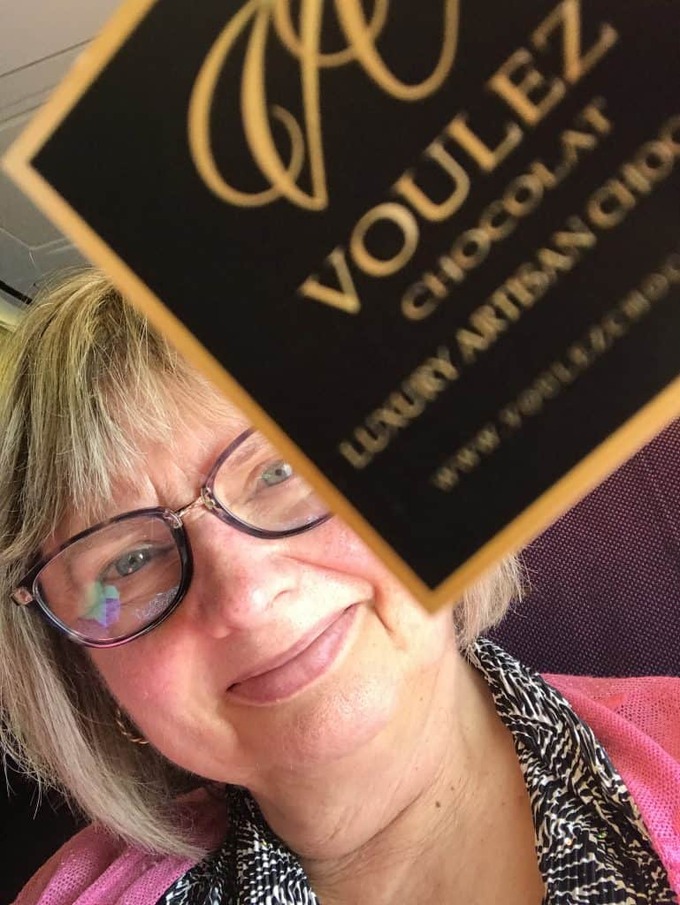 On the long flight back from Trinidad, I couldn't stop myself from breaking into my chocolate stash. Remember to always have your chocolate in your carry-on luggage to ensure it isn't exposed to extreme changes in temperature or humidity–and just incase you need a delicious distraction to help you get through a long flight. Such was the case when I treated myself to two incredible chocolate confections made by Noren Nunez, the self-proclaimed Couverture Chocolate Specialist who owns Voulez Chocolat Luxury Artisan Chocolate. Noren began making chocolate in Europe in 1991, where she perfected the elegance of chocolate that celebrated the silkiness of Belgian and Swiss-made chocolate. In 2013, Noren began making chocolate in Dallas, Texas. She now combines her time between Dallas and Port of Spain, Trinidad.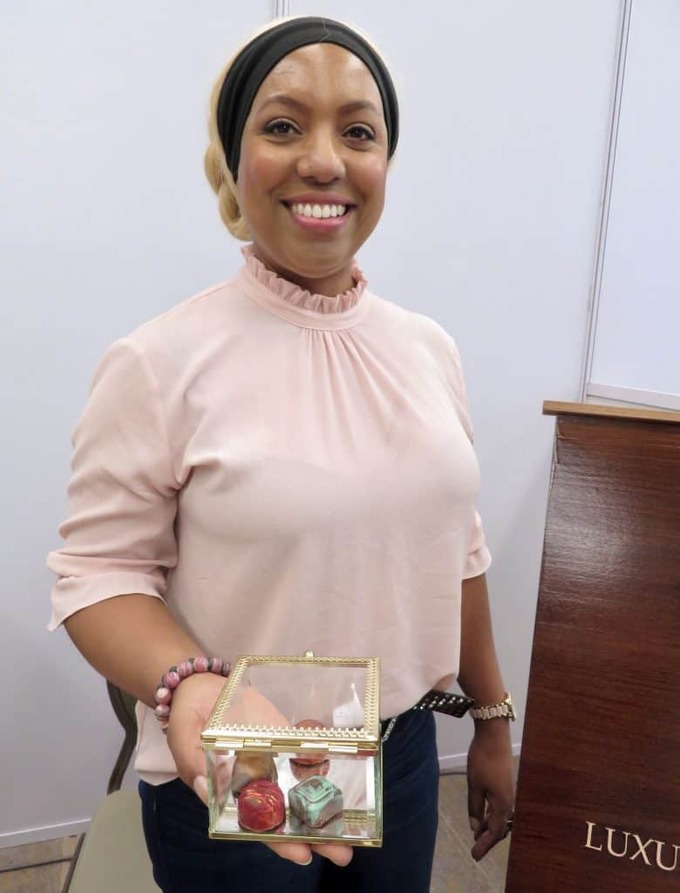 Ortinola Estate Chocolate was another favourite of mine. Below, you'll see Nikita Nath, the chocolatier at Ortinola. Read this post devoted to the natural beauty of the Ortinola Estate, the chocolate, and the tours and afternoon tea you can enjoy while there. The finest Trinidad chocolate is indeed being made by women!