your collections reflect your passions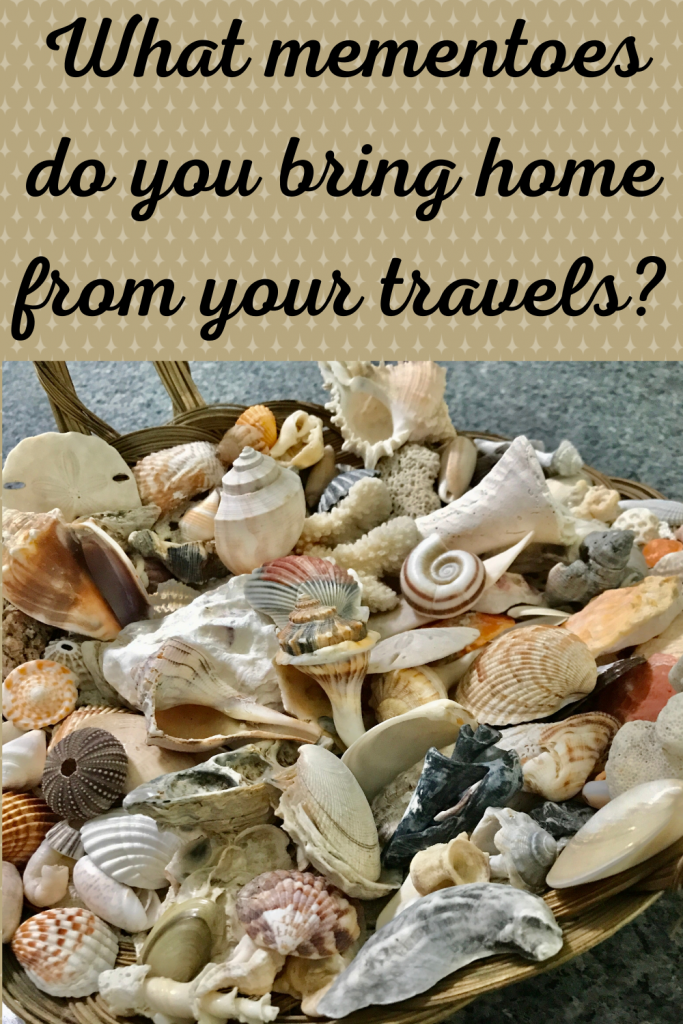 I'm a proud pinhead –a person who collects lapel pins. I've been collecting them for at least 35 years, as there is a pin on the vest holding my collection dated 1986 when Vancouver, Canada, hosted the 1986 World Exposition. There may be others that are older and undated.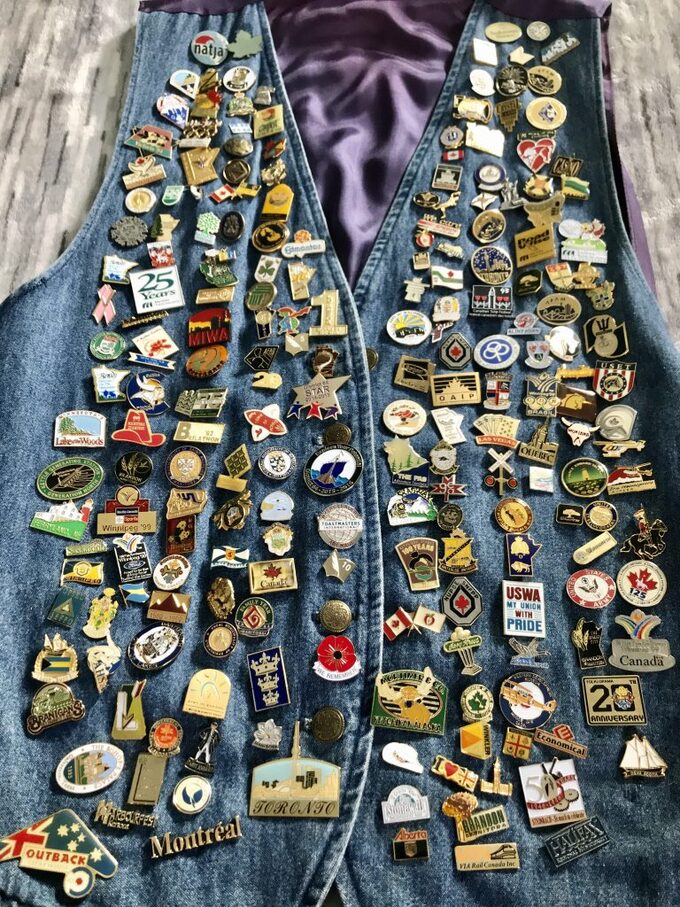 I'd say the majority of the pins are from travel. Taking a close look at them has reminded me of some smaller, marvellous places that I've been, but hadn't thought of recently including Labrador, Ferryland (Newfoundland,) Baddeck (Nova Scotia) as well as special events that have meant a lot to me including the Pan American Games that were held right here in Manitoba in 1999, at which I was a volunteer in the media tent at Birds Hill Provincial Park. That was SO incredible, and the event netted me a handful of different pins as well as some terrific new friends. 😊 I also have pins from most of the organizations I've belonged to and places I have worked.
my matchbook collection has made me a phillumenist!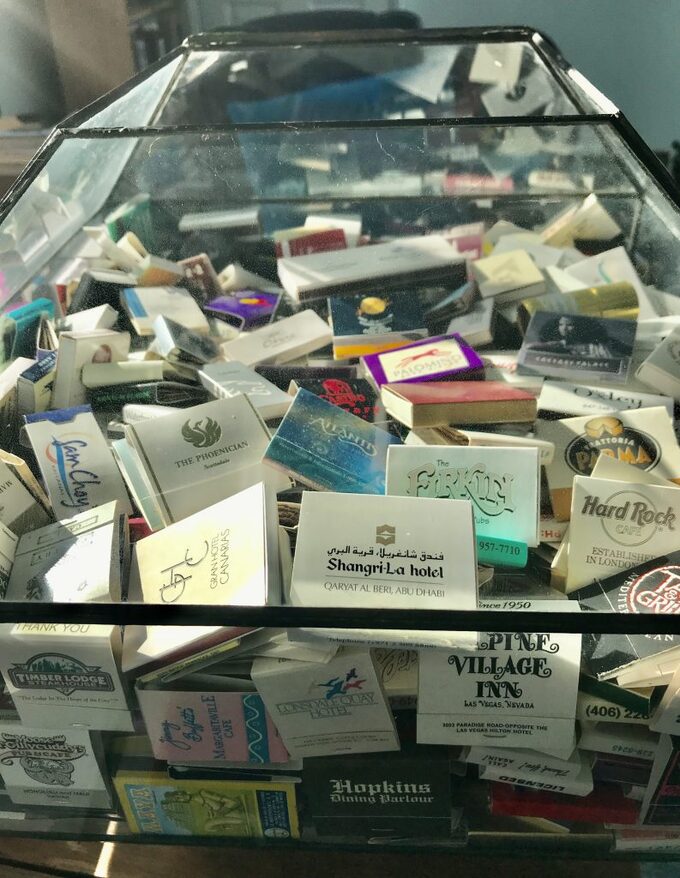 Alas, the art of being a matchbook cover collector (or phillumenist) is a dying art. I've written a post about this wayside hobby in this post, which you may find of interest. But with fewer people smoking and smoking banned in most places, the availability of matches in bars and restaurants has truly become more difficult and I rarely come home from a trip with more than a couple specimens to add to my collection.
What I really loved about collecting matchbooks, is that I could personalize an entry written on the inside of the matchbook cover indicating the date(s) I was there, with whom, and what of interest we were there for (a conference, convention, concert, wedding, etc.) Today, when taking the photo for this post, my collection reminded me of the amazing time I had at the Shangri-La Hotel in Abu Dhabi (United Arab Emirates.) To date, the UAE is the most culturally different place I've been, and that trip to Dubai and Abu Dhabi was one of the most memorable weeks of my life as every day was filled with unique and unexpected moments.
what characterizes your collections?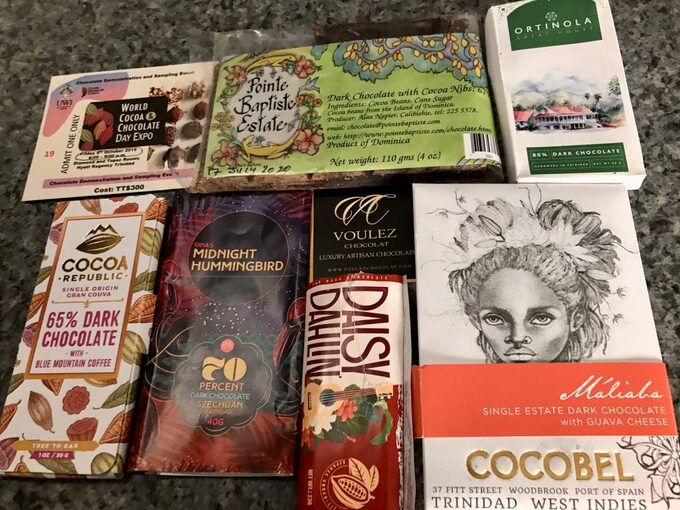 Writing this post made me realize one thing. The I've highlighted here today all cost me very little for the products themselves. It's the travel that may add a very pricey component to the acquisitions. Sure enough, you can order just about anything via the internet. But everyone who knows me and follows this blog knows I'm all about the experience and experiential travel. So I never accepted any matchbooks from someone who went somewhere. It had to be ME who was doing the acquiring (or in the case of the chocolate … the tasting.) 😋
I have quite a number of other collections that include wood carvings, seashells (pictured above), books on certain topics (I recently realized I have at least 20 books on Feng Shui!) And I have about that same number of books about chocolate and cacao. They all make me happy!
As March 20th is recognized globally as International Day of Happiness, I thought it was the perfect time to salute our beloved collections. And if you have a collection that you don't love or is no longer bringing you happiness, perhaps now is the time to let it go. Give it away, sell it, or if is of no value (emotionally or monetarily) to anyone else … chuck it!
Please tell me and everyone else here about your own collections. We'd love to hear about them and how they bring you happiness (or have done so in the past.) I hope #InternationalDayofHappiness brings you joy as does reflecting on your own collections.