Vegas comes through for the matchbook collector
Who knew?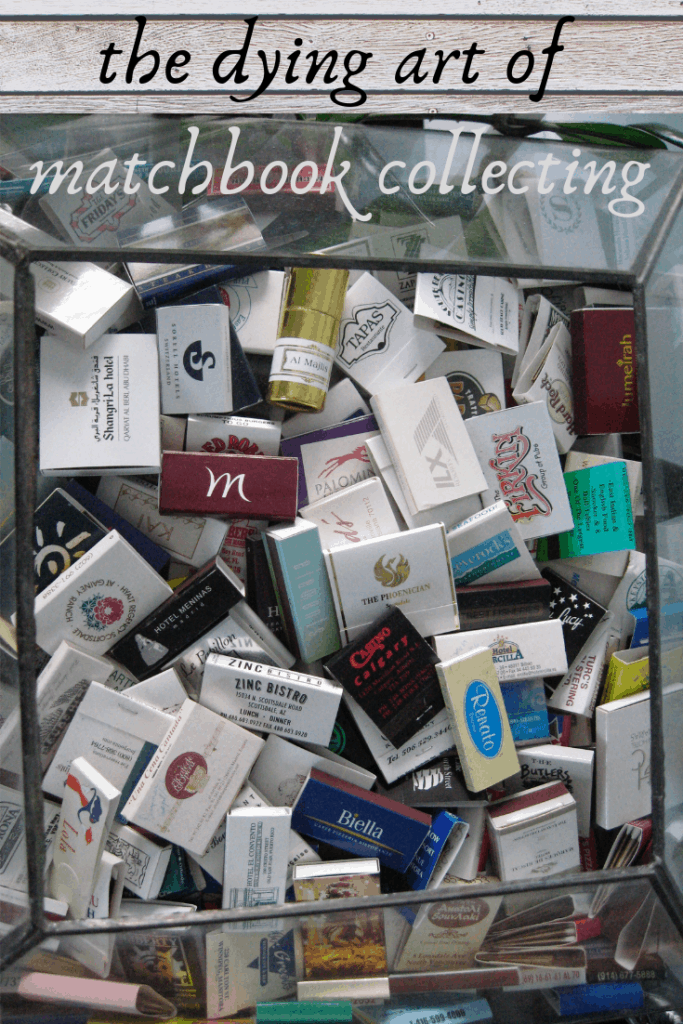 I thought I was one of the few remaining matchbook/matchcover/matchbox collectors around. Afterall, it's a dying hobby, as since the downfall of public smoking in most parts of North America, collecting matchbooks is becoming increasingly difficult. Most smaller establishments are no longer bothering to print matches. There are no more ash trays on tables in most eating and drinking establishments in the average Canadian or American city.
But Vegas is not your average city! After just three days in Sin City in 2009, I came home with a total of 10 matchbooks! That's quite the haul in today's day and age. (And no, I am not and have never been a smoker, although I have indulged in the very occasional cigarette over the years.)
I remember up until the 1990's, we'd go on a roadtrip and I'd come home with a whole bag of matchbook covers of various shapes and sizes. Now that was fun! It was a way for me to remember all the great (and maybe not-so-great) places we had stayed, wined and dined. I would write in each matchbook as to what date I visited, who I was with and whether the result was something memorable (accommodation-wise, food-wise, for a special occasion, etc.)
being a phillumenist
And I'm not alone! Evidently, there are many other phillumenists in the world! Check out the Matchcover Vault site for the most comprehensive list of clubs and resources for collectors. We always called them "matchbooks" in Canada and not matchcovers. Could that be an American thing?
In the 1950's — the hayday of matchcover collecting — there were more than one million collectors in Canada and the US. Matchcover collecting was only surpassed by stamp collecting in popularity! I'm sure that is no longer the case. We are indeed, a dying breed.
That is because the joyous days of productive matchbook collecting are long gone. In today's world, you're lucky to get just a few matchcovers from any given trip. (I scored just three or four matchbook covers from our trip to three European countries in October, 2009.)
What do you candle lovers do to light your candles? We know most smokers have lighters. But many of them still reach for matches.
And in Vegas, smoking is still tolerated — if not celebrated to the best of my knowledge. Smoking is still allowed in most casinos, but generally not in eating establishments. So the art of hunting for matchbook covers was just one more reason for me to revisit Las Vegas. Luckily there were many other reasons. (See this post for some of our 2019 Vegas adventures.)
the art of collecting matchcovers is a dying art
It seems that addictive behaviours such as gambling and drinking go quite nicely with smoking. So pretty much every hotel on The Strip used to have an abundant supply of matches, usually found in bowls on the bar. On my most recent trip to Vegas in May, 2019, I did not find that. Matchbooks are quickly becoming a thing of the past!
You're probably wondering how many matchbooks I have in my collection? Well, I began collecting on my 16th birthday, when my Dad took me to the Charterhouse Restaurant (now the Rib Room) in Winnipeg for a grown-up dinner. That was a very long time ago! Unfortunately, I've been unable to make many additions to it lately for reasons already stated.
I now have a lovely hexagonally-shaped custom-made leaded glass container that is 14 inches by 14 inches by 14 inches and is 2/3 full of matchbooks. It is esthetically pleasing and is in effect, a history of my adult life as I have personally collected each of the matchbooks in the collection so each one has some meaning to me.
Hopefully, my supply of incoming matchbooks for the collection will not run out before my time on this earth is done!
If you know of any destinations where matchbooks are still abundant, please let me know!
I find that with many vacation spots adapting the all-inclusive route which encourages guests to stay within the confines of the resort, and with cruising becoming equally popular, the days of visiting many different establishments on a vacation are less frequent–making matchbook collecting increasingly difficult. We will never surrender. We will persevere and continue to ask at each place we visit, "Do you have any matches?"
If you have a dying hobby that is increasingly difficult to continue, tell us about it. We can all lament together.