exploring Oahu
In this post, I share some of the things I like about the island of Oahu–apart from the delicious chocolate! You'll find our chocolate travel discoveries in this post about Hawaiian chocolate.
Oahu is a very easy island to drive. No crazy roads like the memorable "Road to Hana" over on Maui. The highways are remarkably good, traffic manageable, and scenery breath-taking. The island is the third largest of the Hawaiian Islands with a total land area of about 567 square miles. It's approximately 44 miles long and 30 miles across at its widest point, so easy to do a day drive away from the crowds of Waikiki or Honolulu.
oahu, hawaii off the beaten path
Most people do come to Oahu for Waikiki Beach, its most popular land mark. Waikiki is situated within the bustling city of Honolulu, the Hawaiian capital. The city and county of Honolulu boast a population of nearly one million residents and 4.5 million tourists each year. That's a lot of people! But if you want to get away from it all, and see the natural beauty for which Hawaii first became known, head to the island's North Shore, where waves can reach as high as 40 feet! They weren't nearly as high as that when we were there on this trip, but I do recall on previous visits where we witnessed surfers enjoying the thrill of riding the big ones.
exploring oahu, hawaii is sure to please your palate
While we were on the North Shore, we dropped into the charming village of Haleiwa and had lunch at the Beet Box Cafe, a cool little hideaway in the back of Celestial Natural Foods (a health food store) that offers an interesting selection of healthy local options for lunch or a light meal. My choice was the "Beet Goes On" salad adorned with fresh steamed beets, walnuts, kale or spinach, and goat cheese or feta. (I'm sure mine had kale and goat cheese, but I see that the website says spinach and feta, so I imagine they use what they have.)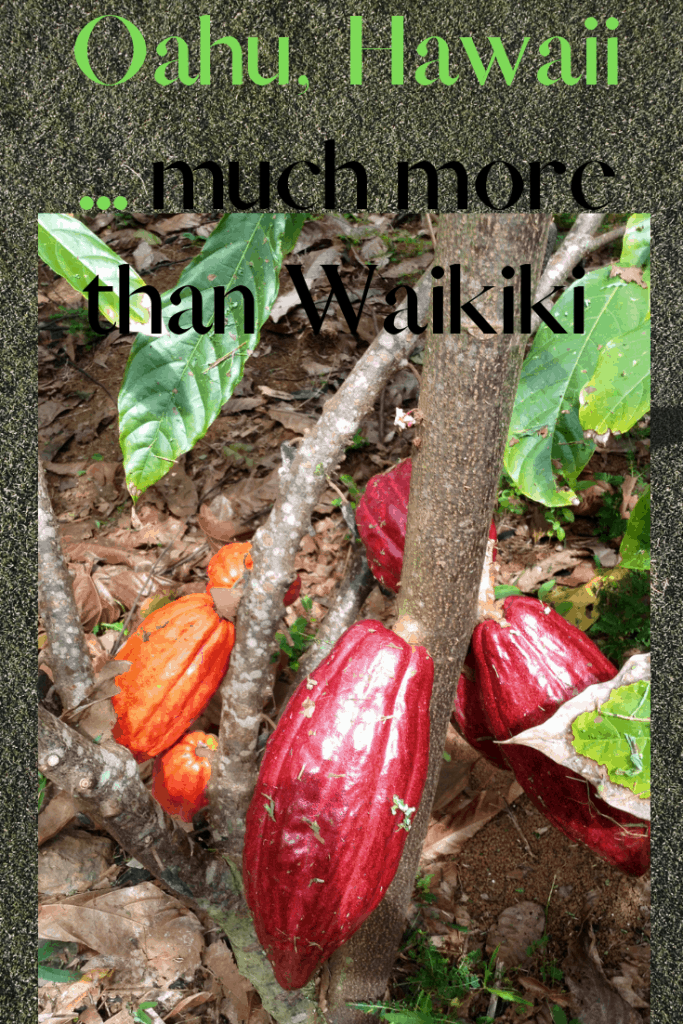 We also enjoyed a tour of the Waialua Estate as part of our Chocolatour. See the vibrant red pods pictured above. You'll find more about growing Hawaiian cacao in this post. Very near the Waialua Estate you'll find the Island-X Hawaii, a locally run store filled with Hawaiian specialties such as Waialua coffee and chocolate, and kukui oil (a natural oil that has been used in Hawaii for centuries to heal and nourish stressed and damaged skin.) I also picked up a CD by a local Hawaiian talent and enjoyed some freshly made shave ice flavoured with locally grown passion fruit (known as lilikoi in Hawaii.) I could definitely go on, but I think you get the idea that Oahu is not just about Waikiki and the urban amenities and density of Honolulu.
Here's the link to a lovely guide to Hawaii by RV Lifestyle that might help with your planning.
Have you enjoyed time exploring the island of Oahu? Have you tried surfing the waves on the North Shore or snorkelling at Hanauma Bay Nature Preserve? Have you tried kukui oil on your skin? Please share your thoughts and experiences here.