poll #1: separate or combine?
Welcome, everyone, to my first-ever poll! I seem to be in a state of evolution, and am seeking the advice of you, my readers.
When I began blogging in early 2009, I posted about whatever I wanted and blended it all into one site. That was fine, as I didn't have much content back then.
the evolution of a blogger
As time went on and I had enough travel content, I migrated the travel posts over to my travel site and kept my original Blogger blog as a writer's lifestyle blog.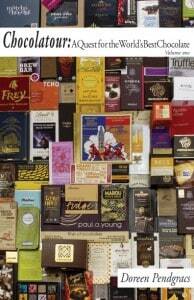 In 2013, the
Chocolatour
site was launched to be a hub for my new chocolate travel book, chocolate information, and chocolate tours and events. In some ways, the posts from Chocolatour could go on the travel site; in some ways, they could go on the lifestyle blog, but really, they belong on a separate site which is exclusively devoted to the world of chocolate.
blogging is an evolutionary process
Should I continue to keep the three sites separate, or should all 3 now be combined into one mega site? My gut feeling is to keep them separate.
The reason this is coming to a head is that, until now, I've stuck to a publication schedule — posting on the writer's blog on the 1st and 3rd weeks of the month, and to the travel blog on the 2nd & 4th weeks of the month. But this week, I want to also post a chocolate education post on chocolatour.net as I've discovered some new information/insights that I'd like to share with chocolate lovers.
Am I shooting myself in the foot by having 3 separate sites?
If I want to have travel sponsors, it's good to have an exclusively travel blog. And I've noticed that travel bloggers only want to read travel posts, so by keeping the content segregated, I am better serving my readers and making it easier for my supporters.
If I want people in the chocolate industry and chocolate lovers to read my posts, and perhaps find chocolate company/industry sponsors, is it preferable to maintain the separate chocolate-focused site at chocolatour.net and just post there as required (i.e. when new information or events arise?)
And for the writing community, is it preferable to keep the writing/lifestyle related posts separate here at https://chocolatour.net ?
But is having 3 separate sites hurting my SEO and my stats? Am I keeping my stats lower than they may otherwise be because I've segmented my content between 3 separate sites?
I'm not hung on stats by any means, but if I do want my sites to help me earn income and increase my opportunities, I need to consider this. But above all, the satisfaction and engagement of my readers is of utmost importance. So please answer the following question in the comments below:
Do you like the fact that my content is segregated into three distinct streams of
Writing/lifestyle
Travel/chocolate travel
Chocolate book and events
OR
Would you prefer/recommend that I establish one mega-site that combines the three threads?
I look forward to your responses, suggestions, and advice. And who knows what the future publication schedule will entail. My future is in YOUR hands …