your guide to reading chocolate labels
We celebrate National Dark Chocolate Day annually on February 1st. But just what qualifies as dark chocolate? In this post, I'll answer that question, help you differentiate between dark chocolate, dark milk chocolate, milk chocolate, and white chocolate, and share a few tips on how to read chocolate labels and shop for better tasting, healthier chocolate by interpreting those labels.
reading chocolate labels is important if you want to buy healthy chocolate
If you're looking to buy chocolate bars, look for a simplicity of ingredients. The healthiest bars generally only have two ingredients: organic cocoa and organic cane sugar. Innovative companies such as Fine & Raw chocolate of Brooklyn, New York, are using organic coconut sugar as a sweetener as an alternative to cane sugar. Fine & Raw uses 50% raw and 50% roasted beans in its 70% dark chocolate and it is truly delicious.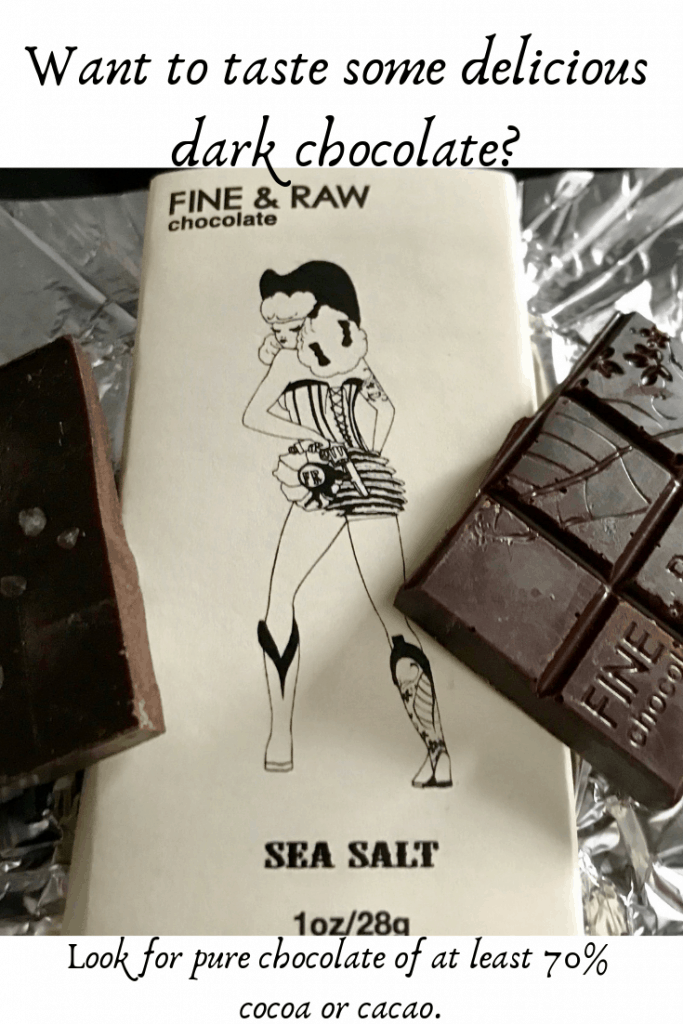 Dark chocolate bars generally have at least 70% cocoa, and are the healthiest for you as they are pure "food of the gods" with no additives or preservatives. The higher the percentage, the more cocoa in the bar. But beware. Bars of 100% cocoa are intense and have absolutely no added sugar, so definitely an acquired taste.
The cocoa may be listed as cocoa, cacao, cocoa mass, cocoa liquor, or cocoa solids. It's pretty much all the same thing: the pure dark brown substance that is created from processing cocoa beans. But cocoa or cacao (used interchangeably these days) should be the first ingredient listed on any label of quality chocolate.
Most of the time the cocoa butter is extracted during this process. Some chocolate makers choose to add the cocoa butter back in to make the chocolate creamier without adding dairy, so you may see cocoa butter listed on the label as well.
To sweeten their cocoa, many chocolate makers prefer to use organic cane sugar. It is more natural and less sweet than processed white sugar. So if you have a 70% chocolate bar, that will most likely mean there is 30% sugar in the bar. Some chocolate makers add a tiny amount of lecithin (less than 1%) as an emulsifier to help the chocolate keep its shape. A small amount of lecithin is quite alright.
When buying chocolate bars, truffles, bonbons, ganaches, or filled chocolates, look for pureness of ingredients. Companies like US-based SPAGnVOLA Chocolatier grow their own cocoa as well as the passion fruit, ginger, and other flavour enhancing infusions in the Dominican Republic to make their incredible chocolate. So you will see 'passion fruit' as an ingredient and not 'passion fruit flavouring' which may indicate the use of simulated flavourings. Believe it or not, some commercial grade chocolate even has carnauba wax in it! Be sure to read the ingredients on your chocolate label and check for any pure additives or preservatives.
Remember that vegans prefer not to eat dairy products, and so will prefer dark chocolate to milk chocolate. And diabetics can eat a small amount of pure dark chocolate, but should shy away from white chocolate, which is primarily made from cocoa butter and sugar, and therefore does not possess the same health benefits of dark chocolate.
One final thing that is important to those of us who care about the cocoa farmers and the environment. Look for the word "Sustainable" on the label of your preferred chocolate. That means that both the farmer and environment have been equally cared for in the growing and processing of the cacao. "Fair Trade" is the next best thing, as it implies that the farmer has received a fair price for the cocoa, and "Ethical Chocolate" is also a label sometimes applied to chocolate that has been fairly and ethically produced in every step along the cocoa trail.
I hope this information will help you in reading chocolate labels and understanding that chocolate can indeed be good for you if consumed in moderation, and if you buy it in its purest form. Enjoy!
SaveSave
SaveSave
SaveSave
SaveSave
SaveSave
SaveSave
SaveSave
SaveSave
SaveSaveSaveSave
SaveSave
SaveSave
SaveSave
SaveSave
SaveSave
SaveSave
SaveSave
SaveSave
SaveSave
SaveSave
SaveSave
SaveSave