accommodation options for Puerto Vallarta
For my first couple of visits to Puerto Vallarta, I played it safe and stayed in well known and well rated beach resorts. But I am too adventurous a traveller to stick to the predictable.
So on my most recent visit to Puerto Vallarta, I wanted to search out alternative forms of accommodations that would reward me with some unique experiences I would long remember.
unique accommodations in Puerto Vallarta
hotels with great art
I spent three nights at the Villa Azalea Inn and Organic Farm, situated just minutes from the Vallarta Botanical Gardens. As I was speaking at and attending the Cacao and Chocolate Festival at the Gardens, staying at a place that is in close proximity made good sense. It also provided me with the opportunity to have a unique experience at a quiet villa that grew its own herbs and produce, and offered lovely grounds to stroll and ponder a more quiet existence.
The staff at the Villa Azalea are friendly and helpful and ensured my visit would be just what I wanted. But what really stood out for me about this location was the art! Everywhere you look at Villa Azalea, you're surrounded with original local art that is stunning, inspiring, and contemplative.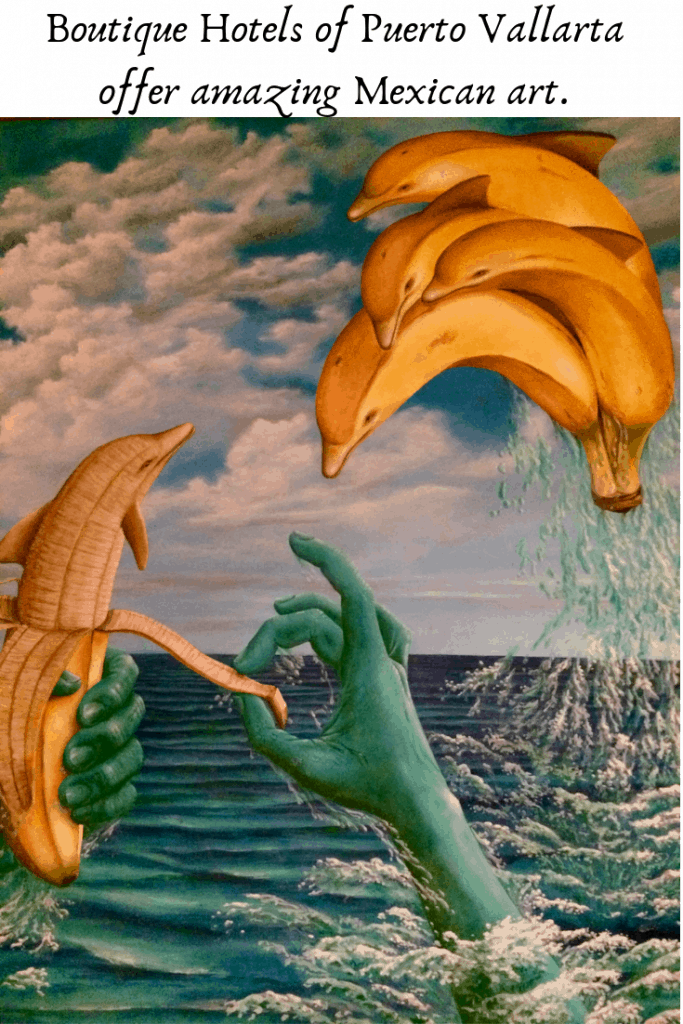 I had the good fortune to stay in the Sunflower Room facing the courtyard, where I was intrigued by the art in my room and in the courtyard. The amazing work of art above is called "Platanos Delfines," a creation by Jorge Luna Sanchez, with a price tag of $14,500 USD. I was fortunate to have it hanging in my room at Villa Azalea.
On my final night in Puerto Vallarta, I had a completely different, yet in some ways similar experience, as it was a place where you could enjoy interesting art and quiet solitude if that is what you are seeking. I had the Candelaria Suite at Rivera del Rio, a small boutique hotel located in downtown Puerto Vallarta along the Rio Cuale, a small river that runs through Puerto Vallarta.
From the street, you see nothing. But upon entering, you are transposed into a mystical world where you will find unique art and furnishings.
The piece of art below is probably the most intriguing at Rivera del Rio, but there are many more. I'm coming to realize that properties with great art are the ones that are most memorable to me.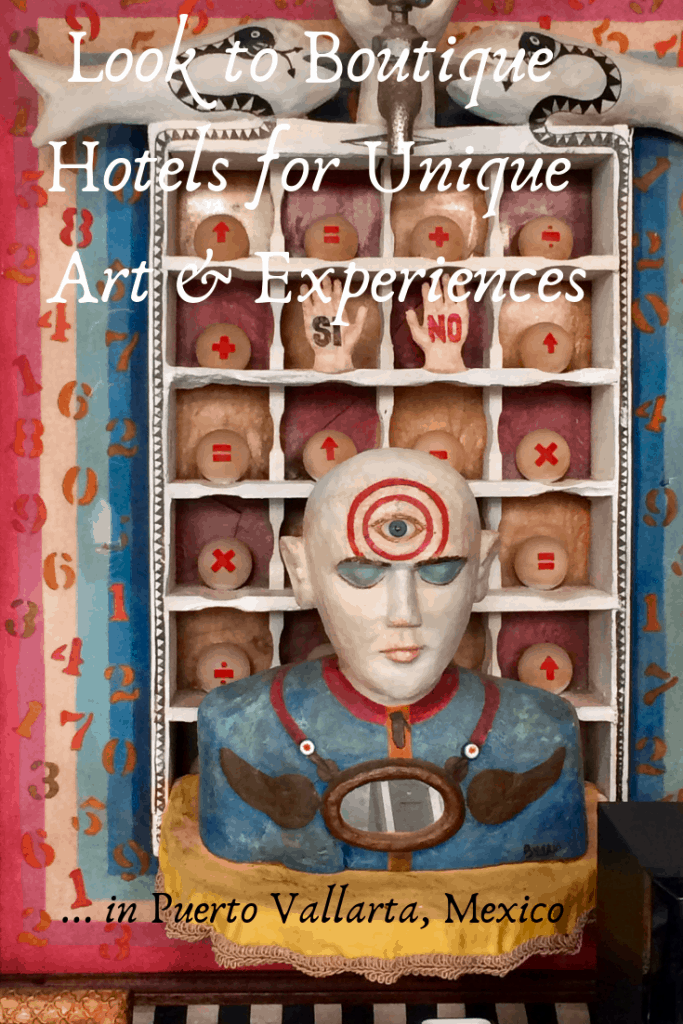 In addition to the interesting rooms and artwork, Rivera del Rio has a rooftop pool where you can lounge and relax and enjoy views of the cityscape. And they offer reliable internet and free calling to Canada and the US. Both great features are included with your room.
This is a slightly quirky place that may not be for everyone, but every guest I spoke to was thrilled with their choice and the complimentary made-to-order breakfast offered them each morning.
Have you stayed at Villa Azalea or Rivera del Rio? Have you found an off-the-beaten-path getaway in Puerto Vallarta? Do you specifically seek out hotel properties of unique accommodation options with great art? Please share your thoughts and experiences in the comment thread below, and please share the post if you like what you read. Thanks, and stay tuned for more intriguing coverage on my tour of authentic Mexico.