bronze sculptures of the malecon
There are a lot of things that impressed me during my return visit to Puerto Vallarta, Mexico. The beautiful vistas, the gentle waves of the beach, the amazingly creative culinary scene, the fabulous street food, the chocolate, and above all for me … the abundant street art. Stay tuned for posts on all those other memorable aspects of my visit. This post is devoted to bronze sculptures of the Malecon (boardwalk), a collection of statues and sculptures that runs from the Hotel Rosita in the north for 11 blocks south along the beach through Puerto Vallarta's vibrant downtown area.
the malecon sculptures combine traditional with contemporary art
The bronze sculptures of the Malecon marry traditional bronze sculptures that you'd expect to find in a seaside venue with some of the wackiest and most other-worldly sculptures you are likely to find in Mexico–or anywhere else on the planet. I loved them all, but was somehow eerily attracted to the work of Alejandro Colunga of Guadalajara. I was pleased to see some of Colunga's work in Guadalajara as well, but the striking seaside setting in Puerto Vallarta really make the sculptures come to life.
The Malecon sculptures number about 20 pieces of original that were installed over a 35-year-span (from 1976-2011) to inspire and tantalize you while you meander along the beautiful beachside boardwalk that hugs the shore of Banderas Bay.
Do you have a favourite among the Malecon sculptures? I thoroughly enjoyed each of the Malecon sculptures and if I had to pick one as a favourite, this would be it. The sculpture shown below is called Nostalgia, and is a tribute of love from Mexican artist Ramiz Barquet to his wife. You can't help but feel the love that was put into this work of art as you walk by it, lean against it and enjoy the very touchable art form that has adorned the Malecon since 1984.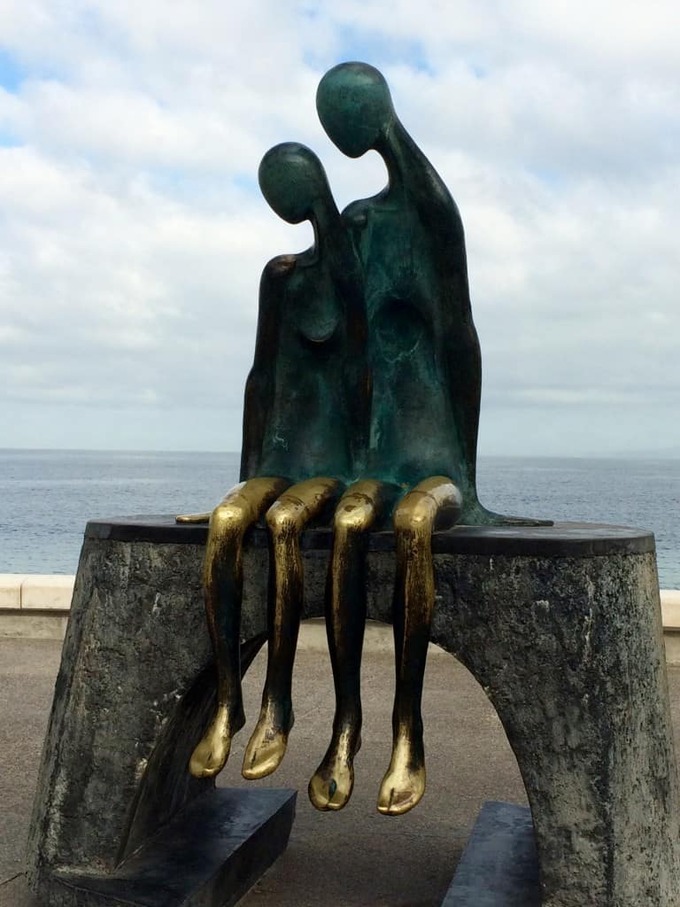 Many thanks to the North American Travel Journalists Association for holding its 2015 conference in Puerto Vallarta, and to Visit Puerto Vallarta and its partners for covering the costs of my travel. If you haven't been to Puerto Vallarta in a long while–as I hadn't prior to my long-overdue visit in May, 2015–you will be surprised at the abundance of street art this lively resort town has to offer. Hope to see you there on my return visit in October.