growing the Chocolatour brand
When I embarked on the project of writing a book about the world of fine chocolate in 2009, I had no idea that chocolate would become my life. I had no idea that one volume would turn into a series of three, that I would begin doing chocolate events around the world, and that I would become Doreen the Chocolate Queen. It's all happened, and I'm thrilled, because I'm doing what I love to do: sharing my passion, knowledge of and enthusiasm for the world of fine/artisanal chocolate with fellow chocolate lovers and travel enthusiasts.
I've been a speaker at the Hawaii Chocolate Festival, a judge at the Puerto Viejo Chocolate Festival in Costa Rica, have now coordinated six chocolate dinners in the Community Classroom of McNally Robinson (we have the next dinner planned for September 19th and a larger chocolate dinner in the works), and this week, hosted my first chocolate and wine pairing event for a corporate group. It was well received, and we are already planning the next event for the fall.
I'm continuing to research volume II of Chocolatour, and next week, will be in Mexico on a long overdue return trip. I really don't remember the last time I was in Mexico it's been so long ago.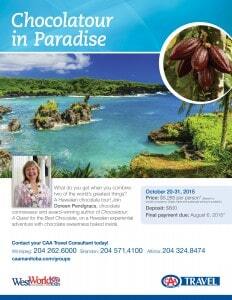 And I've engaged in a partnership with CAA Travel to host a Chocolatour to Hawaii in October to celebrate Hawaii Chocolate & Cocoa Month. It's going to be an amazing trip, and will enable me to expand on the research I've already done for the chapter I will be writing on Hawaiian chocolate in volume II of Chocolatour.
Why is all this important? Because it's made me realize the potential in what I am doing. My primary focus is the research and writing of the best chocolate travel books on the planet. But all the other opportunities that have come my way as a result of that are equally important and exciting. And they've made me realize that it's not about selling books. That's important to me, but not nearly as important as connecting with people and sharing my knowledge, passion, and enthusiasm for the world of fine chocolate–in whatever way best suits my audience.
In the next short while, you will see my three blogs converge into one site, that will have a tab for the writer's lifestyle posts you find on this blog, the (chocolate) travel posts you find on diversionswithdoreen.com and the posts about the chocolate events and books at chocolatour.net.
Thanks so much for your support and enthusiasm over the past six years. I couldn't have made it this far without you!