writing and the economy
Thanks for the great discussion that ensued from my last post on honesty and our prime virtues. You guys rock, and I love the vibrant community we have established here.
As members of several writers' listservs to which I belong have recently been discussing the ever-evolving and changing path of the professional writer, I thought I'd redirect our discussion on this blog back to that. How are writers making money these days (in view of the tight economy and the challenges created from online markets that are expecting content for free.)
I started freelancing back in 1993 and spent the first year or two as a self-employed writer doing projects similar to what I did in the corporate world: writing newsletter content and press releases for clients. It was fairly lucrative, but not where my heart was. It was too much like work!
I liked telling stories and sharing ideas with readers. I wanted to put more life in my work. To integrate life and work so that I could be writing about my passions and interests. I think that is the key to surviving as a writer in this changing economic climate. You've got to be flexible – and opportunistic.
I was able to break into the magazine market in 1995 by sending a letter of introduction to a national magazine. Just so happens they were looking for a writer in my region and so began a 10-year relationship with a publication I loved. From 1995 onward, my writing career focused almost exclusively on feature writing and that was my primary source of income for about 13 years. I loved it, and by 1997/98, was writing articles focused on travel. THIS is where I wanted to be. Getting paid to write about travel (my first love) was the cat's meow.
But by around 2008, it became increasingly difficult to continue exclusively as a magazine writer. Publishers were demanding writers sign all-rights contracts, meaning that we could not resell our work and that they had the right to put our work on their websites, in anthologies and in every other medium that had been (or may be!) invented. And rates were beginning to decrease. Primarily because too many people were willing to give their work away for free in exchange for "exposure." You can die from exposure!
Because of my membership in PWAC, and listing in the association's online directory of writers, I was found by a publisher in 2008 and asked to co-author the Manitoba Book of Everything. That project helped me re-focus on the idea of writing books. (After an unpleasant experience in 2003, I thought I'd never want to write another book. But like they say, "one bad apple don't spoil the whole bunch.") The 2008 experience was completely positive and in 2009, I authored "Before You Say Yes …" (BYSY) my first solo project. I was back in the right place and have found my mojo as an author of non-fiction books.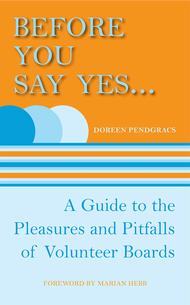 How do you get idea to completed project? In the case of BYSY, I was lucky. Through my volunteer work with Access Copyright, I knew a publisher who was interested in publishing a book about volunteer boards. I secured a contract and had the book written within a number of months. The book was published in March, 2010, and since then, has provided me with the platform to become known as an "expert" in the field of volunteerism. I am now earning a good portion of my income from facilitating and conducting workshops on subjects related to the contents of my book.
And I have been researching my next book on chocolate and travel, Chocolatour. This has proven to be a much larger project than I originally anticipated (there's a heck of a lot of amazing chocolate out there!) and so my proposal for this book has gone through a number of drafts. I am so very grateful for the help I have received from professionals like Erin Reel, The Lit Coach.
If you're working on a project that seems to have a life of its own and you need to develop or focus your work/strategy, I highly recommend engaging the professional services of a literary coach. He or she will help save you frustrations, and hopefully, help gain you a better financial result from your hard work.
And afterall, that's what we've been talking about in this post. How to make a living or move forward with your writing career in these times of economic instability.
What's your secret to success? What's helped you keep afloat, rise to the top or just keep persevering without losing hope? Please share your thoughts and experiences with us. We all learn from one another's mistakes and triumphs.