accepting the Versatile Blogger Award
Many thanks to Chris Nash for nominating me for the Versatile Blogger Award! Chris knows me via the Travel Blogged group on facebook, and so he nominated my travel blog for the award in his post.
But as it is this blog where I talk about the muse that leads my writing and inspires my blogging, I'm responding to Chris's nomination here.
The first thing I am asked to do is to share with you 7 things about myself that you may not know.
1. I am about to make my television debut on the Blog Town program on Shaw TV here in Winnipeg. Really excited about that, as I've been blogging since 2009 and now have three blogs. Stay tuned for the date the show will air. We're taping the segment on Saturday.
2. I sprained my ankle 10 days ago and am still suffering from it. Having a sprained ankle really cramped my usually active lifestyle, and even my ability to host friends and family as I love to do. But I continue to ice the ankle and keep my feet elevated, and slowly, the ankle is getting stronger and the size of the swelling is reducing.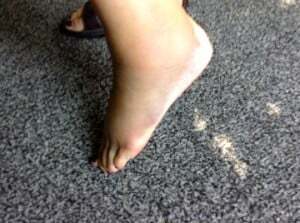 3. I am walking on Cloud 9 these days (albeit lightly!) as I await the announcement of the Readers' Favorite Awards on September 1st. My book, "Chocolatour: A Quest for the World's Best Chocolate" has been named a finalist in four non-fiction categories.
4. Chocolatour is actually my 4th book project, and I'm currently researching the second volume of Chocolatour which will focus on the best chocolate of the Americas and the Caribbean. You'll find my other projects listed on my Amazon page.
5. I absolutely adore cats and am smitten with my cat, Jimmy, who is one of the spunkiest cats I've ever had. And one of the most handsome! (And no, those aren't freckles on his nose, they're mosquito bites – taken earlier this year when the bugs were really biting!)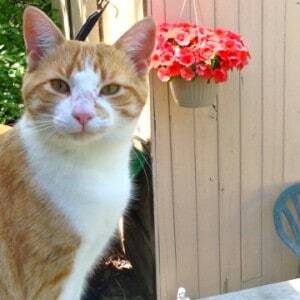 6. I am extremely passionate about travel. To date, I've visited about 30 countries, and have plans to visit Seattle, Miami, Mexico and Guatmemala in the next 6 months, with hopefully … a return trip to the Hawaiian Islands in the not too distant future as well.
7. I really value and appreciate my close friends and family and am anxiously anticipating the visit of my cousin Esther on August 18th, and my friend Pat on August 28th (both Manitobans now living in Vancouver.) We enjoy living at a lakeside resort and welcome such visits during the summer months when there is no better place to be!
Now that you know a bit more about me, I'm asked to share the links to 15 blogs that I follow or admire. 15 is a bit more than I care to list as the sore foot restricts the amount of time I can sit at my desktop computer, but I will share 10 of my favourites with you, and ask that you visit the blogroll on the right side of this blog's homepage for a much longer list of amazing bloggers.
Here are some of my favourites for their writing skills, creativity, passion, personalities and more.
Suzanne Fluhr is a spunky blogger who focuses on boomer travel at http://www.boomeresque.com/.
Michele Peterson writes about travel with food in mind at http://michelepeterson.com/.
Debra Yearwood blogs about communications strategies at http://commstorm.com/.
Jacqueline Gum always tells it like it is at http://jacquelinegum.com/blog/.
Christine Peets is a versatile writer and blogs about things she cares about at http://christinepeets.wordpress.com/.
Suzanne Boles does not blog often, but when she does, it's worth reading: http://suzanneboles.wordpress.com/.
Susan Cooper is one of the most supportive bloggers I've met. She blogs about food, wine, and more at http://findingourwaynow.com/.
I love Tim O'Callaghan's writing style and his global adventures. You'll find his blog at http://flattiresandslowboats.com/.
Agness Walewinder is a young lady from Poland who is having the time of her life travelling the world. You'll find her blog at http://etramping.com/.
I wouldn't have this blog or the strong web-presence that I do if it weren't for Sherryl Perry, whose knowledge of blogging and how to keep up with the web can be found on her blog at http://keepupwiththeweb.com/.
I hope you'll visit these bloggers and see what they have to offer.