chocolate ravioli a hit at chocolate dinners in Winnipeg
The bar was raised for Chef Chris Kopp and the culinary team at Prairie Ink Bistro to tantalize chocolate lovers with a special menu for our chocolate-themed dinner in the Community Classroom of McNally Robinson Booksellers in Winnipeg, Manitoba, and they did not disappoint! This was cocoa cuisine at its best, with a unique four-course menu featuring the sweet and savoury sides of chocolate.
We've been doing chocolate dinners in the Community Classroom as part of McNally Robinson's educational program since November, 2013, and they have been a resounding success, selling out well in advance of the date each time.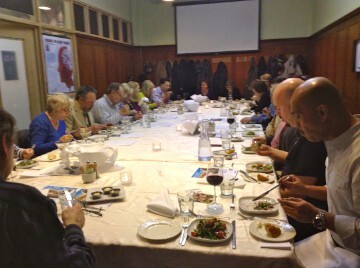 But at the March 6, 2015 dinner, we were introduced to the new chef at Prairie Ink. He had never worked with chocolate to any degree. The meal we received at that dinner was good, but the main course chicken didn't have the star power of the first course (cacao gazpacho soup based on recipe contained in Chocolatour) or the dessert (white chocolate cheesecake created by Pastry Chef Geoffroy Dextraze.)
I made a challenge to Chef Kopp to raise the bar for our April dinner and he and his team exceeded my expectations. We began the meal with an arugula salad with snow peas and strawberries topped with a raspberry white chocolate dressing and garnished with hemp hearts and candied cocoa nibs. It was delicious!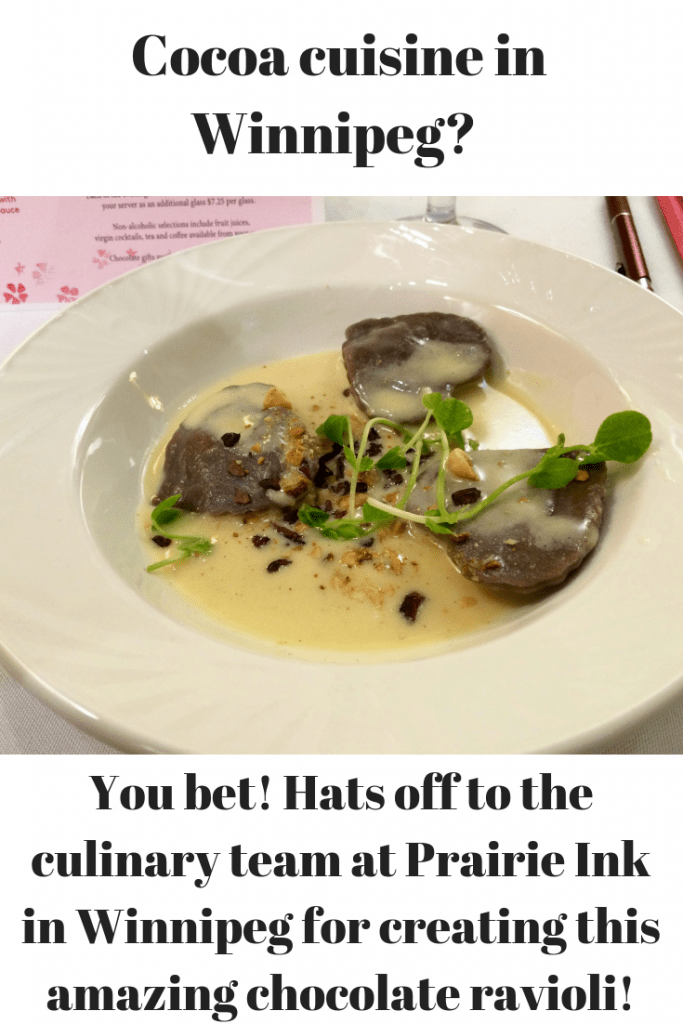 The next course was my favourite. Chocolate ravioli filled with orange, thyme, and duck finished with a Frangelico cream sauce. The ravioli were chocolate brown in colour and the decadent sauce was garnished with cocoa nibs, hazelnuts, and pea shoots. Chef Kopp later told us how labour intensive it was to make those ravioli, but wow … were they incredible!
The main course didn't disappoint. We enjoyed two different treatments on the baby back ribs. I preferred the ribs with the dry rub made from a blend of espresso coffee, crushed cocoa nibs, and chilli powder. But the ribs cooked in a dark chocolate and cherry BBQ sauce were equally enticing. The plate was finished with chocolate balsamic roasted fingerling potatoes and mint succotash.
Pastry Chef Geoffroy Dextraze again impressed us with his ability to partner chocolate with something non-traditional. The 70% chocolate mousse contained a think layer of creme aux Kalamansi, made from the Kalamansi fruit of Southeast Asia. The tangy citrus notes of the fruit coupled with the bittersweet richness of the dark chocolate were nearly as beautiful a feast to the palate as the creation was to our eyes.
This menu was such a hit that we will have it again at a subsequent chocolate-themed dinner as everybody loved the idea of fusing the sweet and savoury sides of chocolate.