Great tastes of San Mateo County
I'm sure the last few posts have piqued your interest in San Mateo County, California. So much to see and do! But for all you culinary travellers like me, I'd like to share some of the great San Mateo restaurants where I ate (and drank!) while in the area.
san mateo restaurants offer a lot of great seafood
One of my favourite meals while in San Mateo County was the amazing lunch we had at Kincaid's Classic American Dining. I loved the beautiful waterfront setting (it's located right on San Francisco Bay) in the community of Burlingame. I loved the bright interior, great food and service … and they make a darn good chocolate martini!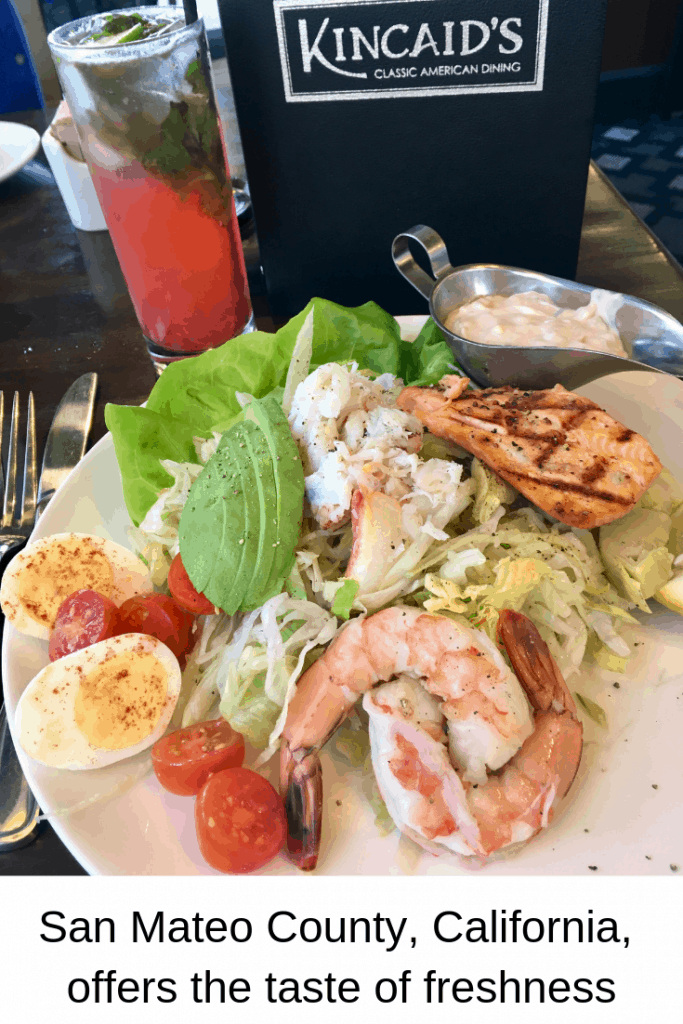 My lunch at Kincaid's was the Seafood Louie Salad featuring fresh avocado. Loved it. Healthy and tasty, with a cold beverage of fresh strawberries and basil. There are several Kincaid's in the US, and two other California locations at Redondo Beach and Oakland.
I also enjoyed the amber ale, seafood chowder, and Portuguese Fisherman's Stew at the Half Moon Brewing Company in Half Moon Bay–a highly recommended stop for anyone visiting San Mateo County. Half Moon Bay is scenic, laid back, and considered an 'escape destination' for residents of San Francisco and the Bay Area. It's also home to Maverick's–the largest surfing competition in the world (held sometime between early December and early February, whenever the waves are at their peak.) And for giant pumpkin lovers, there's the Half Moon Pumpkin Fest in October.
While in Half Moon Bay, be sure to visit Barterra Winery, right on Main Street. They have a nice selection of chocolate for sale, and to taste with their various vintages. A truly unexpected but delicious pairing was the 2016 Carneros Chardonnay paired with Lakrids B–a black Danish liquorice covered in white Belgian chocolate blended with passion fruit!
Hats off to owners Bart Colucci and his wife Mary who have come up with some very memorable pairings that showcase their wines with a selection of chocolate delicacies. I was honoured to be gifted a bottle of Elegancia Port, a specialty of Barterra Wines sold in custom bottles from Italy and featuring a photo of Mary's grandmother on the label.
creative cookery in san mateo county
My favourite dinner in San Mateo County–without question–was my first night in town at Pausa Bar & Cookery, a contemporary Italian restaurant located right in the heart of downtown San Mateo. No, I didn't have seafood. But I did try some terrific charcuterie, and a lovely offering of chestnut gnochetti sardi–mini gnocchi made from chestnut flour in the Sardinian tradition served with asparagus, shiitake mushrooms, and a goat milk ricotta. It was incredible. I also tasted my friend's excellent veal chop, and the wood-fired pizza. All great. But the pièce de resistance was marchesa di cioccolato–the chocolate marquise flourless chocolate cake adorned with salted caramel, truffle burrata gelato, and silver dust.
But what if you're on a tight budget, and are looking for great food and location without breaking the bank? Try the Taco Bell at Pacifica Beach! It's located right on the beach in surfing country and you can get lunch for under $5 while watching the surfers catch the waves.
I hope this has whet your appetite–and thirst–enough to plan a visit to San Mateo County. It's a part of California that many people pass over when visiting San Francisco. But it's well worth the visit for great tastes, lower prices, super activities, breath-taking scenery, and fewer crowds.
SaveSave
SaveSave
SaveSave
SaveSave
SaveSave
SaveSave
SaveSave
SaveSave
SaveSave
SaveSave
SaveSave
SaveSave
SaveSave
SaveSave
SaveSave
SaveSave
SaveSave
SaveSave
SaveSave
SaveSave
SaveSave
SaveSave
SaveSave
SaveSave
SaveSave
SaveSave
SaveSave
SaveSave
SaveSave
SaveSave
SaveSave
SaveSave