Moana Surfrider: the 1st Lady of Waikiki
Waking up to this delightful view of Waikiki Beach is an obvious reason to enjoy a stay at the historic Westin Moana Surfrider Hotel. But there are many more.
I'd stayed at the Moana about 20 years ago and loved the blend of old and new. It is a perfect place to stay in Waikiki if you are a lover of luxury travel.
The hotel was branded a Sheraton back then, and with an expansion and the addition of a full-service spa, the Moana–although still part of the Starwood family of properties–was then branded as a Westin Resort & Spa and consists of three buildings that are so perfectly blended together, you never really know when you've left one and entered another. As a result of the recent integration of Starwood properties into Marriott Hotels International, the Moana Surfrider is now a Marriott Hotel.
The original hotel is now referred to as the Banyan Wing and was built in 1901, with a perfectly central location on Waikiki Beach and regal architecture to warrant the name "First Lady of Waikiki." The two newer towers recently underwent a $20-million renovation and offer modern elegance blended with Hawaiian charm. We stayed in the Tower Wing and where pleased with our five-night stay, although the noise that accompanies a bustling beach area like Waikiki reminds you that you are indeed within a big city (Honolulu) and not on a remote idyllic beach somewhere in the South Pacific.
The Moana features a days-gone-by street-front veranda where you can sit and watch the bustling world go by, and a beach-side set of rocking chairs where you can soak in the beach-front entertainment, admire the massive banyan tree, or the activities going on in the inviting swimming pool.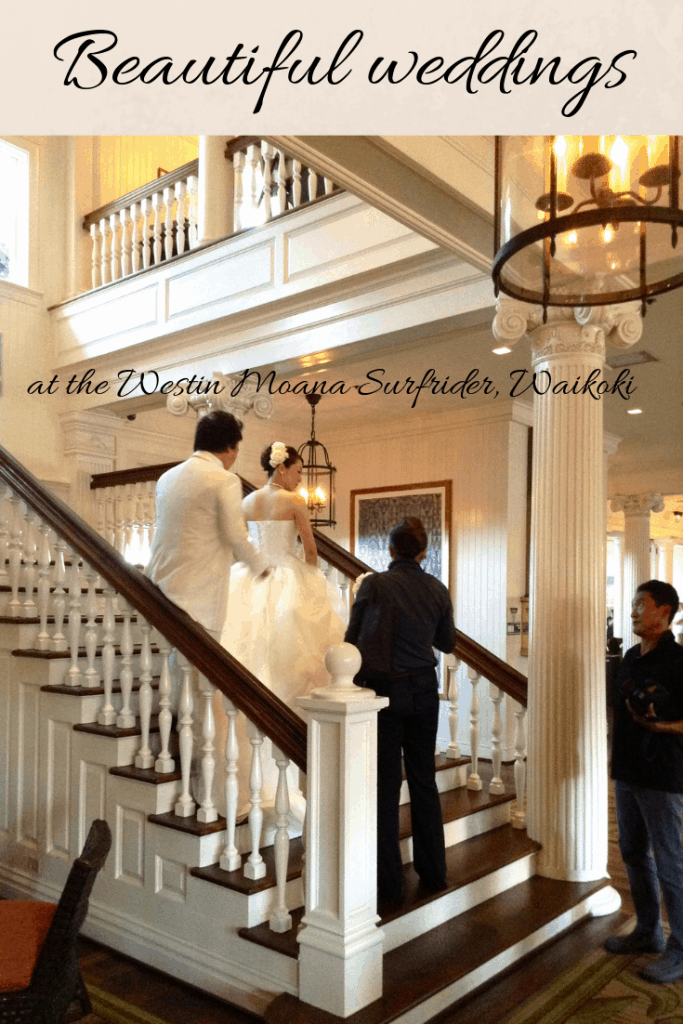 The interior architecture of the hotel boasts beautiful pillars and a winding staircase where many brides and grooms have wedding pictures taken. And as a guest of the hotel, you, too, can have a complimentary photo shoot and purchase photos of yourself and companion(s) taken throughout the hotel and on the Moana's strip of Waikiki Beach.
But this chocolate writer was also drawn to the fact that the Moana has its own custom brand of chocolates made by a local chocolatier. I can think of no better place to enjoy Waikiki with chocolate on my mind.
Have you stayed at the Moana Surfrider? Do you enjoy staying at historic hotels? There are many around the world to enhance your travel memories when choosing a destination. Some of my favourites include La Mansion in San Antonio, Texas, Chateau Lake Louise in Alberta, Canada, and The Fort Garry Hotel in my hometown of Winnipeg. Do you have a historic property you'd like to recommend to the rest of us? I'm all ears.