tips for pairing wine with chocolate
Most of you know that cacao and pure dark chocolate is considered the top power food on the planet, with more bioflavonols and antioxidants than any other food. So my travels always include searching for the best chocolate I can find as well as the best wine, as the concept of terroir is present in both chocolate and wine. And there's nothing better than creating a good pairing between the two. Here are a few tips to help you in creating great chocolate and wine pairings.
I absolutely love a glass of good full-bodied Malbec wine with a piece of deep dark chocolate. It is a match made in heaven, as Argentinian Malbec offers an abundance of slightly acidic fruity notes, primarily those of dark red and purple fruit. Pair that with dark chocolate made from cocoa beans grown in Peru or Madagascar–which both also feature acidic fruity notes–and your taste buds will thank you forever. If I'm pairing wine with chocolate, that is one of my favourite combinations.
It is my practice and preference to pair like with like. I love to pair the big bold red wines (such as Malbec) with 72% or higher pure dark chocolate that offers a big bold flavour of its own.
This brings into play the principle of terroir, simply defined as how a particular growing region's climate, soil, and terrain affect the taste of wine.
Just as in wine, where the soil and climate that the grapes are grown in will affect the ultimate flavour of the wine produced from those grapes, the same is true in the production of chocolate.
As mentioned, Peru and Madagascar are two countries best known for the fruitiness and mild acidity of their cacao. I know firsthand that in Peru, this is primarily because the cacao is grown in amongst fruit trees such as mango, papaya, and banana that help enrich the soil and provide protection to the delicate cacao trees which can't take too much direct sun and are prone to disease. I've not yet been to Madagascar to investigate growing conditions there, but you can bet it's near the top of my list, as invariably when I taste chocolate made by various single origin chocolate bar makers, I often prefer the chocolate made from Madagascan cocoa beans. Even their milk chocolate is exceptionally good!
For those of you who do prefer milk chocolate, you are best to pair unflavoured milk chocolate with a lighter red like a Pinot Noir if it a dark milk chocolate (i.e. generally 50-60% cocoa), and a buttery Chardonnay if it's a light, creamier milk chocolate of around 32-45% cocoa. Milk chocolate can also pair quite nicely with a chilled quality semi-sweet sparkling wine like Moscato. If the chocolate is flavoured with a strong flavour enhancer such as ginger, it is more important to match the wine to the ginger than to the type of chocolate.
Although old-style white chocolate was not considered real 'chocolate' as it generally contained only cocoa butter and sugar and no cocoa mass (also called cocoa liquer), many people do love the creaminess of white chocolate. Fine chocolatiers like Sugah! of Halifax, Nova Scotia, Canada, make some delightful white chocolate bars featuring fruit and nuts. I would pair those with a fruity white wine such as Viognier or a sparkling Asti Spumante or Champagne. Champagne is also my choice to accompany chocolate dipped strawberries or a chocolate fondue.
SaveSave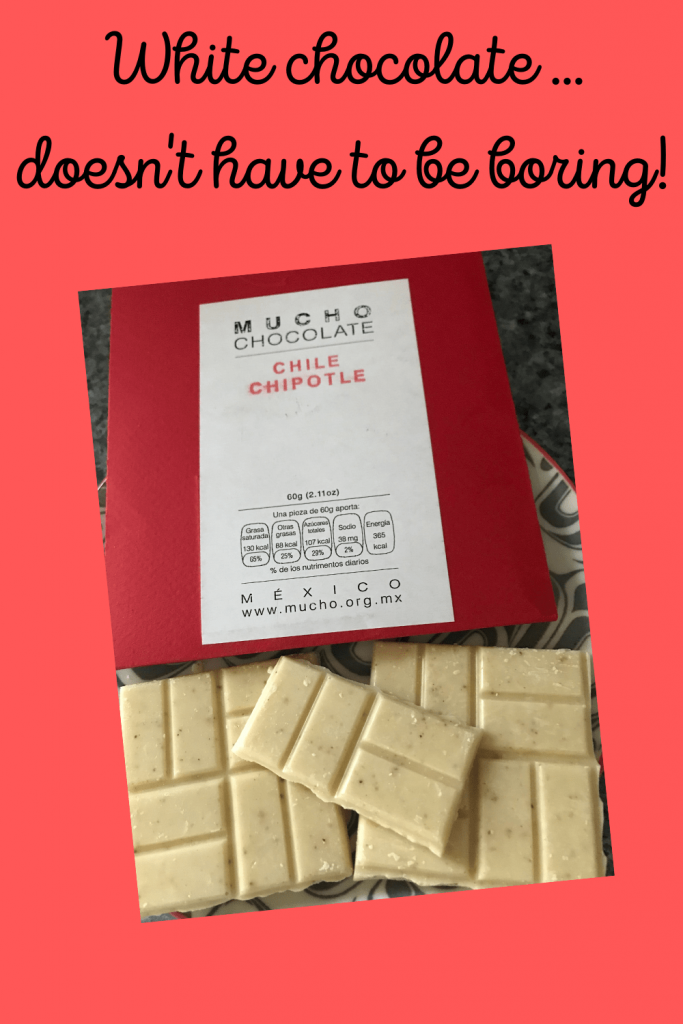 But even the face of white chocolate is continually changing and evolving. Several artisanal chocolate companies like Mucho Chocolate of Mexico City (pictured above featuring Chipotle Chile peppers), Aksinosie of Springfield, Missouri (made with goat's milk and cacao from the Philippines), and Akesson's Single Estate Chocolate (based in Sweden and Madagascar) are now pressing their own cocoa butter from the cacao that they use or adding a small amount of cocoa powder into the white chocolate blend, and caramelizing the cane or coconut blossom sugar–creating a more flavourful white chocolate that has a darker colour (i.e. not white, but rather a 'dulche de leche' dark beige or pale yellow colour) compared to the whiter cream-coloured chocolate of days gone by. Each of these unique white chocolate variations would require a custom wine pairing.
I adore curating custom chocolate and wine pairing events. Two of my favourite things coming together in perfect bliss. For information on some of the chocolate and wine pairing events I have arranged or am planning, please visit my Events page. I'd love to plan a customized event for your group of 10 or more once the pandemic is gone and we are once again safe to gather in groups.
When searching out about wine and chocolate, try your hand at something outside your usual comfort zone and let your taste buds guide you to your happy place. And if you enjoy bold flavours, but have never tried Malbec, treat yourself to a mid-priced or higher vintage (don't opt for a budget variety of Malbec as that extra few dollars really does make a difference in the quality) and celebrate #MalbecWorldDay every April 17th.