7 great reasons to stay at True Blue Bay boutique resort
I had the pleasure of spending six nights at the True Blue Bay Boutique Resort as part of the 2016 Grenada Chocolate Festival. Resort co-owner Magdalena Fielden is the founder and organizer of the chocolate fest, and so True Blue Bay is the host venue for many of the festival's activities, and base camp for visiting journalists, chocolatiers, and chocolate enthusiasts.
I was blessed with having a one level waterfront suite which was perfect for my ailing knee. No stairs to climb, close proximity to the front desk and restaurant, and a dynamite view of the bay and visiting yachts at the marina were some of the amenities I enjoyed in Waterfront Room 42, but here's a list of why I recommend True Blue Bay Boutique Resort for your stay in Grenada.
staying at True Blue Bay Resort
The resort is filled with friendly helpful staff, and you will often find owners Magdalena and Russ in the bar or restaurant with friends or guests, giving True Blue Bay a welcoming family atmosphere.
The resort offers a waterfront location, with marina, beachfront infinity pool, small private beach, and water sports for those who like to be active.
The variety of rooms at True Blue Bay Resort. If you prefer, you can stay in one of the Tower Suites that are built higher up to you get a greater view of the bay. Or one of the spacious villas.
True Blue Bay Resort offers free long distance calling. I loved being able to call my husband in Canada at no charge. I've heard that policy may be changing, but in May, 2016, it was in effect during my stay.
There is reliable free wi-fi service throughout the resort. No hanging over the balcony trying to get a signal as I've had to do at other resorts.
The unpretentiousness of an island-style boutique hotel is great for relaxing in a friendly, informal environment.
The chocolate spa treatments in the on-site Blue Haven Spa were heavenly.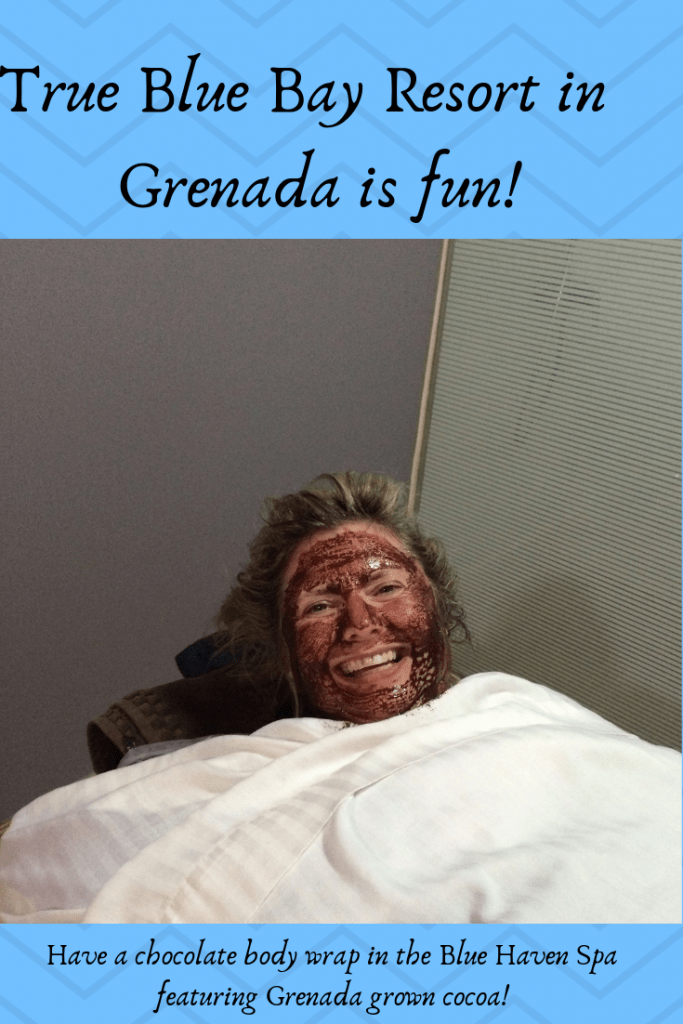 Have you stayed at the True Blue Bay Boutique Resort? If so, please share your experience with us. Have you been to Grenada or the Grenada Chocolate Festival? Would love to hear your thoughts. And please remember to pin this post for future reference or to share with your friends.