A visit to the Guittard Chocolate Company
I've investigated chocolate in California through two chocolate festivals–the Los Angeles Chocolate Salon in Southern California and the International Chocolate Festival in The Bay Area–home to some of the finest chocolatiers and chocolate makers in the United States. I've had the opportunity to meet about 100 chocolate powerhouses from California and am thrilled with the variety and quality of chocolate being produced in California. So many new companies have come to the stage in the past 10-20 years. But this post is a salute to one of America's oldest chocolate companies–Guittard Chocolate, which celebrated its 150th birthday in November, 2018.
I had the pleasure of meeting Gary and Amy Guittard of the Guittard Chocolate Company based in Burlingame, California, in 2018, and was fascinated to learn about this iconic fifth generation American chocolate company. Founder Etienne Guittard came to California from France to become involved in the California Gold Rush of the mid-1800's, and began making chocolate in 1868. The company has such a rich history, and it's exciting to see how this multi-award winning family business has grown, changed with the times, and continues to be a leader in the American chocolate industry.
Guittard Chocolate has a total staff of about 200 employees and a management team of five people. Gary operates with an open door policy, and told me, "We have a family business on so many levels. Many of our employees are several generations with the company."
The Burlingame 100,000 square-foot factory was built in Burlingame–a small city of just over 30,000 residents located on the San Francisco Peninsula–in 1954 and began production in 1955, after everything was moved over from the former location in downtown San Francisco. The Burlingame location is not open to the public, but Guittard's chocolate products can be ordered from the company website and are shipped across the US.
What makes Guittard different? They like to make blended bars combining different cacao varietals from different origins. I really enjoyed the 45% dark milk chocolate Soleil D'Automne bar featuring notes of crème fraîche and caramel apple made from a blend of Criollo and Forastero beans from West Africa.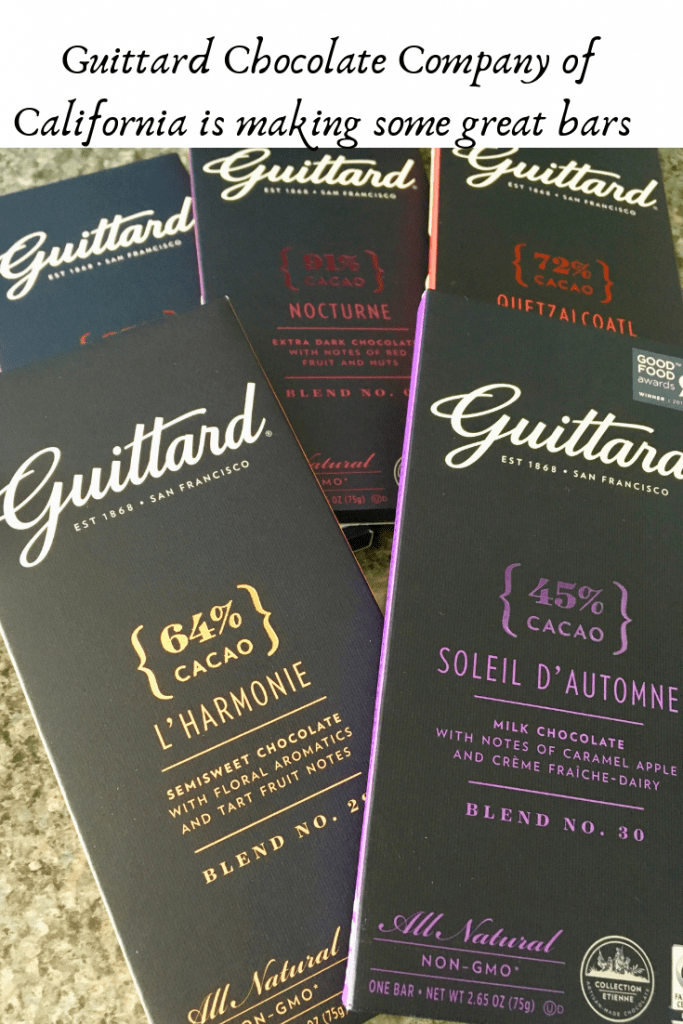 guittard chocolate works with 5-10 origins for their single origin chocolate including hawaii
Ninety percent of Guittard's business is derived from sales of commercial products to different segments of the chocolate trade. Couverture is made for chocolatiers. Commercial baking chocolate is sold to pastry shops and confectioners. And 10 per cent of Guittard's sales are derived from selling chocolate bars, confections, and drinking and baking chocolate to chocolate lovers across America.
I first encountered Gary Guittard in 2013 when I was planning a trip to the 2014 Hawaii Chocolate Festival as Guittard was one of the sponsors for that event. I wrote Gary to determine the Hawaiian connection and learned that Guittard Chocolate was making a special line of chocolate bars made from their own Hawaiian-grown cacao. Before too long, I received an assortment of Guittard bars and remember truly loving the 55% cacao Hawaiian bar with cocoa nibs. The crunchiness of the nibs blended perfectly with the smooth chocolate. It was at that moment that my love affair with single origin Hawaiian chocolate was born. (You can search this site for several posts about other companies making terrific chocolate in Hawaii from locally grown cacao.)
So thanks to Gary Guittard for pointing me in the direction of delicious single-origin Hawaiian chocolate. And thanks to the San Mateo County/Silicon Valley Convention and Visitors' Bureau for facilitating my trip to their great region as I continue to discover why there is so much to love about California-made chocolate.