no wonder I love turtles so much!
I've recently learned that May 23rd is "World Turtle Day!" That explains why I have an obsession with chocolate turtles. No matter which chocolate maker, chocolatier or confectioner I visit, if they make chocolate turtles, I've got to try them! May 23rd just happens to be my birthday, so that explains my very strong connection to turtles. But it's also interesting to learn that in many cultures, the turtle is a symbol of longevity, endurance, and persistence to survive. In the spiritual realm, the turtle is a power animal that helps you find your way through difficult times with strength and endurance. An excellent symbol to help us focus on the positive in the turbulent and uncertain times in which we live.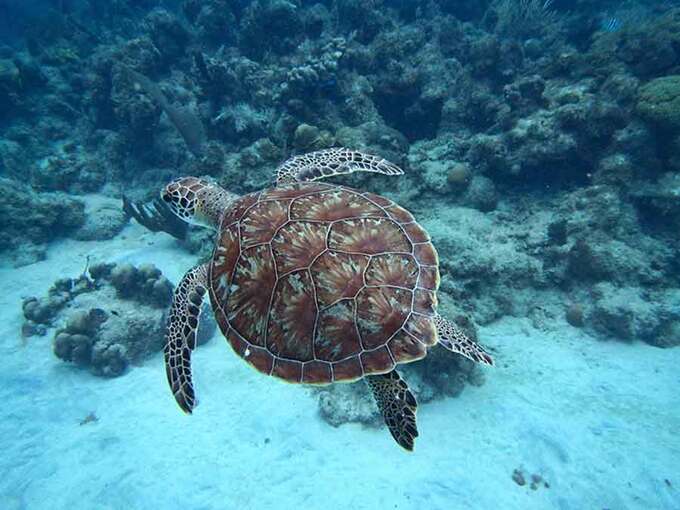 world turtle day celebrates both turtles and tortoises
Do you know the differences between turtles and tortoises? Both are reptiles belonging to the Testudine group, but tortoises live only on land, while turtles live part of their time in the water, and part of their time on the land. To help themselves navigate smoothly through water, turtle shells are smoother and more streamlined than tortoise shells, which tend to be more rough and are dome-shaped. The average age of a tortoise is 150 years, although some have been known to live as long as 300 years! Turtles live an average of just 40 years, and can get up as high as 90-100 years on very rare occasions.
No matter where you live, plastic can endanger the life of turtles, tortoises and most other wildlife. So you may want to help clean up a local beach or creek in the spirit of helping aquatic life such as turtles. Or if you don't live near the water, help clean up a local park or trail to keep it free from plastic garbage or recyclables. Every positive action we take helps the planet and in turn, turtles and other vulnerable wildlife at the mercy of humans who toss refuse out without thinking of the extended damage it may cause to other inhabitants of our planet.
turtles need our help
Out of the approximately 300 species of turtles and tortoises on the planet, 129 of them are considered to be vulnerable, endangered, or critically endangered due to pollution, loss of habitat, the illegal pet trade, or poaching. We can all do something to help! You can also make a donation to any of the non-profit groups who are trying to help. This link lists associations around the world that are trying to help endangered species of sea turtles survive and thrive.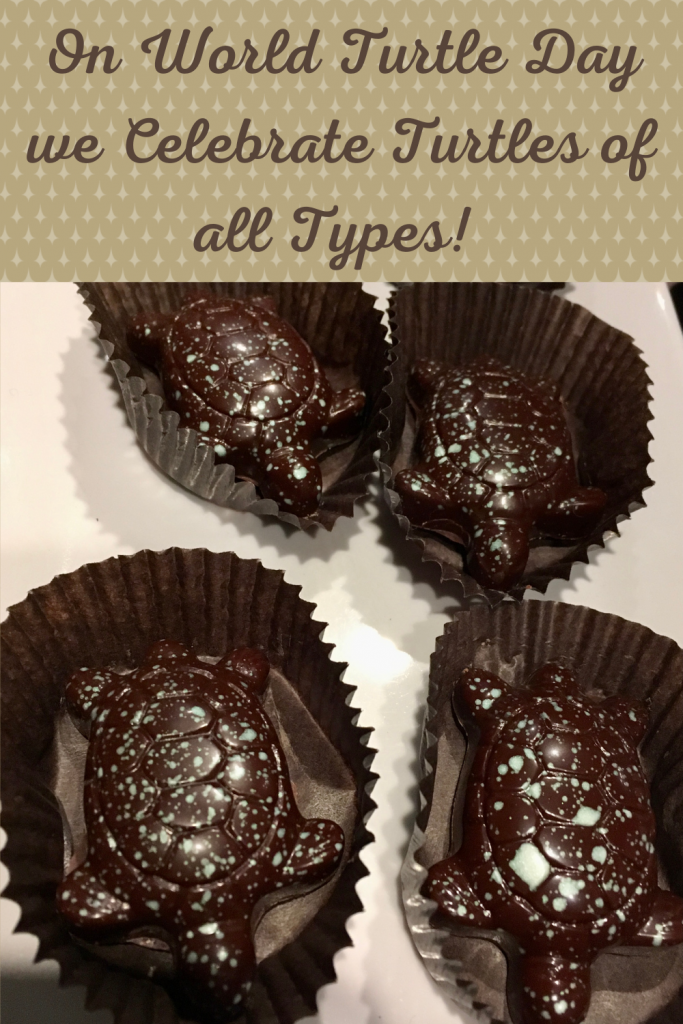 I couldn't write a post about turtles without sharing some of my favourite chocolate turtles. Zak's Chocolate in Scottsdale, Arizona, makes the life-like delicious chocolate turtles pictured above. And longtime readers of this blog will know that I adore the chocolate turtles made by Winnipeg chocolatier Decadence Chocolates. Please check out both links for a look at some of the best chocolate turtles on the planet and the creative people making them. 😋
Do you have any special relationship with turtles of any kind? Or a special memory of one? My most memorable occasion of a live turtle crossing my path was in the city of Athens, Greece. You wouldn't expect to see a turtle crossing the road in a busy city like Athens, but surprisingly, locals must be used to it, as cars very politely slowed down or pulled over to let the turtle safely–and very slowly–make its way across the street. This was back in 1996, so unfortunately, I don't have a digital photo of that to share with you.
I encourage you to think of the turtles today and especially every May 23rd. Whether you make a donation to a cause that is actively helping turtles around the world or in your region, you indulge in turtle art, or chocolate turtles, these creatures have lived on this planet for 200-300 million years and have earned our love and respect. 🐢