Chocolatour goes Zen at Jade Mountain
As a travel writer, I've had the tremendous privilege of being invited to stay at some amazing places and experience various aspects of luxury travel. But no place (to date!) has touched me like Jade Mountain. What made this St. Lucian destination resort stand out from the rest? This series of pictures should answer that.
Walking into Sanctuary JE2, our home for four days, I succumbed to tears of joy. The anticipation of seeing this view in person was exciting enough, but living it every moment during our stay as part of the decor in our open-concept room was overwhelming to the point that I was brought to tears. And it's not just a view outside of a window. There are no windows at Jade Mountain. The sanctuaries are built into the side of a hill overlooking the twin Pitons. Every public and private room at the resort has a stunning view of these captivating volcanic peaks. That is our own private view, pictured below.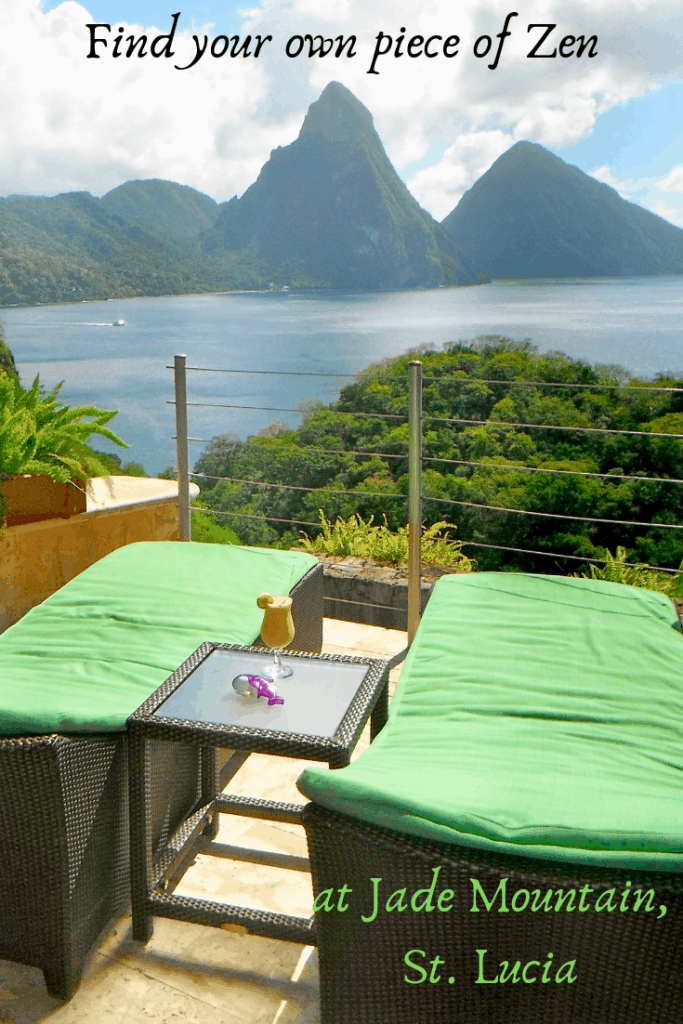 But Canadian-born architect-owner Nick Troubetzkoy didn't stop there. That incredible view wasn't enough for Nick, rightly called a visionary by many. He included infinity pools with colourful tiles made from recycled glass in the sanctuaries. And an abundance of greenery as part of the decor inside the walls of the room in addition to all the lush greenery that surrounds and is part of the setting of Jade Mountain.
How did I get so lucky as to have been invited to have three butlers at my beck and call and the opportunity to enjoy the creative cuisine and enticing activities available at this award-winning property? Jade Mountain was hosting a Chocolate Festival, during which time participants and guests would visit the Emerald Estate, where cocoa in addition to 32,000 pounds of produce is grown to satisfy the cravings of guests at Jade Mountain and its big sister beachfront resort, Anse Chastanet.
Having tried St. Lucian chocolate in London from British chocolatier, Hotel Chocolat, I knew this trip would be worthwhile if only for the chocolate. I had no idea the island would blow my mind with its warm and welcoming people, its natural beauty, outstanding culinary offerings, and yes, incredible deliciously dark chocolate. It's no surprise that St. Lucia received my vote as the world's most exotic chocolate destination in volume I of Chocolatour.
My sincere thanks to Jade Mountain and Hotel Chocolat Boucan for hosting my friend and I, and giving us the opportunity to enjoy this chocolate island paradise. Until I looked at the photo below several years later, I'd forgotten just how filled with Zen I was at this exquisite resort.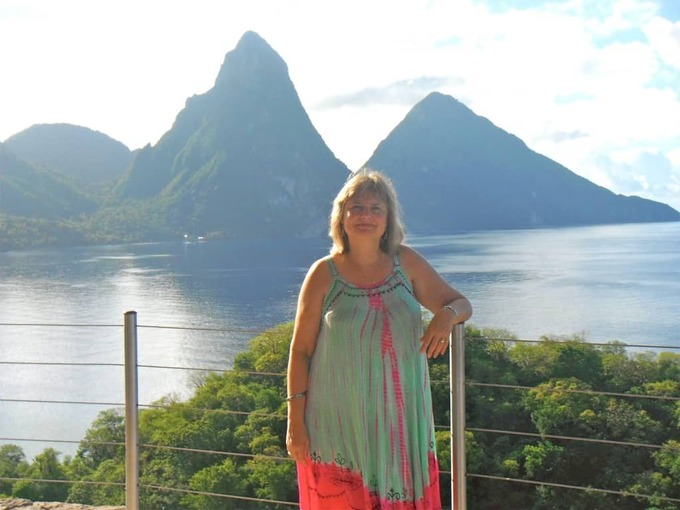 Have you been to Jade Mountain? If so … tell us about your stay. Have you stayed at a destination resort or place where you were overwhelmed with emotion when brought to your "room?" If so, please tell us where it was.