exploring Punta Gorda, Belize
Our trip to Belize in November, 2018, was full of adventure. As I'd mentioned in this introductory post, we flew into Belize City, and then took a small plane to the southern tip of the country to begin our cacao adventure in Punta Gorda, the Cacao Capital of Belize.
Located in the Toledo District of Southern Belize, Punta Gorda is a small centre of just over 5,300 residents. We were to use that as our base for three nights as we explored the area. We stayed at the Coral House Inn, a lovely six-room boutique property located right on the Caribbean Sea. We enjoyed the natural seaside setting with nicely landscaped grounds populated with flowers, birds, and a couple of resident cats. There was a small pool, open bar with payment via the honour system, and breakfast included with our room. Serene and relaxing.
I'll devote a couple of future posts to what we learned about growing cacao in Belize and the delicious chocolate we tasted. But in this post, I'll highlight two fantastic tourist attractions that a visit to Punta Gorda really should include.
touring the punta gorda region
Two million Mayans once populated the area known as Mesoamerica as early as 2500 BC. They migrated to Belize in about 250 AD, so it is no surprise that there are at least 12 sites where Mayan ruins have been excavated. The one closest to Punta Gorda is called Lubaantun (translated as 'the place of the fallen stone') which dates back to 750-850 AD at which time the village had a population of approximately 1,000,000 residents.
Allow yourself the better part of a day to get to Lubaantun and explore the grounds at your leisure. Be aware that it involves a pretty hefty hike to get from the parking area up to the site of the ruins. Local Mayan people sell their handcrafts near the interpretive centre at reasonable prices.
Another stop to visit that is not too far from Punta Gorda is the Belize Spice Farm & Botanical Garden. This is a full service facility with a lovely restaurant, gift shop, and tram that you can take to tour the grounds if you choose not to walk or are short of time as we were.
The Belize Spice Farm was the dream of Tom and Tessy Mathew, American expats originally from Kerala, India, who started their Golden Stream Plantation by growing cacao and orange trees. Today, that plantation has grown to a 500-acre property that has 400 acres of oranges and hundreds of other plants including a wide variety of tropical flowers, spices, and trees. The highlights for me were the massive lily pond and the lotus garden. Shown below are the pink lotus. It was incredible being surrounded by them.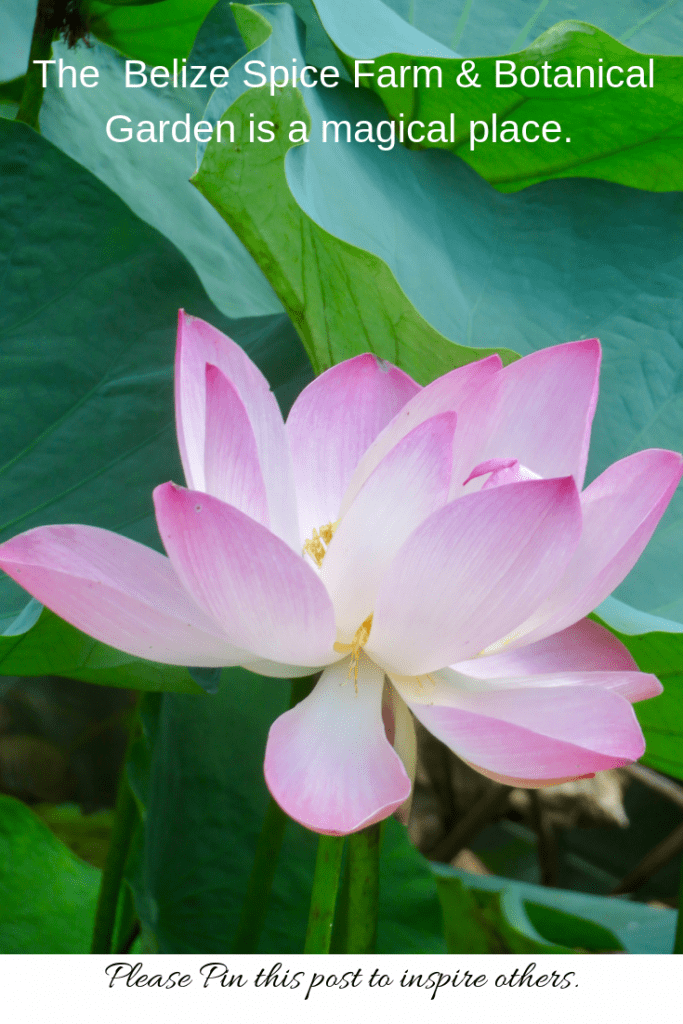 I hope you will find the opportunity to visit Southern Belize and the Punta Gorda region. From this post, you have learned of a nice place to stay and two major attractions in the area. Stay tuned for more about the chocolate and cacao of Belize.