Guadalajara: Mexico's city of art and culture
I'd been wanting to visit Guadalajara for a very long time. As a writer and lover of the arts, I had long heard of the artistic appeal of this Mexican city–home to 1.5 million in the metropolitan area, and close to 4.5 million in the surrounding area, making Guadalajara Mexico's second largest city.
I was thrilled to finally have the opportunity to visit Guadalajara twice in 2015. This post offers highlights of our city tour, as that was a great place to begin our discovery of Jalisco's state capitol and experience the art and culture of Mexico's eclectic city of contemporary art. In this post, I talk about the chocolate of Guadalajara. And in this post, about Guadalajara's artisan neighbourhood of Tlaquepaque.
Guadalajara is home to many museums including the fabulous Te Quiero Tequila museum devoted to Tequila where the walls are adorned with commissioned contemporary art, all in the theme of tequila and the blue agave from which it is made. I loved all of the pieces as they were all thought-provoking and filled with insight into life in this region–past and present. And what a collection of tequila bottles and memorabilia!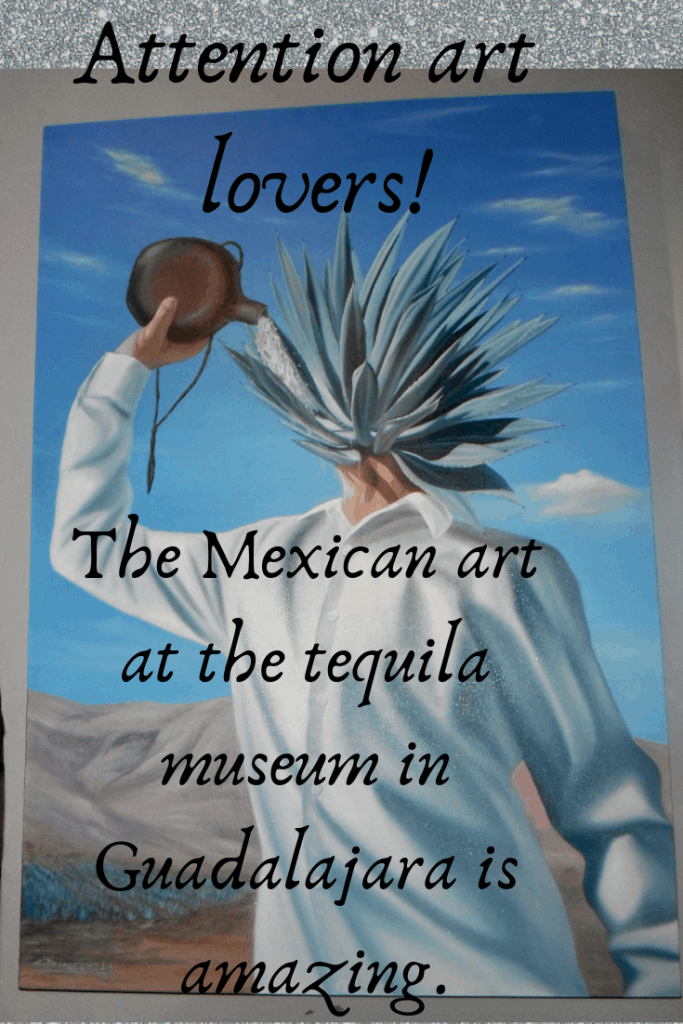 We also toured the Governor's Palace, an impressive building that looks like a fortress adorned with gargoyles. What impacted me most about the Governor's Palace is the dramatic mural painted by José Clemente Orozco between 1936 and 1937. It depicts Miguel Hidalgo–one of the heroes of Mexico's War of Independence–and fills the staircase going to the second floor of the palace.
The culinary scene of Guadalajara is impressive as well. We had an amazing meal at Santo Coyote, which in itself is an art gallery with murals, gardens, and live entertainment. And lots of chocolate in the buffet. It was very near where we were staying at the Fiesta Americana Hotel. I had a nice room with a view of the roundabout, and with access to the Fiesta Club lounge, we enjoyed complimentary food and drinks during our stay.
Have you been to Guadalajara? What impressed you most about the city? As I am a huge fan of Mexican art, my favourite part of our visit to Guadalajara was spending time in Tlaquepaque. I love artists' villages and creative spaces. Find more about it in this post.