Xocodiva Artisan Chocolates of Puerto Vallarta
While eating my way around Puerto Vallarta, Mexico, in 2015, as always, I had chocolate on my brain. I was told there was only one option worth exploring if I wanted to find the best chocolate in Puerto Vallarta, and that was Xocodiva Artisan Chocolates.
I had the pleasure of meeting the founders of the company–Charlotte Semple and Carole Fast–the two ex-pat Canadian chocolatiers who founded Xocodiva Artisan Chocolates in the heart of Puerto Vallarta in the Zapata neighbourhood of Old Town PV. Charlotte ran the retail shop with some very friendly staff while Carole made most of the chocolate in the Xocodiva workshop at a nearby location. Charlotte is highly creative, and took pleasure in designing the chocolates and helping develop the recipes for the Xocodiva creations.
chocolate in puerto vallarta
The creative team of Semple and Fast–who hail from Victoria, British Columbia, Canada–moved to Puerto Vallarta in 2006 after searching for just the right Mexican location for their shop. With a lot of chocolate knowledge under their collective belts and the goal to create a new chocolate taste in Mexico's favourite resort town, Xocodiva Chocolates was born. "Our philosophy in launching Xocodiva was to mix European chocolate artistry with Meso American culture," said Charlotte. "Our chocolates are European-style, but honour the different Mayan gods."
In the fall of 2016, Xocodiva closed its doors as Charlotte and Carol chose to change their focus and move on to a new chapter in their lives. The business was soon purchased by Kathleen and Todd Atkins, a dynamic ex-pat American couple that is now making chocolate in Puerto Vallarta under the Xocodiva name with a new logo–pictured above with their delicious Strawberry Balsamic truffle–and a new line of specialty chocolate products based around a Belgian chocolate couverture.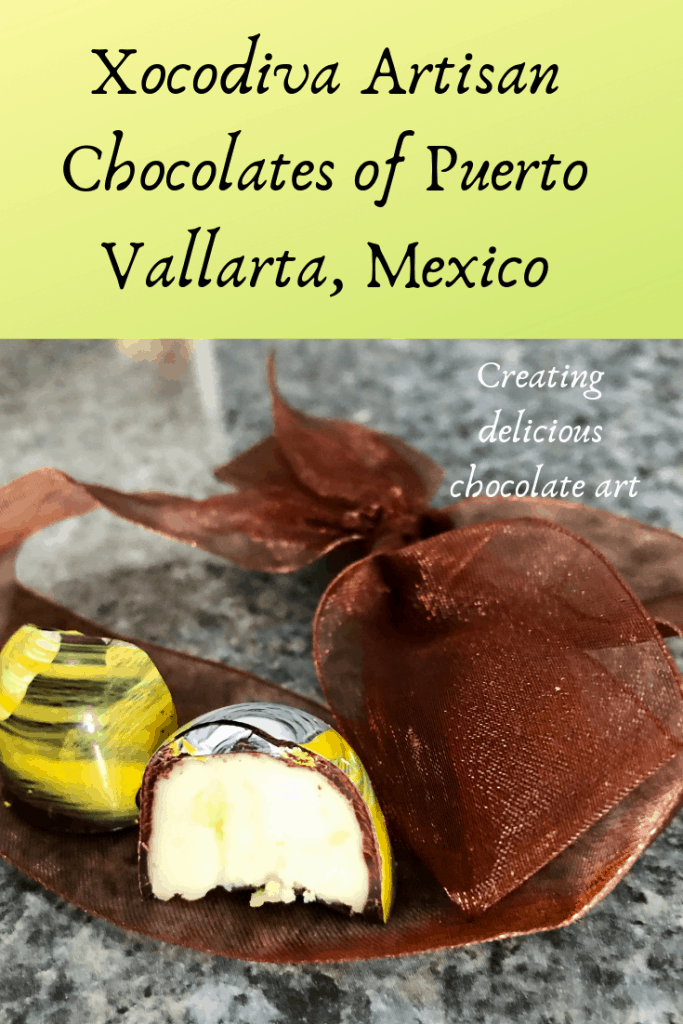 The Xocodiva website shows the current collection and where the chocolates are available. I enjoyed all that I tried, but absolutely adored the Limoncello truffle (pictured above) featuring locally made limoncello liqueur. In addition to selling some of their chocolate in PV at the Old Town Farmers' Market and their chocolate workshop on Zapata (check the site for hours,) Xocodiva is also available for sale at the Vallarta Botanical Gardens gift shop and a few other locations. Xocodiva also makes fabulous artisan ice-cream and sells it at their "Lix by Xocodiva" ice-cream shop on Basilio Badillo that is currently undergoing some updates.
It's interesting to note that in 2017, a chocolate museum was opened in Puerto Vallarta. It is part of the ChocoMuseo family of chocolate museums that you will find in South and Central America, the Caribbean, and now Mexico. Visit their website here. Looks like it's time for me to head back to Puerto Vallarta!
SaveSave